Define thermal hazard, shock hazard, and short circuit.
Explain what effects various levels of current have on the human body.
There are two known hazards of electricity—thermal and shock. A thermal hazard is one where excessive electric power causes undesired thermal effects, such as starting a fire in the wall of a house. A shock hazard occurs when electric current passes through a person. Shocks range in severity from painful, but otherwise harmless, to heart-stopping lethality. This section considers these hazards and the various factors affecting them in a quantitative manner. Electrical Safety: Systems and Devices will consider systems and devices for preventing electrical hazards.
Thermal hazards
Electric power causes undesired heating effects whenever electric energy is converted to thermal energy at a rate faster than it can be safely dissipated. A classic example of this is the short circuit , a low-resistance path between terminals of a voltage source. An example of a short circuit is shown in [link] . Insulation on wires leading to an appliance has worn through, allowing the two wires to come into contact. Such an undesired contact with a high voltage is called a short . Since the resistance of the short, , is very small, the power dissipated in the short, , is very large. For example, if is 120 V and is , then the power is 144 kW, much greater than that used by a typical household appliance. Thermal energy delivered at this rate will very quickly raise the temperature of surrounding materials, melting or perhaps igniting them.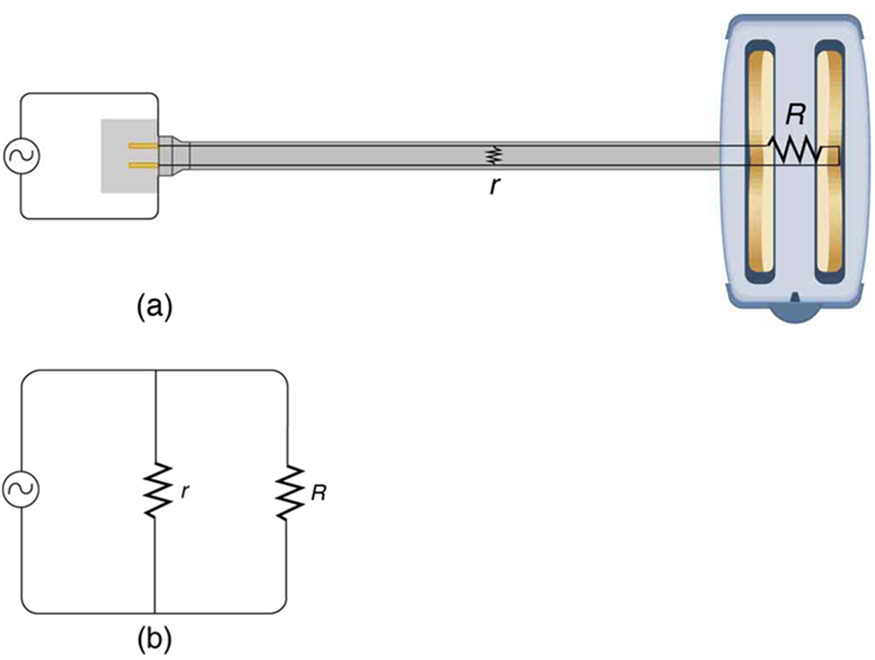 One particularly insidious aspect of a short circuit is that its resistance may actually be decreased due to the increase in temperature. This can happen if the short creates ionization. These charged atoms and molecules are free to move and, thus, lower the resistance . Since , the power dissipated in the short rises, possibly causing more ionization, more power, and so on. High voltages, such as the 480-V AC used in some industrial applications, lend themselves to this hazard, because higher voltages create higher initial power production in a short.
Another serious, but less dramatic, thermal hazard occurs when wires supplying power to a user are overloaded with too great a current. As discussed in the previous section, the power dissipated in the supply wires is , where is the resistance of the wires and the current flowing through them. If either or is too large, the wires overheat. For example, a worn appliance cord (with some of its braided wires broken) may have rather than the it should be. If 10.0 A of current passes through the cord, then is dissipated in the cord—much more than is safe. Similarly, if a wire with a resistance is meant to carry a few amps, but is instead carrying 100 A, it will severely overheat. The power dissipated in the wire will in that case be . Fuses and circuit breakers are used to limit excessive currents. (See [link] and [link] .) Each device opens the circuit automatically when a sustained current exceeds safe limits.