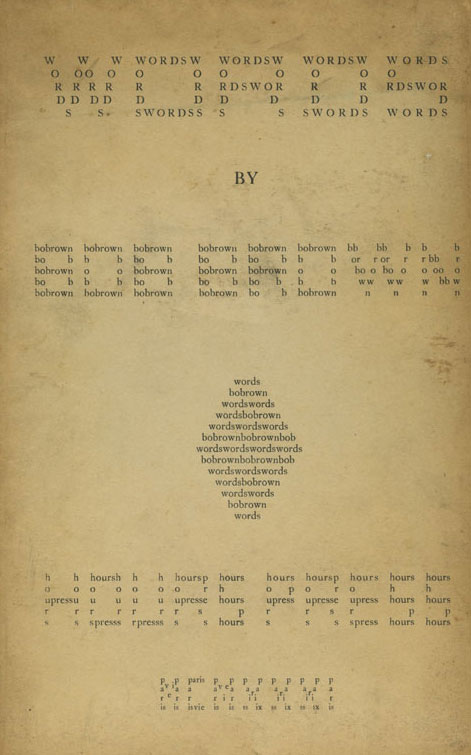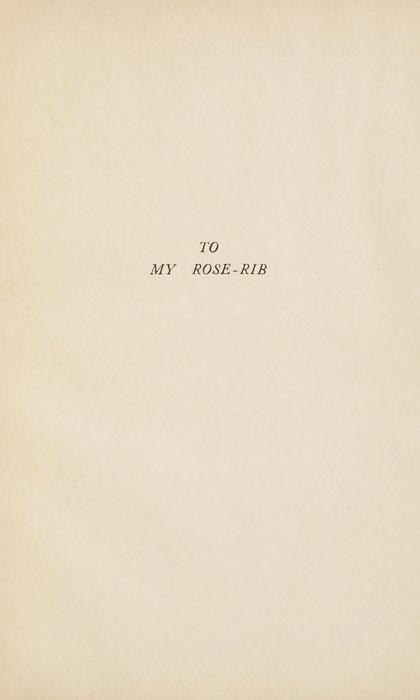 Dedication
TO MY ROSE-RIB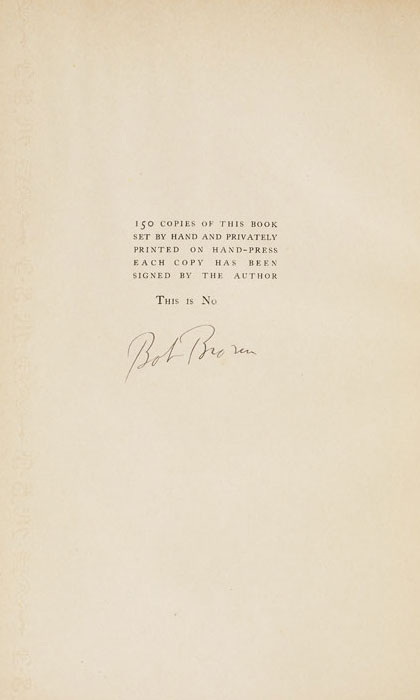 150 copies of this book set by hand and privatelyprinted on hand-press each copy has beensigned by the author
This is No
Bob Brown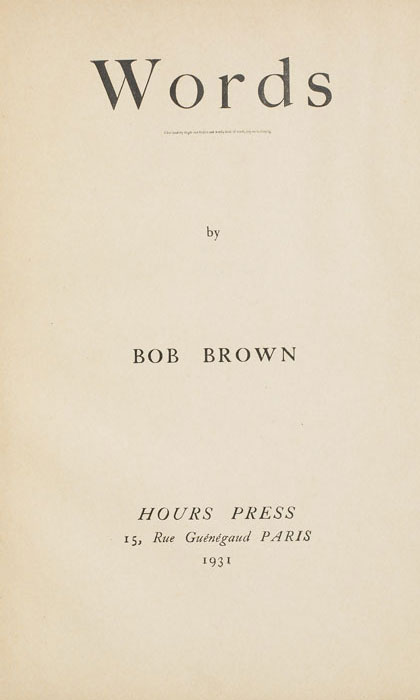 Words
I but bend my finger in a beckon and birds, words of birds, hop on it, chirping.
By bob brown
HOURS PRESS
I5, Rue Guénégaud PARIS
1931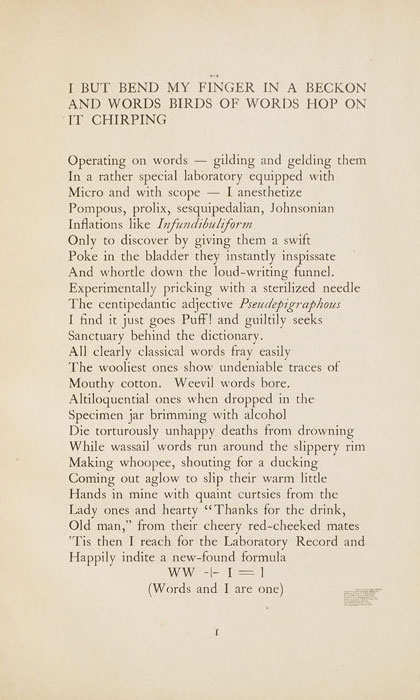 I but bend my finger in a beckon and words birds of words hop on it chirping
Operating on words -gilding and gelding them
In a rather special laboratory equipped with
Micro and with scope -I anesthetize
Pompous, prolix, sesquipedalian, Johnsonian
Inflations like Infundibuliform
Only to discover by giving them a swift
Poke in the bladder they instantly inspissate
And whortle down the loud- writing funnel.
Experimentally pricking with a sterilized needle
The centipedantic adjective Pseudepigraphous
I find it just goes Puff! and guiltily seeks
Sanctuary behind the dictionary.
All clearly classical words fray easily
The wooliest ones show undeniable traces of
Mouthy cotton. Weevil words bore.
Altiloquential ones when dropped in the
Specimen jar brimming with alcohol
Die torturously unhappy deaths from drowning
While wassail words run around the slippery rim
Making whoopee, shouting for a ducking
Coming out aglow to slip their warm little
Hands in mine with quaint curtsies from the
Lady ones and hearty "Thanks for the drink,
Old man," from their cheery red-cheeked mates
'Tis then I reach for the Laboratory Record and
Happily indite a new-found formula
WW -|- I = 1
(Words and I are one)
(microtext)
Zany Zed's Inarticulate Skeleton

OOze thrOugh the adenOidal Ogling OOs

TeeTer on T-bones of ToTTering TTs

Blow BuBBles with the BaBBling BBs

ExErcisE Erotic ElEphantinE knEEs

Juggle Joyous Jugfuls of Juicy Jungly JJs

ItinerIze Impy Inky ItItIs IIs

Play PoPeeP with sheePish PPPs

Zip in Zig-Zags with the Zany Zeds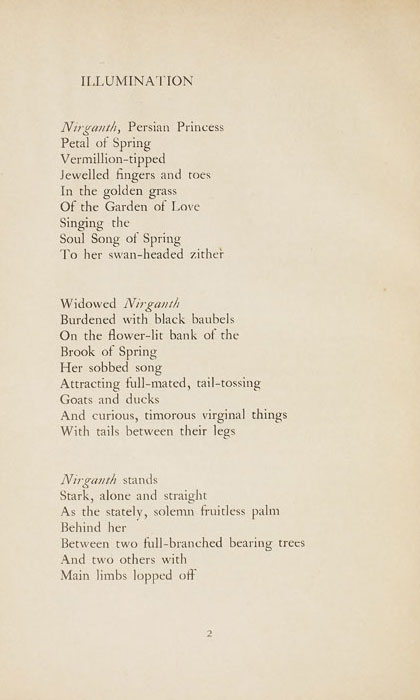 Illumination
Nirganth , Persian Princess
Petal of Spring
Vermillion-tipped
Jewelled fingers and toes
In the golden grass
Of the Garden of Love
Singing the
Soul Song of Spring To her swan-headed zither
Widowed Nirganth
Burdened with black baubels
On the flower-lit bank of the
Brook of Spring
Her sobbed song
Attracting full-mated, tail-tossing
Goats and ducks
And curious, timorous virginal things
With tails between their legs
Nirganth stands
Stark, alone and straight
As the stately, solemn fruitless palm
Behind her
Between two full-branched bearing trees
And two others with
Main limbs lopped off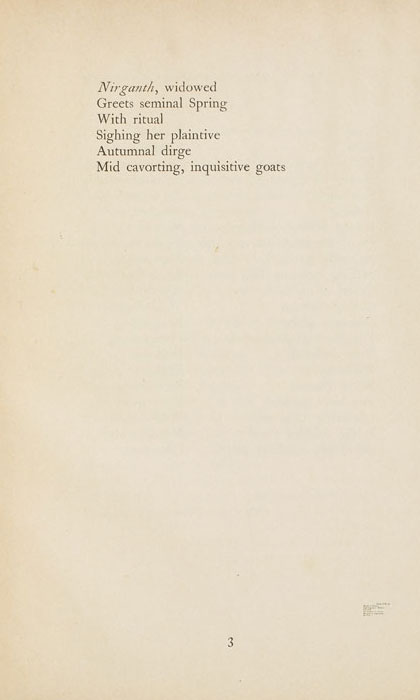 Nirganth, widowed
Greets seminal Spring
With ritual
Sighing her plaintive
Autumnal dirge
Mid cavorting, inquisitive goats
(microtext)
Death of Words

Honor- Chastity

Ugly wounds- Abbatoir

CLASH

Immortality- Suicide

Religion- Punishment

BANG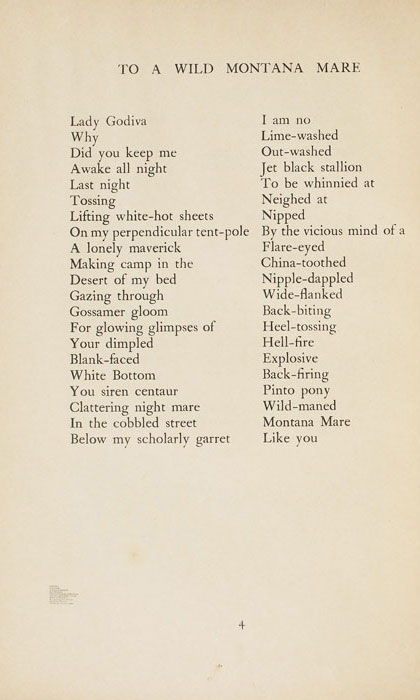 To a wild montana mare
Lady Godiva
Why
Did you keep me
Awake all night
Last night
Tossing
Lifting white-hot sheets
On my perpendicular tent-pole
A lonely maverick
Making camp in the
Desert of my bed
Gazing through
Gossamer gloom
For glowing glimpses of
Your dimpled
Blank-faced
White Bottom
You siren centaur
Clattering night mare
In the cobbled street
Below my scholarly garret
I am no
Lime-washed
Out-washed
Jet black stallion
To be whinnied at Neighed at