Sexual mimicry
Sexual mimicry, or mimicking an individual of the opposite sex, is different from most other forms of mimicry because the individual is mimicking another individual of its own species as opposed to one of a different species. Sexual mimicry is also one of the hardest forms of mimicry to understand because it seems to have very small benefits compared to the costs of posing as a member of the opposite sex. In snakes, the most well studied system of sexual mimicry is female mimicry among male garter snakes, Thamnophis spp . Certain males will give off pheromones that are very similar to the ones produced by females (Shine, O'Connor,&Mason 2000a).
The costs to this form of mimicry are relatively high, however, because the female mimics will often be courted by other males. This would not seem to be such a big cost in most mammal or bird courtship systems, but in garter snakes, the males form a large, writhing mass around the female, where the stronger ones can get closest to the female and therefore have the best chance of mating with it. While serious injury is rare for the female (or female mimic) being courted, it is still somewhat physically hard on the individual. So what could the benefits of female mimicry in garter snakes be that can outweigh these costs? Shine and his colleagues found several things that seem to help explain this phenomenon. One is that female mimics tend to be smaller than many other males. Another is that a large number of female mimics were found covered with soil compared to non-mimics. Being covered in soil at time of observation means the individual more likely emerged from hibernation closer to that time than a clean male.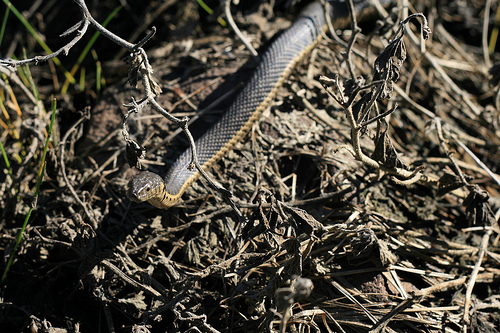 These two general characteristics of female mimics show a likely reason for its benefit to the mimic. A small male is not very likely to reach the female in a mating ball. Also, males that emerge from hibernation late are also less likely to reach a female during courtship because so many other males will already be present in the courtship site. However, when a small, late emerging male mimics a female, it can move through the mating ball with relative ease, only having to fend off courting males who are much less likely to hurt a female they are courting than a competing male. By being able to reach the female, the female mimic greatly increases its chances to mate.
But reaching the female isn't the only obstacle to overcome in a garter snake mating-ball. The male must also be able to get the female receptive enough to mate. However, it was recently shown that the female may have less choice than previously thought. Although female garter snakes tend to be larger than males, especially female mimicking ones, and female mimics are more likely to court a large female than a small one (Shine, O'Connor,&Mason 2000a), males do have a distinct way to forcibly copulate with females (Shine, Langkilde,&Mason 2003). By pressing against the side of a female during courtship, the male can contract its muscles in certain ways that presses against the female's lungs and invokes a defensive response from the female due to a lack of oxygen (see [link] ). During this response, the female's cloaca opens and excretes musk and excrement. This would very often get rid of a predator trying to attack the female, but the male uses the opportunity to forcibly inseminate the female with his sperm. Thus by mimicking a female and exploiting the anatomy of the species, a small male that emerges from hibernation relatively late can inseminate a female and pass on his genes to the next generation.