There are several hypotheses around as possible answers to this question. In general they come down to the benefit of mimicking outweighing the cost of being more conspicuous. Also, many mimics (like the bull snake example) are not especially conspicuous compared to non-mimetic relatives, meaning that the cost of mimicking another organism is even lower. There are many different forms of mimicry, but the main categories discussed here will be Batesian mimicry, death feigning, a form of aggressive mimicry called caudal luring , and sexual mimicry. The most common technique for the study of mimetic systems is the comparative method, since most systems involve two or more separate species and the same basic system is found in many groups of animals. However, within species observation and experimental studies are also performed when applicable. Snakes make a great model group for learning about this subject because all of these broad categories can be found within the suborder serpentes. There are a few especially interesting cases of snake mimicry as well.
Batesian mimicry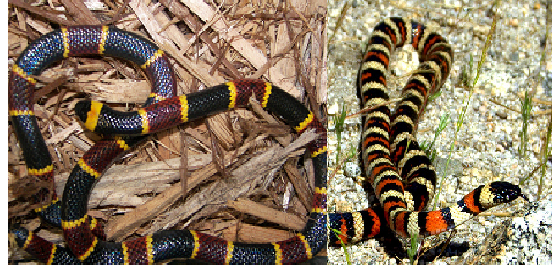 The most well known and extensively studied form of mimicry is a type of defensive mimicry known as Batesian mimicry . It was first described by, and later named for, Henry Bates who proposed mimicry as the reason for unrelated species of butterflies often having very similar patterns. Batesian mimicry is where a member of a palatable species has the same color patterns and/or body size and shape as a non-palatable species. That is to say that a species that predators would have no problem eating mimics a species that is dangerous or distasteful to eat in either looks or behavior, often both. The benefits to the mimic here are relatively obvious. It gains a greatly decreased chance of being preyed upon since predators will associate it with the dangerous or distasteful nature of the mimicked species. The cost-benefit hypothesis therefore asserts that this benefit outweighs whatever cost the mimicry has on the individual.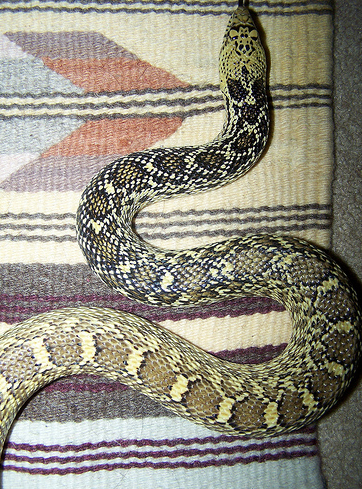 The most well known suggested example of this type of mimicry in snakes is the coral snake and its mimics. However, this system is far more complex than originally thought and is discussed at length in [link] . Another common, and far less complex, system of Batesian mimicry in snakes are the cobras and their mimics. Several species of non-venomous snakes copy the shape of a cobra's hood and strike posture. A further and really excellent example is that of the bull snake, Pituophis catenifer sayi , mimicking rattlesnakes in both looks and behavior (Herrera, Smith,&Chiszar 1981). Not only are the two species patterned very similarly, but the rattlesnake covers all of the bull snake's native range , and the bull snake also vigorously shakes its tail when threatened, even though it lacks the rattlesnake's rattle. These traits all added together strongly suggest that bull snakes are true Batesian mimics of rattlesnakes. However, there is some concern expressed by a few scientists that rattlesnakes are too venomous to allow predators to learn from "mistakes" (see [link] ). It has been strongly suggested though, that a rattlesnake does have control over how much venom it injects with any given strike (see figure 3) and often delivers a "sub-lethal" amount when defending itself (Hayes, LavÆn-Murcio,&Kardong 1995). Recently, it has also been shown using model snakes with distinctively viper-like markings that Batesian mimicry definitely does not need bright warning colors to be effective (see [link] ) (Wüster et al. 2004).