Lewensvaardighede
Graad 3
Robinson crusoe
Module 2
Vriendskap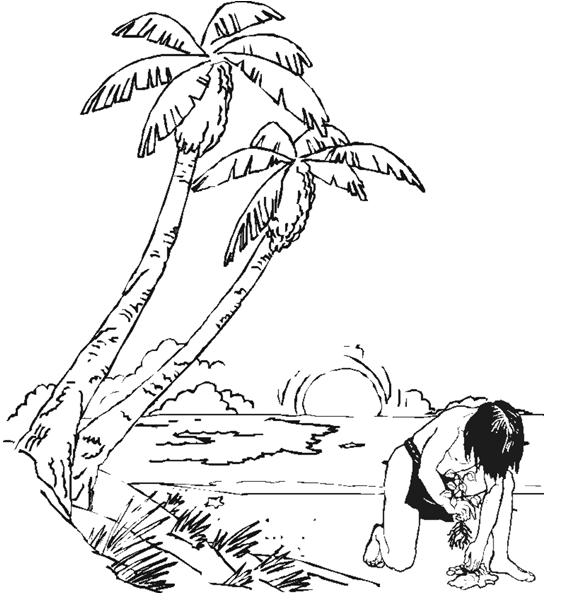 Baie lank gelede was daar 'n man met die naam van Robinson Crusoe. Hy het op 'n lang seereis gegaan. In daardie dae was die skepe nog van hout en hulle het baie seile gehad. Die skip het in 'n kwaai storm beland en is heen-en-weer op die golwe rondgeslinger. Die kaptein het sy beheer oor die skip verloor en baie lede van die bemanning is deur die branders oorboord geslaan. Uiteindelik het die wind die skip teen die rotse aangewaai, waar die rowwe see die skip in stukke laat breek het. Net een man het aan die kus uitgespoel. Sy naam was Robinson Crusoe.
Toe hy sy bewussyn herwin, het Robinson agtergekom dat hy op 'n sanderige strand lê. Hy het gesien dat die wrak van die skip nog op die rotse vassit. Toe hy later sterker voel, het hy tot by die stukkende skip geswem en vir hom 'n bietjie kos en allerhande nuttige artikels bymekaar gemaak. Hy het ook op die kaptein se hondjie afgekom en hom saamgeneem. Oor die volgende paar dae het hy uit die skip se hout 'n skuiling gebou met die paar stukke gereedskap wat hy in die hande kon kry. Hy moes homself beskerm teen die weer en teen wilde diere.
Hy het ook 'n geweer van die skip af saamgebring en
was dus gewapen toe hy vars water gaan soek het.
Op pad het hy bessies en ander vrugte gekry wat wild
gegroei het. Hy het ook 'n paar klein diertjies geskiet
wat hy kon eet. Robinson het toe 'n paar saadjies geplant wat hy van die skip gered het, en begin tuinmaak. Kort voor lank het hy vir hom 'n gerieflike woonplek gebou. Alles sou perfek gewees het. Maar hoekom was dit nie?
Robinson Crusoe het op die strand uitgespoel.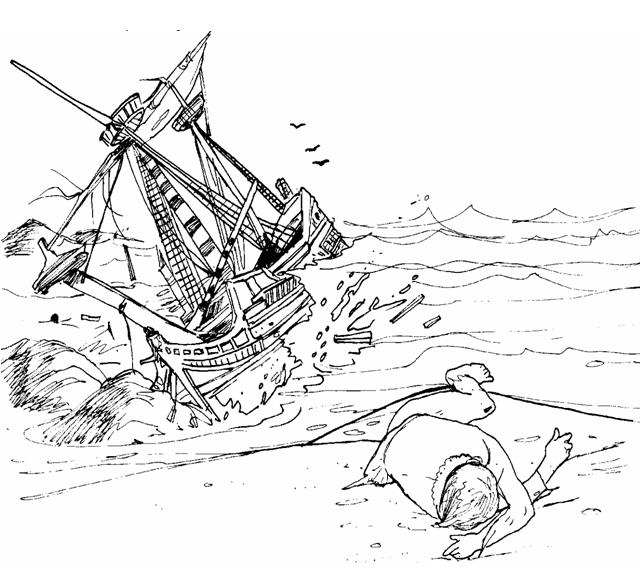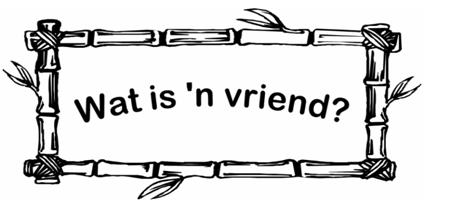 Wie sou jy kies as jou vriend as jy iewers gestrand het?
Kyk na elke situasie en besluit watter soort mens hy/sy moet wees. Onderstreep jou keuse.
'n Verlate strand.

Jy het aan die kus uitgespoel en jy sien 'n liggaam langs jou lê. Dis jou beste vriend/in. Julle twee besluit om saam die wêreld te gaan verken. Daar is digte bosse anderkant die strand. Albei van julle is bang, maar julle moet gaan water soek.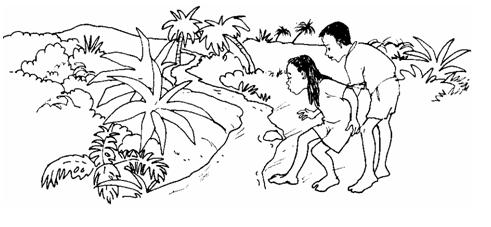 Dan ontdek julle water. Jy onthou dat mens ook vars vrugte en groente nodig het. Skielik sien julle 'n vrugteboom. Die voëls het al amper al die vrugte opgevreet, maar daar sit nog 'n stukkie van 'n lekker ryp vrug.
(a) 'n Selfsugtige maat gryp dit eerste en sê: "Optelgoed is hougoed!"
(b) 'n Mededeelsame maat sê: "Dis seker veilig om te eet, want kyk hoe het die voëls gevreet. Kom ons twee deel dit."
Dan gaan jy terug na die strand waar jy veiliger voel. Dit word donker en jy moet iewers 'n plekkie kry om te slaap.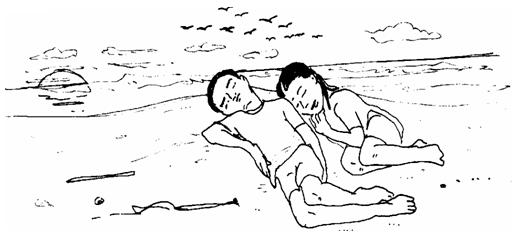 Daardie nag voel jy baie bang en bekommerd. Jy wonder of iemand julle ooit sal vind. Jy dink aan allerhande soorte diere wat julle kan vang. Jy skuif nader aan jou maat, maar dit help niks. Skielik kan jy jou nie meer dapper hou nie, en begin huil.
(a) 'n Liefdevolle maat sal jou troos, al is hy of sy self ook bang.
(b) 'n Maat wat net aan hom-/haarself dink sal sê: "Ag, moenie so 'n tjankbalie wees nie, slaap nou.5.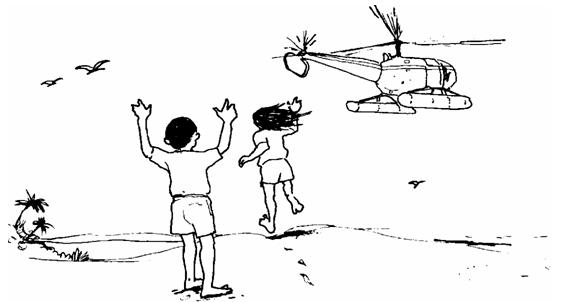 Die volgende oggend vlieg 'n helikopter oor wat na julle soek. Albei van julle spring op, waai julle arms, roep en skree. Die helikopter land en julle is veilig.
(a) 'n Afwyserige maat sê vir die reddingspan dat jy so bang was dat jy gehuil het, maar hy/sy nie.
(b) 'n Getroue vriend sê dat julle albei so bly is dat iemand julle gevind het.
Lees jou antwoorde deur en bespreek dit met jou groep. Skryf nou die eienskappe neer wat jy in 'n maat sou waardeer.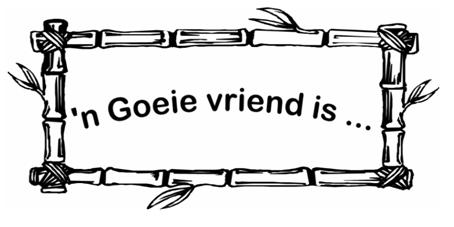 Teken 'n prentjie van jou en jou beste vriend.
Assessering
Leeruitkomstes(LUs)
LEWENSORIËNTERING
LU 2
SOSIALE ONTWIKKELINGDie leerder kan begrip toon van en 'n verbintenis tot konstitusionele regte en verantwoordelikhede en toon sensitiwiteit vir verskillende kulture en godsdienste.
Assesseringstandaarde(ASe)
Dit is duidelik wanneer die leerder:
2.3 eienskappe van 'n goeie maat kan noem en redes gee;
KUNS EN KULTUURLU 1
SKEPPING,INTERPRETASIE EN AANBIEDINGDie leerder kan werk skep, dit interpreteer en aanbied in elk van die verskillende kunsvorms – Dans,Drama, Musiek en Visuele Kunste.
Dit is duidelik wanneer die leerder:
1.1 ( samestelling ) – reageer op stories, speletjies, prente, poësie en kultuurervarings uit die onmiddellike omgewing as stimuli vir aanbieding in enige kunsvorm.
Memorandum
Laat die leerders die situasie bespreek. Wat het Robinson nog nodig gehad?
Lei die bespreking in die rigting van die feit dat daar niemand saam met hom was nie. Watter soort vriend sou vir hom die beste wees? Hy het darem die hondjie by hom gehad!
Saam met wie sou jy êrens gestrand wou wees? Waarom? Leerders kan 'n vriend/in of familielid kies, maar die eienskappe in die maat van hul keuse sou ook dié van 'n goeie vriend wees. Die volgende vrae kan help om die leerders te lei na eienskappe wat hulle graag in 'n vriend/in sou wou sien.
Vestig die leerders se aandag op die beskrywing van mense se karaktertrekke wat in vetdruk verskyn. Hierdie eienskappe kan ook bespreek word. Die kinders mag dalk ander byvoeglike naamwoorde noem om die karaktertrekke te beskryf wat in die onderstaande situasies uitgebeeld word.
Wanneer hulle hierdie eienskappe geïdentifiseer het, kan hulle dit neerskryf onder die opskrif: "'n Goeie vriend is ……….". Dit kan ook in die vorm van 'n plakkaat gedoen word.