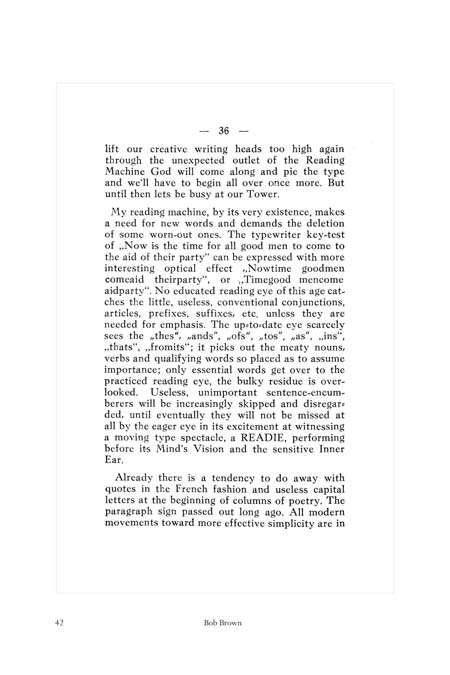 View a high-resolution scan of the original page.

lift our creative writing heads too high again through the unexpected outlet of the Reading Machine God will come along and pie the type and we'll have to begin all over once more. But until then lets be busy at our Tower.
My reading machine, by its very existence, makes a need for new words and demands the deletion of some worn-out ones. The typewriter key-test of "Now is the time for all good men to come to the aid of their party" can be expressed with more interesting optical effect "Nowtime goodmen comeaid theirparty", or "Timegood mencome aidparty". No educated reading eye of this age catches the little, useless, conventional conjunctions, articles, prefixes, suffices, etc. unless they are needed for emphasis. The up-to-date eye scarecely sees the "thes", "ands", "ofs", "tos", "as", "ins", "that's", "fromits"; it picks out the meaty nouns, verbs and qualifying words so placed as to assume importance; only essential words get over to the practiced reading eye, the bulky residue is overlooked. Useless, unimportant sentence-encumberers will be increasingly skipped and disregarded, until eventually they will not be missed at all by the eager eye in its excitement at witnessing a moving type spectacle, a READIE, performing before its Mind's Vision and the sensitive Inner Ear.
Already there is a tendency to do away with quotes in the French fashion and useless capital letters at the beginning of columns of poetry. The paragraph sign passed out long ago. All modern movements toward more effective simplicity are in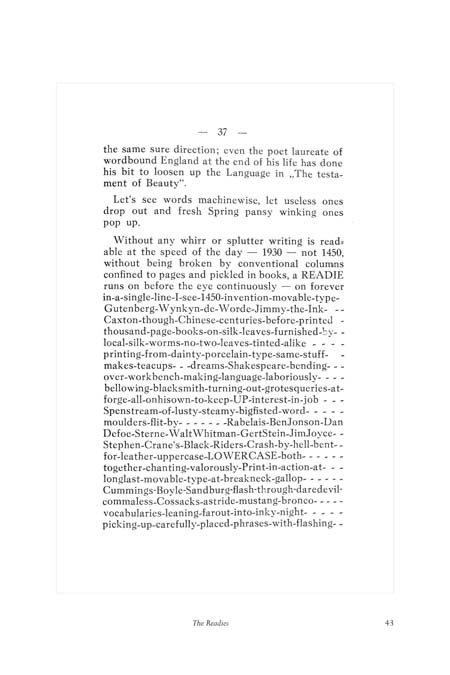 View a high-resolution scan of the original page.

the same sure direction; even the poet laureate of wordbound England at the end of his life has done his bit to loosen up the Language in "The testament of Beauty".
Let's see words machinewise, let useless ones drop out and fresh Spring pansy winking ones pop up.
Without any whirr or splutter writing is readable at the speed of the day — 1930 — not 1450, without being broken by conventional columns confined to pages and pickled in books, a READIE runs on before the eye continuously — on forever.
in-a-single-line-I-see-1450-invention-movable-type-
Gutenberg-Wynkyn-de-Worde-Jimmy-the-Ink---
Caxton-though-Chinese-centuries-before-printed
-thousand-page-books-on-silk-leaves-furnished-by--
local-silk-worms-no-two-leaves-tinted-alike----
printing-from-dainty-porcelain-type-same-stuff--
makes-teacups---dreams-Shakespeare-bending---
over-workbench-making-language-laboriously----
bellowing-blacksmith-turning-out-grotesqueries-at-
forge-all-onhisown-to-keep-UP-interest-in-job---
Spenstream-of-lusty-steamy-bigfisted-word-----
moulders-flit-by--------Rabelais-BenJonson-Dan
Defoe-Sterne-WaltWhitman-GertStein-JimJoyce--
Stephen-Crane's-Black-Riders-Crash-by-hell-bent--
for-leather-uppercase-LOWERCASE-both------
together-chanting-valorously-Print-in-action-at---
longlast-movable-type-at-breakneck-gallop------
Cummings-Boyle-Sandburg-flash-through-daredevil-
commaless-Cossacks-astride-mustang-bronco-----