Lewensvaardighede
Graad 3
Op reis deur ons land?
Module 2
Suid-afrika
Suid-afrika
Pak jou tas, want ons gaan 'n bietjie deur Suid-Afrika reis. Suid-Afrika is die mees suidelike land in Afrika. Suid-Afrika word begrens met die Atlantiese Oseaan aan die westekant en die Indiese Oseaan aan die oostekant. Suid-Afrika is in nege provinsies verdeel.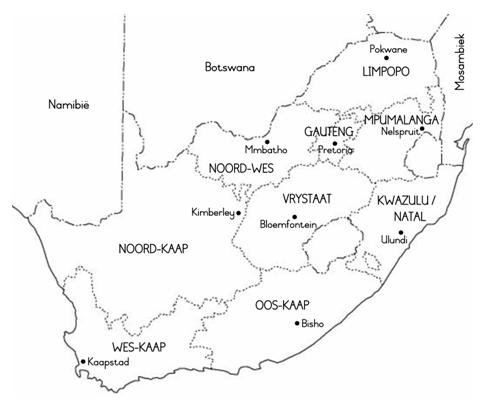 Kleur die provinsie waarin jy woon, rooi in.
Kleur nou elke ander provinsie 'n ander kleur in.
Wat is die hoofstad van jou provinsie? _______________
Bespreek in groepe:
Elke groep moet inligting versamel oor een van die stede.
Maak 'n plakkaat van al die besienswaardighede in julle stad.
Gaan nou saam met jou groep op 'n denkbeeldige reis na elke stad.
Bring 'n besoek aan elkeen van die ander stede en kyk wat julle alles kan onthou.
Skryf die naam van jou provinsie neer.
Beantwoord die volgende vrae. Vra vir Mamma of Pappa om jou te help.
Op watter dorp is jy gebore?
Hoe lank woon jy/ het jy in die dorp of stad gewoon?
Waar woon jy nou?
Wat maak jou dorp spesiaal?
Waarheen sal jy my neem as ek vir jou sou kom kuier?
Verbind die stad met die prentjie:
Doen navorsing oor een van die historiese geboue en vertel vir die klas daarvan.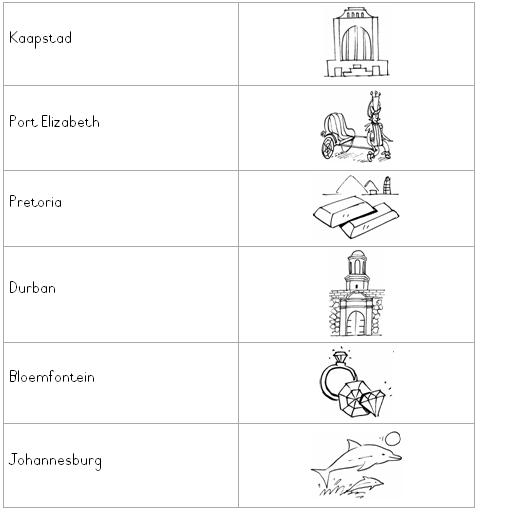 Assessering
ASSESSERINGSTANDAARDE(LU's)
LEWENSORIËNTERING LU 2
SOSIALE ONTWIKKELING: Die leerder is in staat om begrip van en toewyding aan grondwetlike regte en sosiale verantwoordelikhede, asook begrip vir diverse kulture en gelowe te toon.
Assesseringstandaarde(ASe)
Dit is duidelik wanneer die leerder:
2.3 die rol bespreek wat aanvaarding, om te gee, vergifnis en om te deel in gesonde sosiale verhoudings, speel.
KUNS EN KULTUURLU 2
REFLEKSIE Die leerder is in staat om krities en skeppend oor kuns- en kultuurprosesse, -produkte en –style in die konteks van die verlede en die hede te besin.
Assesseringstandaarde(ASe)
Dit is duidelik wanneer die leerder:
2.1 ( dans ) – identifiseer hoe gevoelens en gemoedstemming deur middel van die liggaam en gesig, asook die gebruik van energie en die keuse van bewegings, uitgedruk word.
LU 4
UITDRUKKING EN KOMMUNIKASIE Die leerder is in staat om veelvuldige vorme van kommunikasie en uitdrukking in kuns en kultuur te ontleed en te gebruik.
Assesseringstandaarde(ASe)
Dit is duidelik wanneer die leerder:
4.3 ( drama ) – die stem, gebare en liggaamsvorms gebruik om gevoelens en gedagtes uit te druk.
Memorandum
Plaas 'n kaart van S.A. voor in die klas.
Hou 'n algemene klasbespreking as inleiding en dui op 'n wêreldkaart of aardbol vir die leerders die verskillende kontinente aan sodat hulle 'n idee kan kry waar S.A. lê.
Stel bronne beskikbaar wat oor die verskillende stede handel.
Leerders kan formeel mondeling doen oor 'n interessante dorp en historiese geboue / gebeure.
Questions & Answers
Receive real-time job alerts and never miss the right job again
Source:  OpenStax, Lewensvaardighede graad 3. OpenStax CNX. Sep 21, 2009 Download for free at http://cnx.org/content/col11106/1.1
Google Play and the Google Play logo are trademarks of Google Inc.
Notification Switch
Would you like to follow the 'Lewensvaardighede graad 3' conversation and receive update notifications?