Another problem is the excessive use of antibiotics in livestock. The routine use of antibiotics in animal feed promotes bacterial resistance as well. In the United States, 70 percent of the antibiotics produced are fed to animals. The antibiotics are not used to prevent disease, but to enhance production of their products.
Concept in action
Watch a recent news report on the problem of routine antibiotic administration to livestock and antibiotic-resistant bacteria.
Staphylococcus aureus , often called "staph," is a common bacterium that can live in and on the human body, which usually is easily treatable with antibiotics. A very dangerous strain, however, has made the news over the past few years ( [link] ). This strain, methicillin-resistant Staphylococcus aureus (MRSA) , is resistant to many commonly used antibiotics, including methicillin, amoxicillin, penicillin, and oxacillin. While MRSA infections have been common among people in healthcare facilities, it is appearing more commonly in healthy people who live or work in dense groups (like military personnel and prisoners). The Journal of the American Medical Association reported that, among MRSA-afflicted persons in healthcare facilities, the average age is 68 years, while people with "community-associated MRSA" (CA-MRSA) have an average age of 23 years.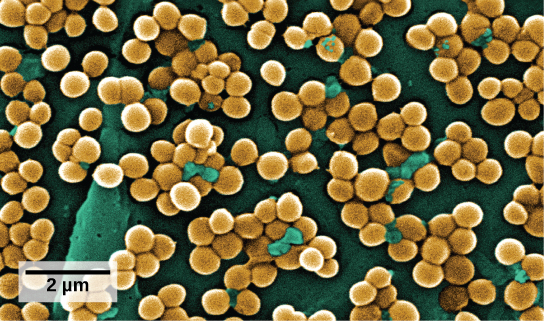 In summary, society is facing an antibiotic crisis. Some scientists believe that after years of being protected from bacterial infections by antibiotics, we may be returning to a time in which a simple bacterial infection could again devastate the human population. Researchers are working on developing new antibiotics, but few are in the drug development pipeline, and it takes many years to generate an effective and approved drug.
Foodborne diseases
Prokaryotes are everywhere: They readily colonize the surface of any type of material, and food is not an exception. Outbreaks of bacterial infection related to food consumption are common. A foodborne disease (colloquially called "food poisoning") is an illness resulting from the consumption of food contaminated with pathogenic bacteria, viruses, or other parasites. Although the United States has one of the safest food supplies in the world, the Center for Disease Control and Prevention (CDC) has reported that "76 million people get sick, more than 300,000 are hospitalized, and 5,000 Americans die each year from foodborne illness."