This module presents introductory material on data communication, focusing on a high-level summary/comparison of analog and digital communication.
Goal: Transmit a message from one location to another.
When message is a...
continuous waveform, use analog comm (e.g., FM radio),
sequence of numbers, use digital comm (e.g., mp3 file),
but keep in mind that the sequence of numbers might represent a sampling of a continuous waveform (as in the case of digital audio).
Typical communication media:
| | |
| --- | --- |
| twisted pair wire | (e.g., telephone A ) |
| coaxial cable | (e.g., TV , data D ) |
| fiber optic cable | (e.g., ethernet D ) |
| EM waves | (e.g., cellular phones , WiFi D , TV ) |
| water waves | (e.g., underwater network ) |
| power lines | |
| compact disc D | |
| hard drive D | |
| magnetic tape | |
where analog and digital.
Note that, whether the message signal is discrete-time or continuous-time, the transmitted signal is continuous-time!
Analog communication

Perfect recovery is impossible in the presence of noise!
Digital communication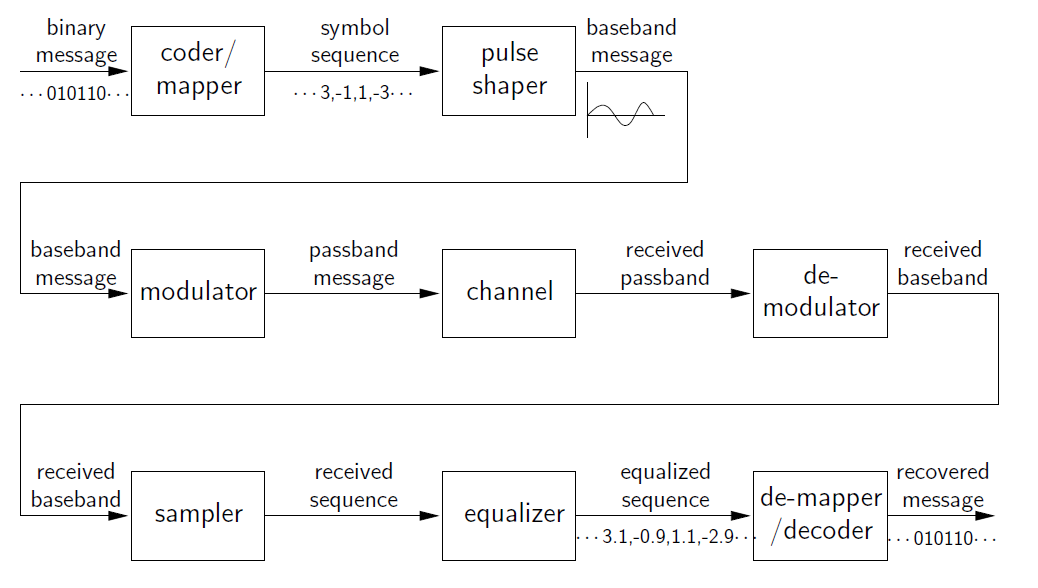 A digital message is converted to an analog message coding and pulse-shaping, and then transmitted usinganalog modulation. To recover the message, the received signal is demodulated, sampled, and digitally processed.
Perfect recovery is possible even in the presence of noise!