Die tipe krag wat ons op die karton uitgeoefen het, is 'n _ krag, want dit pers die karton saam. Die dele van 'n struktuur waarop die krag uitgeoefen word, word stutte of kolomme genoem.
[LU 1.3]
AGTERGROND
Wanneer strukture nie sterk genoeg is om kragte te weerstaan wat op hulle inwerk nie, breek hulle. Baie dun, lang stutte of kolomme buig en breek maklik.
Opdrag 7B
Uitdaging :
Probeer dieselfde eksperiment, maar gebruik folio's i.p.v. manilla.
Opdrag 8A
Kom ons ondersoek die horisontale sterkte van dopstrukture.
Opdrag aan die onderwyser:
Verdeel die klas in groepe. Deel aan elke groep ses A4-manillas van dieselfde dikte uit, twee polistireenglase wat as stutte kan dien en 'n polistireenglas met 'n hoeveelheid spykers wat die las kan voorstel.
Opdrag aan elke groep:
Vou die manilla in strukture wat buigkrag moet weerstaan. So 'n struktuur word 'n balk genoem.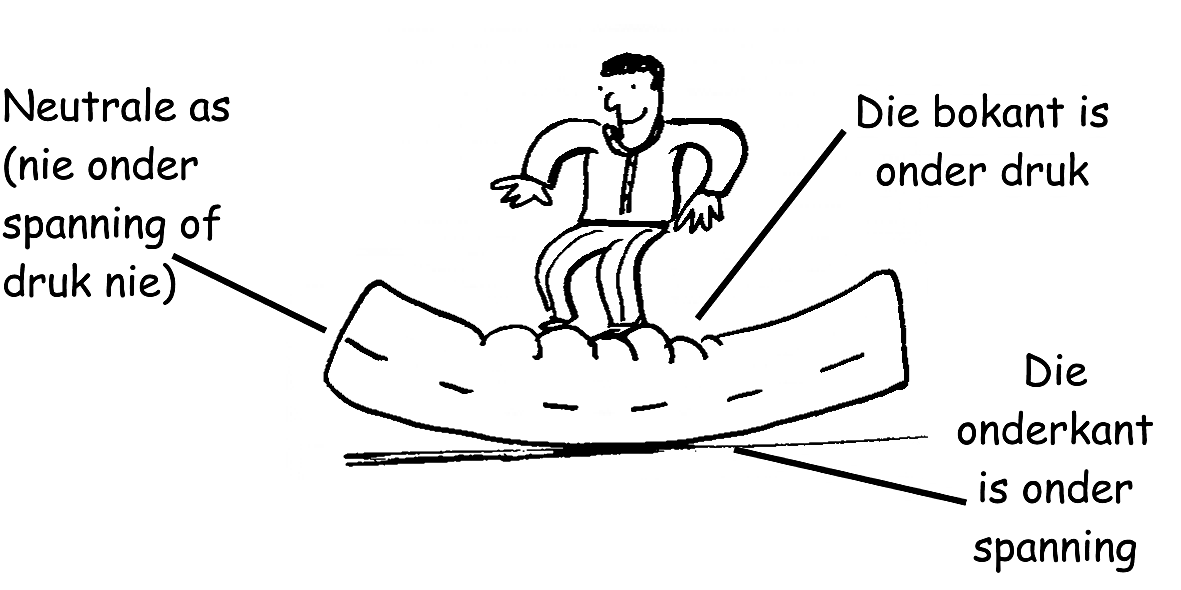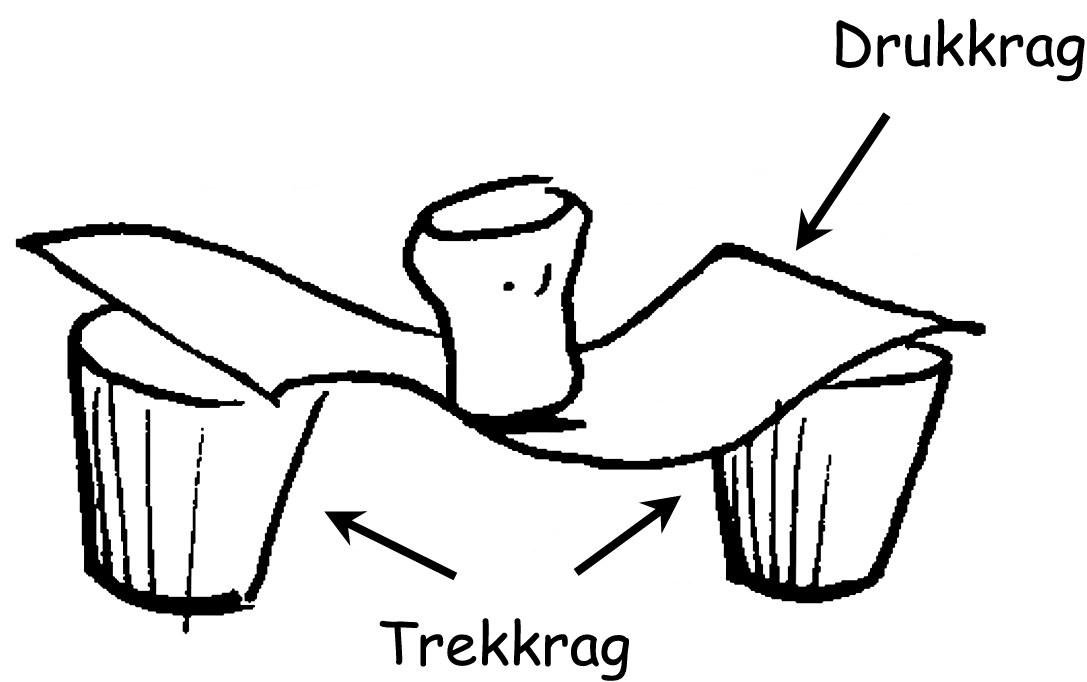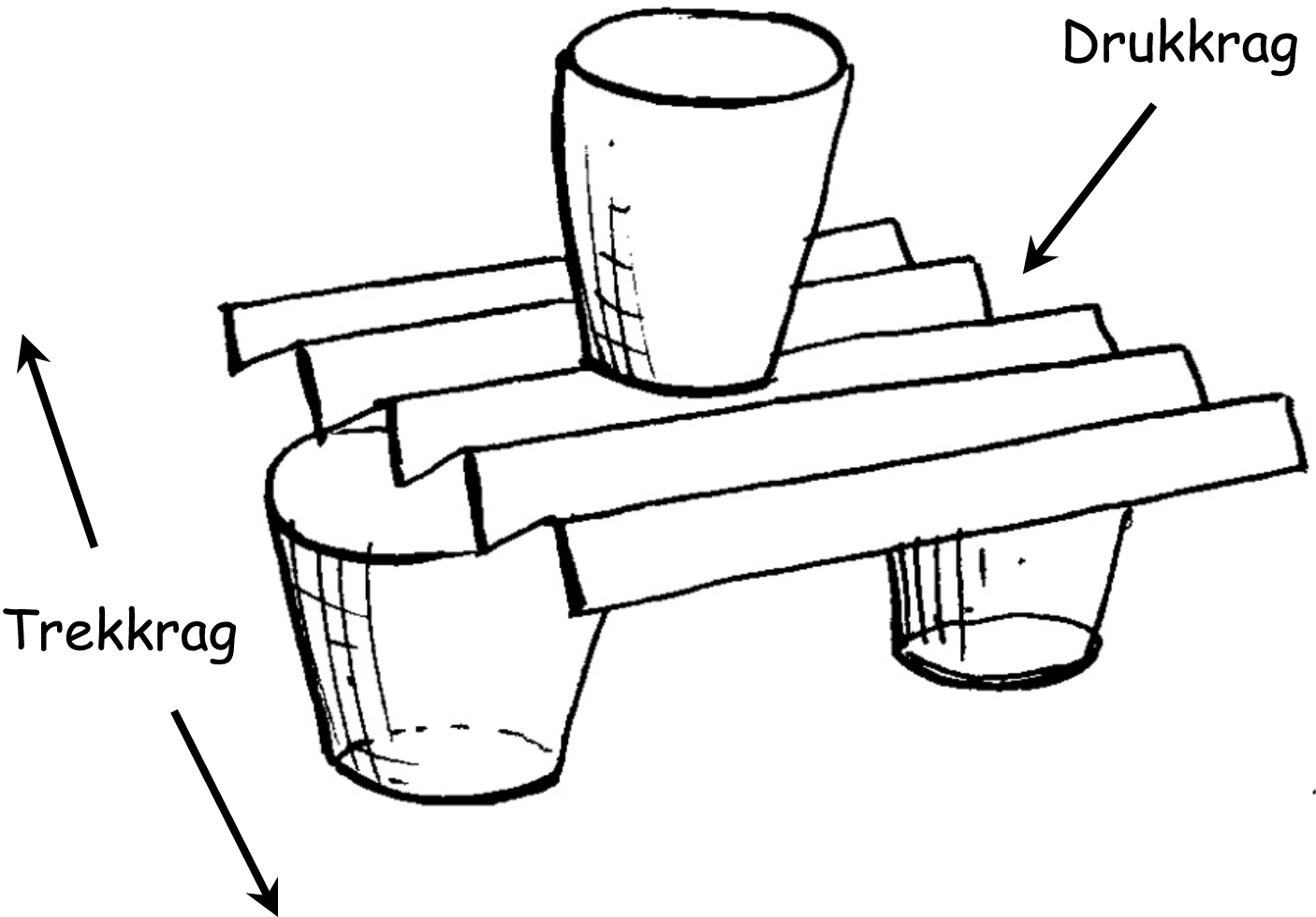 Eksperimenteer met verskillende strukture en kyk watter struktuur die meeste spykers kan ondersteun. Die lengte van die balk moet dieselfde as die oorspronklike lengte bly. Die spykers oefen 'n drukkrag op die balk uit en op die onderste gedeelte word 'n trekkrag na weerskante uitgeoefen. Maak 'n regmerkie by die tipe balk wat die meeste spykers kan ondersteun.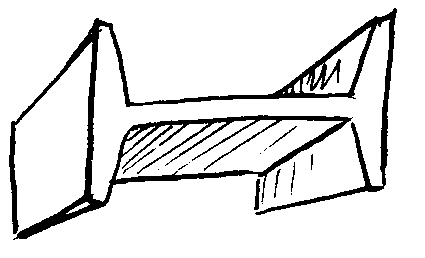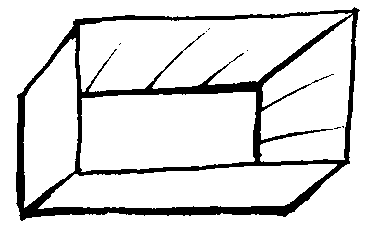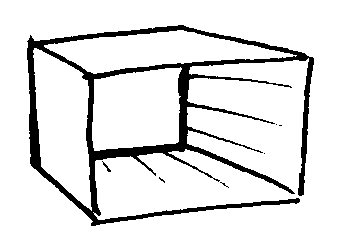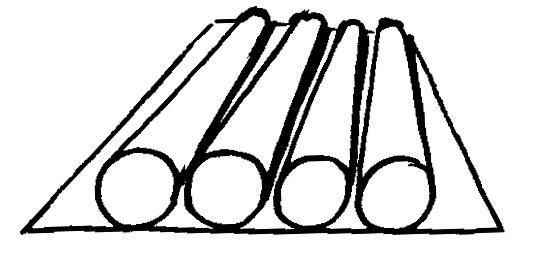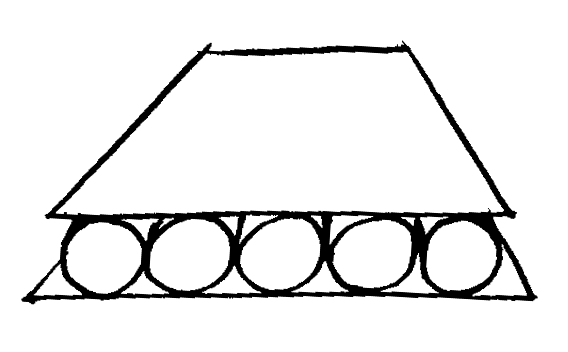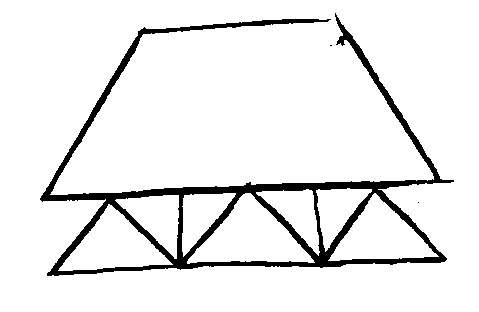 Opdrag 8B
Probeer nou dieselfde eksperiment, maar gebruik folio's i.p.v. manillas.
[LU 1.3]
Opdrag 9
Toepassing :
Waarom is daar riffels in konfytblikke, karton en sinkplate?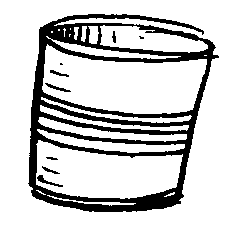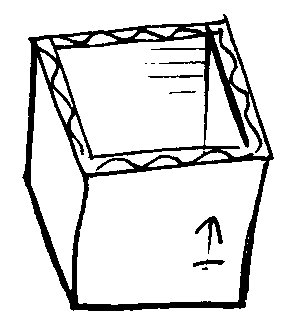 [LU 3.2]
Opdrag 10
Noem drie maniere hoe 'n 3D-struktuur meer stabiel gemaak kan word.
Gebruik _ of _ om die struktuur te hou.
Maak die _ van die struktuur breër.
Maak die _ van die struktuur _ .
'n _ (onder grond, breë deel) van 'n gebou maak die mure en ander strukture meer stabiel.
[LU 2.1]
AGTERGROND
Soorte strukture
dop (verskaf ondersteuning van buite af, sterkte lê in dop, taamlik dun, meestal gekurf, hol)
raam (dele word verbind, ondersteun goed van binnekant af, word weggesteek)
soliede (bestaan geheel en al uit materie, word versterk)
Baie van die strukture wat mense maak, is 'n kombinasie van rame, doppe en soliede strukture. Party lyk soos doppe, maar is eintlik rame wat met dun materiaal bedek is. Ons noem die dun materiaal die vel .
Opdrag 11
Kopieer en voltooi die volgende tabel deur 'n regmerkie onder die toepaslike kolom te maak.
| | | | | |
| --- | --- | --- | --- | --- |
| | Struktuur | Dop | Raam | Solied |
| | 'n Lang brug | | | |
| | 'n Huis | | | |
| | 'n Telefoonpaal | | | |
| | 'n Fiets | | | |
| | 'n Plastiekglas | | | |
| | Kleiteëls | | | |
| | 'n Kartondoos | | | |
| | 'n Damwal | | | |
| | 'n Koeldrankblikkie | | | |
| | Jou geraamte | | | |
[LU 2.1]
AGTERGROND
Strukture kan natuurlik of mensgemaak wees. Ontwerpers van sekere strukture kry dikwels hulle idees uit die natuur.
Opdrag 12
Gebruik twee A4-bladsye en plak prente van ten minste vyf mensgemaakte strukture op een bladsy en vyf natuurlike strukture op die ander. Skryf by elkeen watter soort struktuur, m.a.w. 'n dop, 'n raam of 'n soliede struktuur, dit is.
[LU 1.3]
Opdrag 13
Probeer om een voorbeeld te kry van 'n struktuur wat die ontwerpers of ingenieurs moontlik op 'n natuurlike struktuur gebaseer het. Plak die prent of teken dié voorbeeld op 'n A4-bladsy.
[LU 1.3]
AGTERGROND
Raamstrukture is dele wat verbind word om 'n raam te vorm. Ondersteuning word dus van die binnekant verleen en die raam is meestal weggesteek. 'n Raamstruktuur bestaan uit verskillende dele wat struktuurdele genoem word.