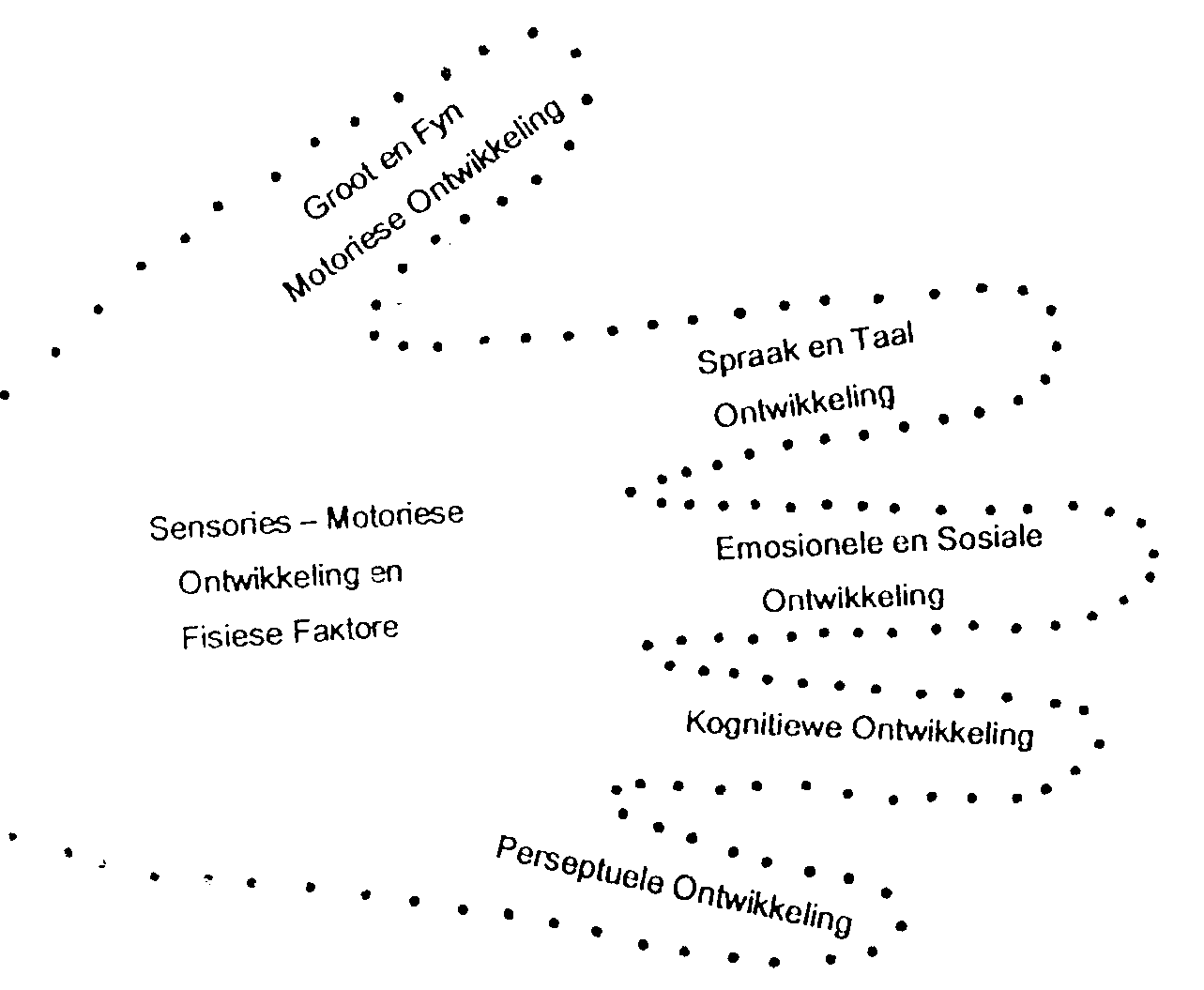 VOORVEREISTES VIR DINK EN LEER
BASIESE KOMPONENTE VAN
ONTWIKKELING EN ALGEMENE
AKTIWITEITE WAT ONTWIKKELING
STIMULEER
Integrasie vind plaas eers wanneer bogenoemde basiese komponente van ontwikkeling geïntegreerd saamwerk.
Die handpalm vorm die basis vir die hand. Die skets
daarvan hierbo Is 'n voorstelling van die basiese
komponente van ontwikkeling. Dit is belangrik, aangesien
dit inligting verskaf oor die leerder se ontwikkeling.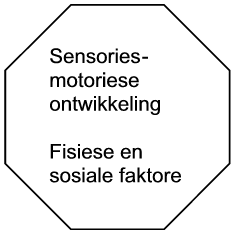 Sensories-motoriese ontwikkeling :
Het die leerder sy motoriese mylpale op die verwagte
ouderdom bereik?
Is daar enige ontwikkelingsagterstande?
Fisiese en sosiale faktore
Het die leerder enige fisiese gebreke wat hom strem, byvoorbeeld doofheid?
Het die leerder enige sosiale ontwikkelingsagterstande, byvoorbeeld deprivasie of verskille ten opsigte van agtergrond?

Die kind se motoriese ontwikkeling help hom om 'n gesonde en gebalanseerde leefwyse te handhaaf. 'n Agterstand in motoriese ontwikkeling kan lei tot moegheid, wat verder mag aanleiding gee tot rusteloosheid, afleibaarheid, swak konsentrasie en koördinasie-probleme. Sy houding op die mat of by sy lessenaar mag ook swak wees.
GROOT MOTORIESE VAARDIGHEDE (samewerking van groot spiere in die liggaam)
Voorbeelde van aktiwiteite:
Klim-en-klouteraktiwiteite
Springaktiwiteite (balspele en touspring)
Balanseeraktiwiteite (huppel, eenbeenstaan, eenbeentjiespring, loop op 'n lyn)
FYN MOTORIESE VAARDIGHEDE (samewerking van die klein spiere in die liggaam)
Voorbeelde van aktiwiteite:
Frommel van papier
Skêrknipaktiwiteite en inkleur
Inryg van krale / wasgoedpennetjies vasknyp
Kleispel / veters bind
MOTORIESE BEPLANNING (dit is die sistematiese uitvoering van nie-gewoontevormende verbale opdragte of take).
Swak motoriese beplanning kan swak werkspoed en lompheid tot gevolg hê en kan daartoe lei dat die leerder langer neem om nuwe vaardighede aan te leer.
SPRAAK- EN TAALONTWIKKELING
Verbale taalontwikkeling begin op 'n vroeë ouderdom, voor lees en skryf. Die jong kind dink in taal en druk sy gedagtes in taal uit. Dit is belangrik in sosiale verhoudings, sowel as in akademiese prestasies en maak ook deel uit van kognitiewe ontwikkeling.
Voorbeelde van aktiwiteite:
Oorvertel van stories / eie ondervindings
Ontwikkeling van 'n woordeskat met behulp van uitstappies, gevolg deur toepaslike klasbesprekings
Bespreking van wêreldgebeure
Liedjies en rympies
Die korrekte gebruik van verbale vermoë in verskillende situasies, bv. om 'n telefoon korrek te beantwoord of 'n boodskap noukeurig oor te dra.
Graad R-leerders moet effektief kan kommunikeer deur taal, kuns, beweging, musiek en dramatisering van fantasie-ervarings.
EMOSIONELE EN SOSIALE ONTWIKKELING

Graad R-leerders moet 'n duidelike gedragskode aangeleer word en het geleenthede nodig om suiwer waardes en houdings en 'n sterk morele kode te ontwikkel om verhoudings in die gesin, familie en gemeenskap te bevorder. Hulle het 'n verskeidenheid sosiale ervarings en geleenthede nodig om te leer om effektief in groepe saam te werk.
Leerders wat emosioneel en sosiaal nog onryp is, vind dit moeilik om in die klassituasie aan te pas en aktief deel te neem. Hulle sukkel om hulle emosies te hanteer, is dikwels bakleierig, onwillig om nuwe dinge aan te pak en in groepe te werk, en onttrek soms. Om selfvertroue te ontwikkel en effektief te kan leer, het hulle 'n veilige, leerdergesentreerde en stimulerende omgewing nodig waar hulle uitgedaag word om te leer.