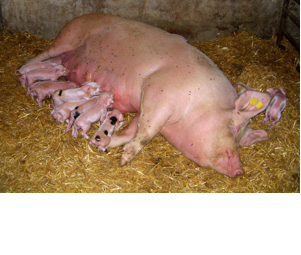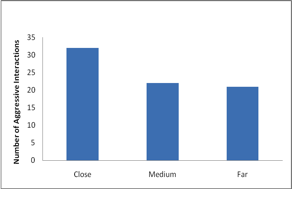 Thomsen et al. explain that this is because when pigs are foraging at a medium or far distance from each other, a subordinate pig has more time to react between the time a dominant pig chooses to feed from the subordinate pig's bucket and the time it gets to that bucket. The subordinate pig can quickly abandon its bucket, avoiding a confrontation. When buckets are close together, a dominant pig can choose to feed from a subordinate pig's bucket and get there before the subordinate pig can move.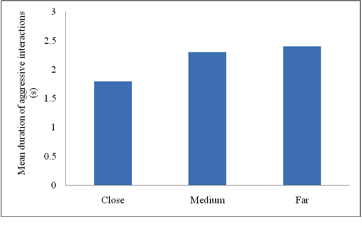 This was supported by the finding that on average, fights between pigs were shorter when buckets were close together ( [link] ). When buckets were close together, a dominant pig would begin a fight and a subordinate pig would back down quickly. When buckets were far apart, there were fewer of these short fights because the subordinate pig had time to leave before the dominant pig could initiate a fight. This suggests another possible reason why wild pigs are more aggressive in the winter- in the winter, the small amount of food available is clumped together so pigs must forage close together. There is a low cost of moving, so dominant pigs may move often and fight with subordinate pigs that do not have time to move out of the way.
The pigs in this study followed optimal foraging theory. Pigs moved between patches (buckets) more frequently when costs were lower (the distance between buckets was smaller). This also explains why there were more aggressive interactions when buckets were closer together; pigs were more likely to move and therefore more likely to have to compete for an occupied bucket.
When food is limited and foragers are in a social hierarchy, social foraging theory predicts that different individuals should play different roles. Dominant animals can seek out food for themselves or take food from their subordinates. Finding food expends more energy than taking it from others, so dominant animals are likely to adopt a " scrounger " strategy in which they exploit their subordinates. Since subordinate animals cannot take food from higher-ranked individuals, they have no choice but to use a " producer " strategy in which they find food and eat as much as possible before it is taken from them (Giraldeau and Caraco, 2000).
Held, et al. conducted an experiment to test if pigs follow the producer-scrounger model. First, they took pigs to food sources and trained them to relocate them. These sources were buckets full of food in a pen also containing empty buckets. When it was clear that these "informed" pigs were able to remember where the full buckets were, they were paired with heavier "uninformed" pigs that did not know where the food was. The researchers predicted that the larger uninformed pigs would follow a scrounger strategy by following the informed pigs and taking food from them. (Held et al., 2000)