By the end of this section, you will be able to:
Describe the basic types of ecosystems on Earth
Explain the methods that ecologists use to study ecosystem structure and dynamics
Identify the different methods of ecosystem modeling
Differentiate between food chains and food webs and recognize the importance of each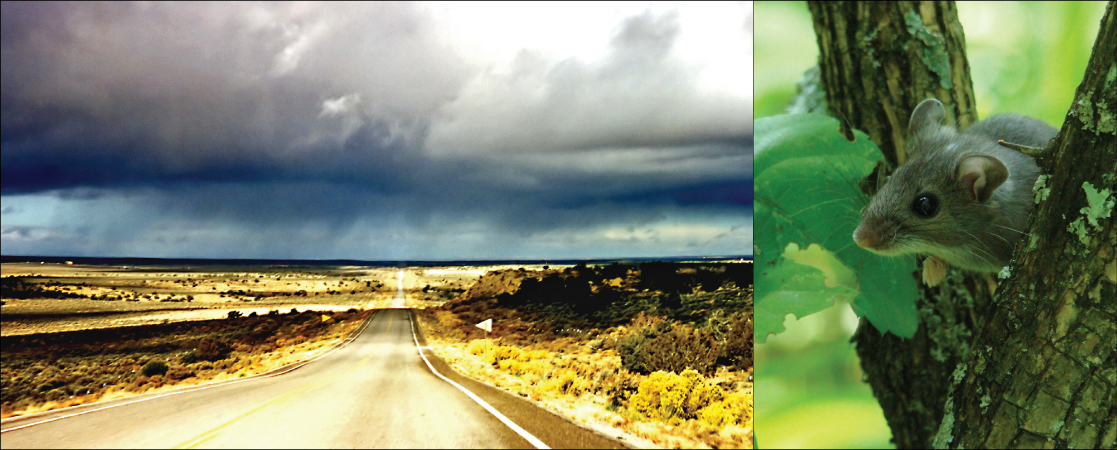 In 1993, an interesting example of ecosystem dynamics occurred when a rare lung disease struck inhabitants of the southwestern United States. This disease had an alarming rate of fatalities, killing more than half of early patients, many of whom were Native Americans. These formerly healthy young adults died from complete respiratory failure. The disease was unknown, and the Centers for Disease Control (CDC), the United States government agency responsible for managing potential epidemics, was brought in to investigate. The scientists could have learned about the disease had they known to talk with the Navajo healers who lived in the area and who had observed the connection between rainfall and mice populations, thereby predicting the 1993 outbreak.
The cause of the disease, determined within a few weeks by the CDC investigators, was the hantavirus known as Sin Nombre , the virus with "no name." With insights from traditional Navajo medicine, scientists were able to characterize the disease rapidly and institute effective health measures to prevent its spread. This example illustrates the importance of understanding the complexities of ecosystems and how they respond to changes in the environment.
Life in an ecosystem is often about competition for limited resources, a characteristic of the theory of natural selection. Competition in communities (all living things within specific habitats) is observed both within species and among different species. The resources for which organisms compete include organic material from living or previously living organisms, sunlight, and mineral nutrients, which provide the energy for living processes and the matter to make up organisms' physical structures. Other critical factors influencing community dynamics are the components of its physical and geographic environment: a habitat's latitude, amount of rainfall, topography (elevation), and available species. These are all important environmental variables that determine which organisms can exist within a particular area.
An ecosystem is a community of living organisms and their interactions with their abiotic (non-living) environment. Ecosystems can be small, such as the tide pools found near the rocky shores of many oceans, or large, such as the Amazon Rainforest in Brazil ( [link] ).