Parallel to these studies in industrial and organizational psychology, the field of human factors psychology was also developing. Frederick Taylor was an engineer who saw that if one could redesign the workplace there would be an increase in both output for the company and wages for the workers. In 1911 he put forward his theory in a book titled, The Principles of Scientific Management ( [link] ). His book examines management styles, personnel selection and training, as well as the work itself, using time and motion studies.

One of the examples of Taylor's theory in action involved workers handling heavy iron ingots. Taylor showed that the workers could be more productive by taking work rests. This method of rest increased worker productivity from 12.5 to 47.0 tons moved per day with less reported fatigue as well as increased wages for the workers who were paid by the ton. At the same time, the company's cost was reduced from 9.2 cents to 3.9 cents per ton. Despite these increases in productivity, Taylor's theory received a great deal of criticism at the time because it was believed that it would exploit workers and reduce the number of workers needed. Also controversial was the underlying concept that only a manager could determine the most efficient method of working, and that while at work, a worker was incapable of this. Taylor's theory was underpinned by the notion that a worker was fundamentally lazy and the goal of Taylor's scientific management approach was to maximize productivity without much concern for worker well-being. His approach was criticized by unions and those sympathetic to workers (Van De Water, 1997).
Gilbreth was another influential I-O psychologist who strove to find ways to increase productivity ( [link] ). Using time and motion studies, Gilbreth and her husband, Frank, worked to make workers more efficient by reducing the number of motions required to perform a task. She not only applied these methods to industry but also to the home, office, shops, and other areas. She investigated employee fatigue and time management stress and found many employees were motivated by money and job satisfaction. In 1914, Gilbreth wrote the book title, The Psychology of Management: The Function of the Mind in Determining, Teaching, and Installing Methods of Least Waste , and she is known as the mother of modern management. Some of Gilbreth's contributions are still in use today: you can thank her for the idea to put shelves inside on refrigerator doors, and she also came up with the concept of using a foot pedal to operate the lid of trash can (Gilbreth, 1914, 1998; Koppes, 1997; Lancaster, 2004). Gilbreth was the first woman to join the American Society of Mechanical Engineers in 1926, and in 1966 she was awarded the Hoover Medal of the American Society of Civil Engineers.
Taylor and Gilbreth's work improved productivity, but these innovations also improved the fit between technology and the human using it. The study of machine–human fit is known as ergonomics or human factors psychology.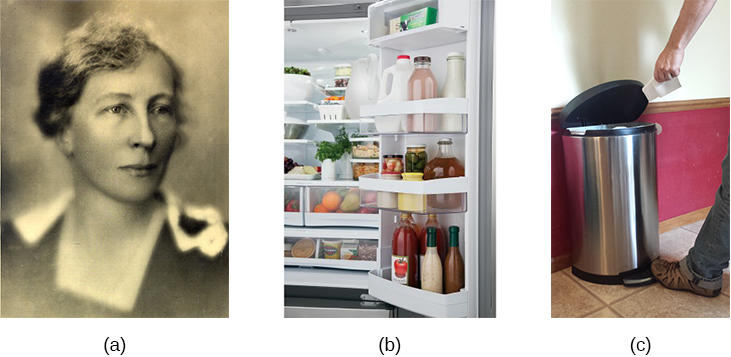 From wwii to today
World War II also drove the expansion of industrial psychology. Bingham was hired as the chief psychologist for the War Department (now the Department of Defense) and developed new systems for job selection, classification, training, ad performance review, plus methods for team development, morale change, and attitude change (Katzell&Austin, 1992). Other countries, such as Canada and the United Kingdom, likewise saw growth in I-O psychology during World War II (McMillan, Stevens,&Kelloway, 2009). In the years after the war, both industrial psychology and organizational psychology became areas of significant research effort. Concerns about the fairness of employment tests arose, and the ethnic and gender biases in various tests were evaluated with mixed results. In addition, a great deal of research went into studying job satisfaction and employee motivation (Katzell&Austin, 1992). Today, I-O psychology is a diverse and deep field of research and practice, as you will learn about in the rest of this chapter. The Society for Industrial and Organizational Psychology (SIOP) , a division of the APA, lists 8,000 members (SIOP, 2014) and the Bureau of Labor Statistics—U.S. Department of Labor (2013) has projected this profession will have the greatest growth of all job classifications in the 20 years following 2012. On average, a person with a master's degree in industrial-organizational psychology will earn over $80,000 a year, while someone with a doctorate will earn over $110,000 a year (Khanna, Medsker,&Ginter, 2012).
Summary
The field of I-O psychology had its birth in industrial psychology and the use of psychological concepts to aid in personnel selection. However, with research such as the Hawthorne study, it was found that productivity was affected more by human interaction and not physical factors; the field of industrial psychology expanded to include organizational psychology. Both WWI and WWII had a strong influence on the development of an expansion of industrial psychology in the United States and elsewhere: The tasks the psychologists were assigned led to development of tests and research in how the psychological concepts could assist industry and other areas. This movement aided in expanding industrial psychology to include organizational psychology.
Personal application question
Which of the broad areas of I-O psychology interests you the most and why?