By the end of this section, you will be able to:
Classify fungi into the five major phyla
Describe each phylum in terms of major representative species and patterns of reproduction
The kingdom Fungi contains five major phyla that were established according to their mode of sexual reproduction or using molecular data. The five true phyla of fungi are the Chytridiomycota (Chytrids), the Zygomycota (conjugated fungi), the Ascomycota (sac fungi), the Basidiomycota (club fungi) and the recently described Phylum Glomeromycota.
Note: "-mycota" is used to designate a phylum while "-mycetes" formally denotes a class or is used informally to refer to all members of the phylum.
Chytridiomycota: the chytrids
The only class in the Phylum Chytridiomycota is the Chytridiomycetes . The chytrids are the simplest and most primitive fungi. The evolutionary record shows that the first recognizable chytrids appeared during the late pre-Cambrian period, more than 500 million years ago. Like all fungi, chytrids have chitin in their cell walls; a few form multicellular organisms and hyphae, but most are single celled. They produce gametes and diploid zoospores that swim with the help of a single flagellum.
The ecological habitat and cell structure of chytrids have much in common with protists. Chytrids usually live in aquatic environments, although some species live on land. Some species thrive as parasites on plants, insects, or amphibians ( [link] ), while others are saprobes. The chytrid species Allomyces is well characterized as an experimental organism. Its reproductive cycle includes both asexual and sexual phases. Allomyces produces diploid or haploid flagellated zoospores in a sporangium.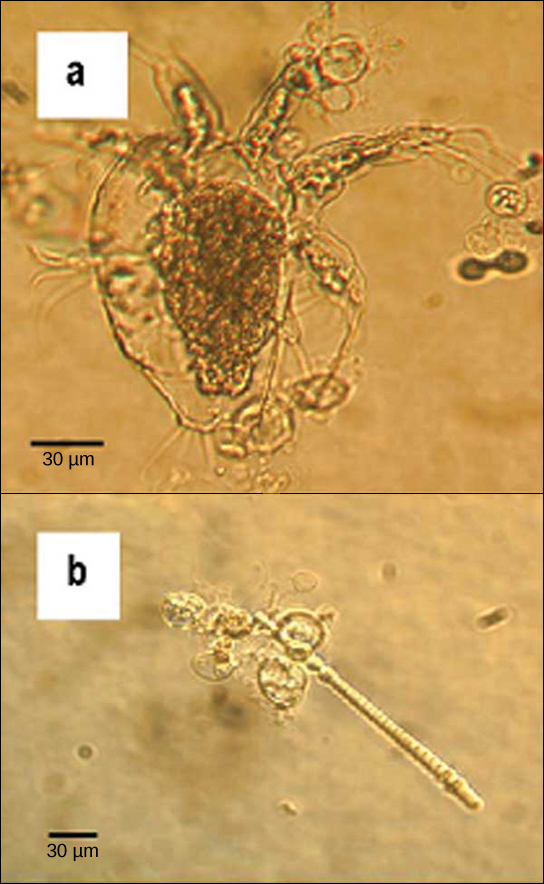 Zygomycota: the zygote fungi
The zygomycetes are a relatively small group of fungi belonging to the Phylum Zygomycota . They include the familiar bread mold, Rhizopus stolonifer , which rapidly propagates on the surfaces of breads, fruits, and vegetables. Most species are saprobes, living off decaying organic material; a few are parasites, particularly of insects. Zygomycetes play a considerable commercial role. The metabolic products of other species of Rhizopus are intermediates in the synthesis of semi-synthetic steroid hormones.
Zygomycetes usually reproduce asexually by producing sporangiospores ( [link] ). The black tips of bread mold are the swollen sporangia packed with black spores ( [link] ). When spores land on a suitable substrate, they germinate and produce a new mycelium. Sexual reproduction starts when conditions become unfavorable.