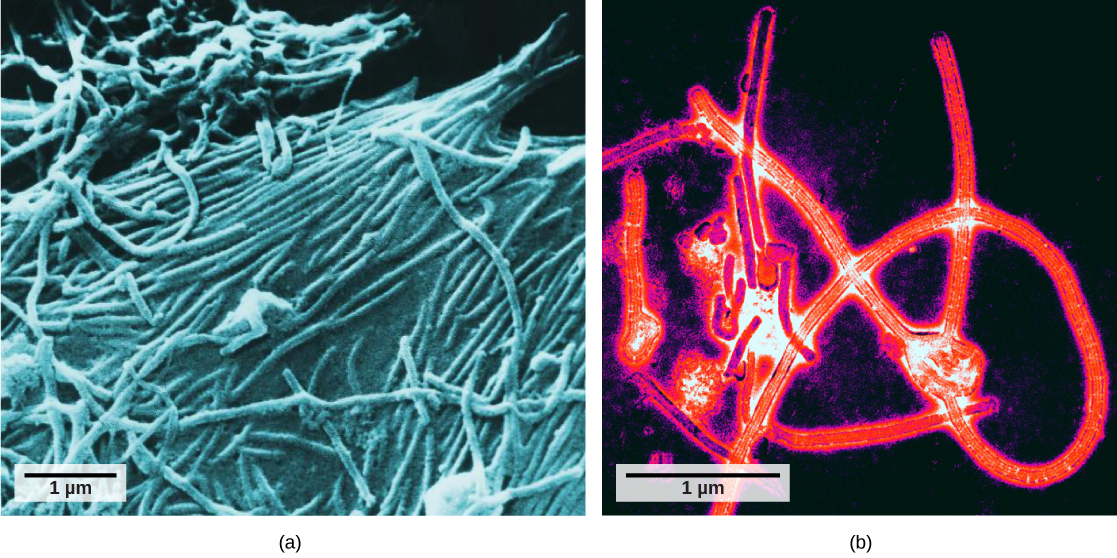 The use of this technology has allowed for the discovery of many viruses of all types of living organisms. They were initially grouped by shared morphology, meaning their size, shape, and distinguishing structures. Later, groups of viruses were classified by the type of nucleic acid they contained, DNA or RNA, and whether their nucleic acid was single- or double-stranded. More recently, molecular analysis of viral replication cycles has further refined their classification.
A virion consists of a nucleic-acid core, an outer protein coating, and sometimes an outer envelope made of protein and phospholipid membranes derived from the host cell. The most visible difference between members of viral families is their morphology, which is quite diverse. An interesting feature of viral complexity is that the complexity of the host does not correlate to the complexity of the virion. Some of the most complex virion structures are observed in bacteriophages, viruses that infect the simplest living organisms, bacteria.
Viruses come in many shapes and sizes, but these are consistent and distinct for each viral family ( [link] ). All virions have a nucleic-acid genome covered by a protective layer of protein, called a capsid . The capsid is made of protein subunits called capsomeres. Some viral capsids are simple polyhedral "spheres," whereas others are quite complex in structure. The outer structure surrounding the capsid of some viruses is called the viral envelope . All viruses use some sort of glycoprotein to attach to their host cells at molecules on the cell called viral receptors. The virus exploits these cell-surface molecules, which the cell uses for some other purpose, as a way to recognize and infect specific cell types. For example, the measles virus uses a cell-surface glycoprotein in humans that normally functions in immune reactions and possibly in the sperm-egg interaction at fertilization. Attachment is a requirement for viruses to later penetrate the cell membrane, inject the viral genome, and complete their replication inside the cell.
The T4 bacteriophage, which infects the E. coli bacterium, is among the most complex virion known; T4 has a protein tail structure that the virus uses to attach to the host cell and a head structure that houses its DNA.
Adenovirus, a nonenveloped animal virus that causes respiratory illnesses in humans, uses protein spikes protruding from its capsomeres to attach to the host cell. Nonenveloped viruses also include those that cause polio (poliovirus), plantar warts (papillomavirus), and hepatitis A (hepatitis A virus). Nonenveloped viruses tend to be more robust and more likely to survive under harsh conditions, such as the gut.