Enveloped virions like HIV (human immunodeficiency virus), the causative agent in AIDS (acquired immune deficiency syndrome), consist of nucleic acid (RNA in the case of HIV) and capsid proteins surrounded by a phospholipid bilayer envelope and its associated proteins ( [link] ). Chicken pox, influenza, and mumps are examples of diseases caused by viruses with envelopes. Because of the fragility of the envelope, nonenveloped viruses are more resistant to changes in temperature, pH, and some disinfectants than enveloped viruses.
Overall, the shape of the virion and the presence or absence of an envelope tells us little about what diseases the viruses may cause or what species they might infect, but is still a useful means to begin viral classification.
Art connection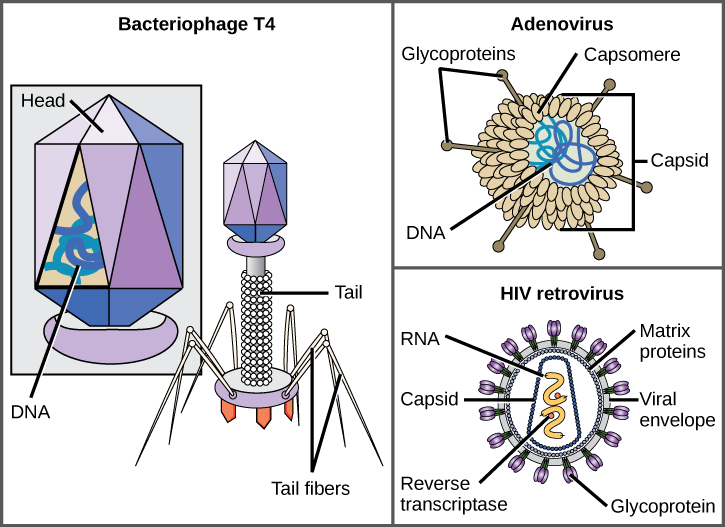 Which of the following statements about virus structure is true?
All viruses are encased in a viral membrane.
The capsomere is made up of small protein subunits called capsids.
DNA is the genetic material in all viruses.
Glycoproteins help the virus attach to the host cell.
Unlike all living organisms that use DNA as their genetic material, viruses may use either DNA or RNA as theirs. The virus core contains the genome or total genetic content of the virus. Viral genomes tend to be small compared to bacteria or eukaryotes, containing only those genes that code for proteins the virus cannot get from the host cell. This genetic material may be single-stranded or double-stranded. It may also be linear or circular. While most viruses contain a single segment of nucleic acid, others have genomes that consist of several segments.
DNA viruses have a DNA core. The viral DNA directs the host cell's replication proteins to synthesize new copies of the viral genome and to transcribe and translate that genome into viral proteins. DNA viruses cause human diseases such as chickenpox, hepatitis B, and some venereal diseases like herpes and genital warts.
RNA viruses contain only RNA in their cores. To replicate their genomes in the host cell, the genomes of RNA viruses encode enzymes not found in host cells. RNA polymerase enzymes are not as stable as DNA polymerases and often make mistakes during transcription. For this reason, mutations, changes in the nucleotide sequence, in RNA viruses occur more frequently than in DNA viruses. This leads to more rapid evolution and change in RNA viruses. For example, the fact that influenza is an RNA virus is one reason a new flu vaccine is needed every year. Human diseases caused by RNA viruses include hepatitis C, measles, and rabies.