Bewyse en vermoedens in meetkunde
Jy het gesien hoe om meetkunde en die eienskappe van poligone te gebruik om die onbekende lengtes van sye en die groottes van hoeke van verskeie vierhoeke en poligone te vind. Ons gaan nou hierdie werk uitbrei om sommige van die eienskappe te bewys en probleme op te los. 'n Vermoede is 'n wiskundige se manier om te se: "Ek glo dit is waar, maar ek het geen bewys nie". Die volgende uitgewerkte voorbeelde sal help om dit duideliker te maak.
Gegee vierhoek ABCD, met en , bewys dat en .
Ons maak die volgende skets en trek die diagonale.

Gegee: en . Ons moet bewys en . In formele wiskundetaal sê ons dat ons gevra word om te bewys (RTP='requested to prove'): en .

Net so vind ons dat:
In parallelogram ABCD, is die halveerlyne van die hoeke (AW, BX, CY en DZ) gekonstrueer: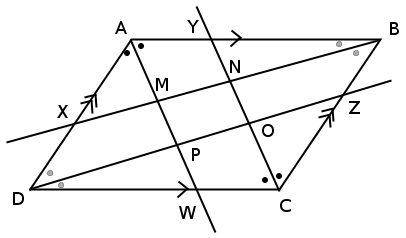 Dit word ook gegee dat , , , , , en . Bewys dat MNOP parallelogram is.
Gegee: , , , , , and . Bewys MNOP is 'n parallelogram.

MNOP is 'n parallelogram (beide pare teenoorstaande 'e , daarom is beide pare teenoorstaande sye ook parallel)
Dit is baie belangrik om daarop te let dat 'n enkele teen-voorbeeld genoeg is om 'n vermoede verkeerd te bewys. Selfs 'n menigte ondersteunende voorbeelde is nog steeds geen bewys nie!
Questions & Answers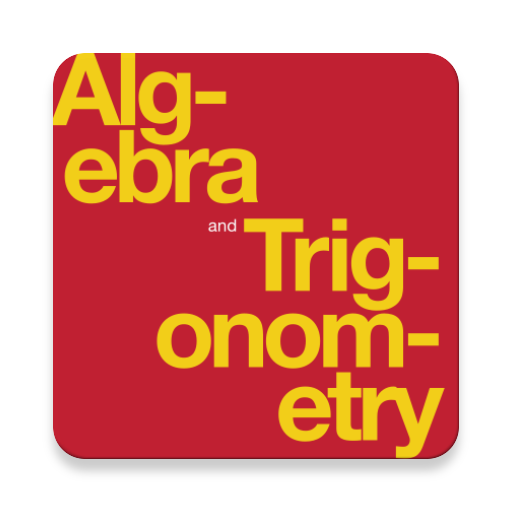 Complete Textbook by OpenStax
Multiple Choices Questions (MCQ)
Essay Questions Flash Cards
Key-Terms Flash Cards
Source:  OpenStax, Siyavula textbooks: wiskunde (graad 10) [caps]. OpenStax CNX. Aug 04, 2011 Download for free at http://cnx.org/content/col11328/1.4
Google Play and the Google Play logo are trademarks of Google Inc.
Notification Switch
Would you like to follow the 'Siyavula textbooks: wiskunde (graad 10) [caps]' conversation and receive update notifications?