Accessory organs
The organs discussed above are the organs of the digestive tract through which food passes. Accessory organs add secretions and enzymes that break down food into nutrients. Accessory organs include the salivary glands, the liver, the pancreas, and the gall bladder. The secretions of the liver, pancreas, and gallbladder are regulated by hormones in response to food consumption.
The liver is the largest internal organ in humans and it plays an important role in digestion of fats and detoxifying blood. The liver produces bile, a digestive juice that is required for the breakdown of fats in the duodenum. The liver also processes the absorbed vitamins and fatty acids and synthesizes many plasma proteins. The gallbladder is a small organ that aids the liver by storing bile and concentrating bile salts.
The pancreas secretes bicarbonate that neutralizes the acidic chyme and a variety of enzymes for the digestion of protein and carbohydrates.
Art connection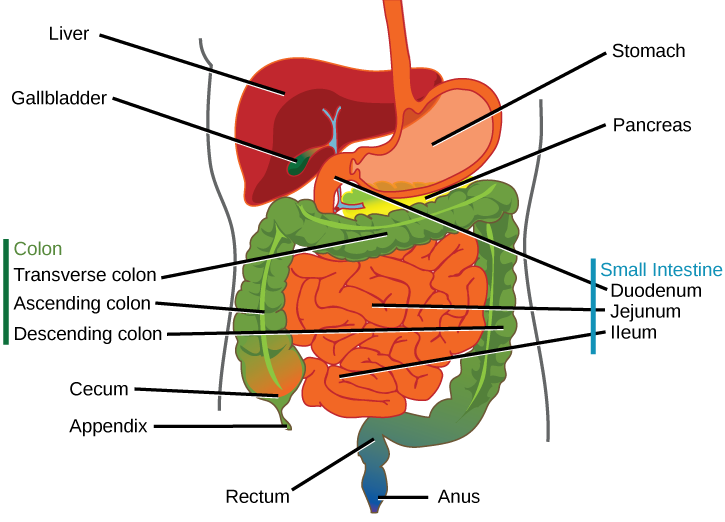 Which of the following statements about the digestive system is false?
Chyme is a mixture of food and digestive juices that is produced in the stomach.
Food enters the large intestine before the small intestine.
In the small intestine, chyme mixes with bile, which emulsifies fats.
The stomach is separated from the small intestine by the pyloric sphincter.
Nutrition
The human diet should be well balanced to provide nutrients required for bodily function and the minerals and vitamins required for maintaining structure and regulation necessary for good health and reproductive capability ( [link] ).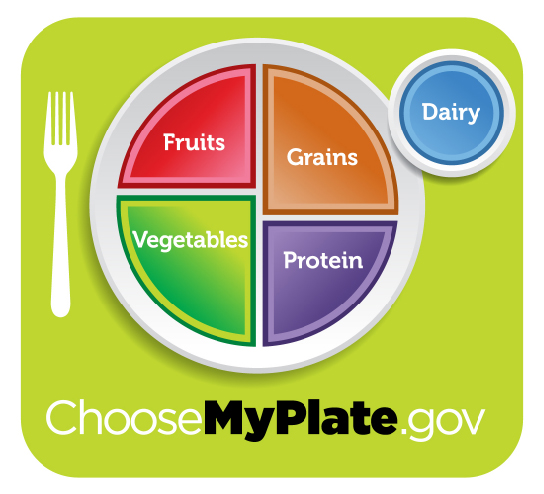 The organic molecules required for building cellular material and tissues must come from food. During digestion, digestible carbohydrates are ultimately broken down into glucose and used to provide energy within the cells of the body. Complex carbohydrates, including polysaccharides, can be broken down into glucose through biochemical modification; however, humans do not produce the enzyme necessary to digest cellulose (fiber). The intestinal flora in the human gut are able to extract some nutrition from these plant fibers. These plant fibers are known as dietary fiber and are an important component of the diet. The excess sugars in the body are converted into glycogen and stored for later use in the liver and muscle tissue. Glycogen stores are used to fuel prolonged exertions, such as long-distance running, and to provide energy during food shortage. Fats are stored under the skin of mammals for insulation and energy reserves.
Proteins in food are broken down during digestion and the resulting amino acids are absorbed. All of the proteins in the body must be formed from these amino-acid constituents; no proteins are obtained directly from food.