The chemical process of digestion begins during chewing as food mixes with saliva, produced by the salivary glands ( [link] ). Saliva contains mucus that moistens food and buffers the pH of the food. Saliva also contains lysozyme, which has antibacterial action. It also contains an enzyme called salivary amylase that begins the process of converting starches in the food into a disaccharide called maltose. Another enzyme called lipase is produced by cells in the tongue to break down fats. The chewing and wetting action provided by the teeth and saliva prepare the food into a mass called the bolus for swallowing. The tongue helps in swallowing—moving the bolus from the mouth into the pharynx. The pharynx opens to two passageways: the esophagus and the trachea. The esophagus leads to the stomach and the trachea leads to the lungs. The epiglottis is a flap of tissue that covers the tracheal opening during swallowing to prevent food from entering the lungs.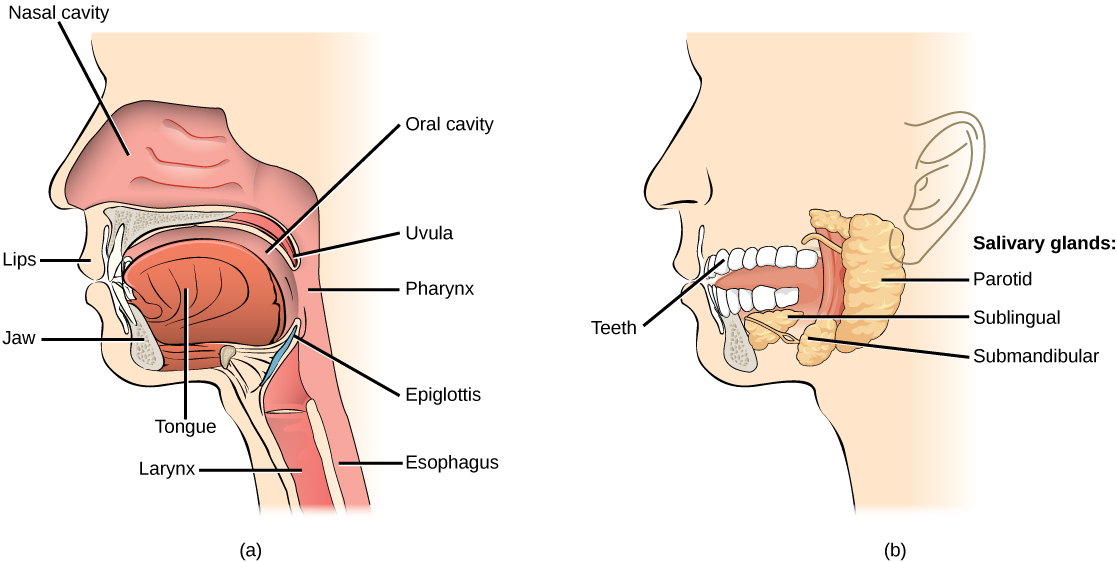 Esophagus
The esophagus is a tubular organ that connects the mouth to the stomach. The chewed and softened food passes through the esophagus after being swallowed. The smooth muscles of the esophagus undergo peristalsis that pushes the food toward the stomach. The peristaltic wave is unidirectional—it moves food from the mouth the stomach, and reverse movement is not possible, except in the case of the vomit reflex. The peristaltic movement of the esophagus is an involuntary reflex; it takes place in response to the act of swallowing.
Ring-like muscles called sphincters form valves in the digestive system. The gastro-esophageal sphincter (or cardiac sphincter) is located at the stomach end of the esophagus. In response to swallowing and the pressure exerted by the bolus of food, this sphincter opens, and the bolus enters the stomach. When there is no swallowing action, this sphincter is shut and prevents the contents of the stomach from traveling up the esophagus. Acid reflux or "heartburn" occurs when the acidic digestive juices escape into the esophagus.
Stomach
A large part of protein digestion occurs in the stomach ( [link] ). The stomach is a saclike organ that secretes gastric digestive juices.
Protein digestion is carried out by an enzyme called pepsin in the stomach chamber. The highly acidic environment kills many microorganisms in the food and, combined with the action of the enzyme pepsin, results in the catabolism of protein in the food. Chemical digestion is facilitated by the churning action of the stomach caused by contraction and relaxation of smooth muscles. The partially digested food and gastric juice mixture is called chyme . Gastric emptying occurs within two to six hours after a meal. Only a small amount of chyme is released into the small intestine at a time. The movement of chyme from the stomach into the small intestine is regulated by hormones, stomach distension and muscular reflexes that influence the pyloric sphincter.