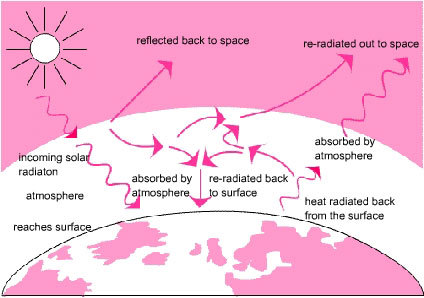 Global warming: refers to increase in earth's temperature due to the greenhouse effect
Deforestation: removal of natural forests. This destroys biodiversity, and also removes plants which help to decrease the carbon dioxide burden.
Acid Rain Burning fossil fuels may also produce sulphur dioxide and nitrogen oxide gases. These gases rise up in the atmosphere from factories, power stations andvehicles and dissolve in the water in clouds forming acid rain. Acid rain can damage trees directly.If the water in rivers and lakes becomes too acidic,plants and animals cannot survive. Acid rain also damages buildings
Destruction of biodiversity - hunting, pollution, destruction of the natural environment and introduction ofalien species can result in the extinction of native species.
Definitions and terms
Greenhouse gases: Methane, nitrous oxide, carbon dioxide
Fossil Fuels: Natural substances made deep within the earth by the decomposition of plants and animal remains over millions of years
The greenhouse effect
http://www.curriki.org/xwiki/bin/view/Coll_Athabasca/Unit5-Lesson3TheGreenhouseE ffect
With the rise to prominence of the issue of global warming, it is important to discuss the greenhouse effect. The name comes from the everyday concept of agreenhouse, where sunlight is allowed to pass through transparent panels and shine on the plants inside. This provides energy to the plants, but also warmseverything inside the greenhouse. With the sealed layer of transparent panels, the warmth is trapped inside and the greenhouse becomes much warmer than theenvironment outside.
The Earth's atmosphere functions exactly like this, except there are no transparent panels. When sunlight shines down on the Earth, most of it isabsorbed on the surface, giving us warmth and energy. Some of the light is absorbed by the atmosphere before it hits the surface, and a very small amountof the light is also reflected back off the surface toward outer space. Additionally, the surface of the Earth releases heat into the atmosphere, suchas can be seen over a road on a hot day.
The greenhouse effect is not limited to Earth. Any planet that has a significant atmosphere has some kind of greenhouse effect. Venus has a significantgreenhouse effect that keeps the surface of the planet extremely hot, averaging around 460˚C. A probe that was sent to study the planet survived for onlytwo hours before melting, even though it was designed with durable metals.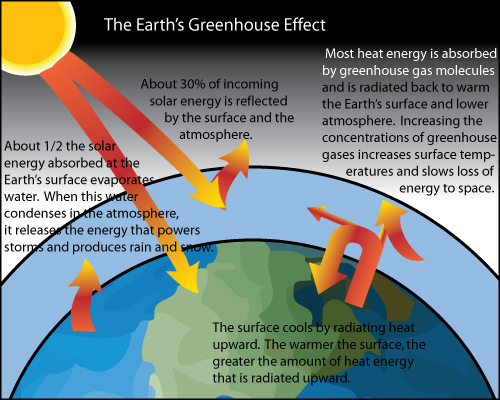 With the reflection of light off the surface and the surface radiation of heat, much of the energy from sunlight would be lost back to space. Fortunately theatmosphere acts like the transparent panels from the greenhouse trapping the heat. Natural gases in our atmosphere called greenhouse gases (such as carbondioxide and water vapour) are extremely good at absorbing various kinds of sunlight. So, rather than escaping back into space, much of this reflectedlight and heat is actually absorbed by the greenhouse gases. This has a significant warming effect on our atmosphere.