The replication mechanism depends on the viral genome. DNA viruses usually use host cell proteins and enzymes to make additional DNA that is used to copy the genome or be transcribed to messenger RNA (mRNA), which is then used in protein synthesis. RNA viruses, such as the influenza virus, usually use the RNA core as a template for synthesis of viral genomic RNA and mRNA. The viral mRNA is translated into viral enzymes and capsid proteins to assemble new virions ( [link] ). Of course, there are exceptions to this pattern. If a host cell does not provide the enzymes necessary for viral replication, viral genes supply the information to direct synthesis of the missing proteins. Retroviruses, such as HIV, have an RNA genome that must be reverse transcribed to make DNA, which then is inserted into the host's DNA. To convert RNA into DNA, retroviruses contain genes that encode the virus-specific enzyme reverse transcriptase that transcribes an RNA template to DNA. The fact that HIV produces some of its own enzymes, which are not found in the host, has allowed researchers to develop drugs that inhibit these enzymes. These drugs, including the reverse transcriptase inhibitor AZT, inhibit HIV replication by reducing the activity of the enzyme without affecting the host's metabolism.
The last stage of viral replication is the release of the new virions into the host organism, where they are able to infect adjacent cells and repeat the replication cycle. Some viruses are released when the host cell dies and other viruses can leave infected cells by budding through the membrane without directly killing the cell.
Art connection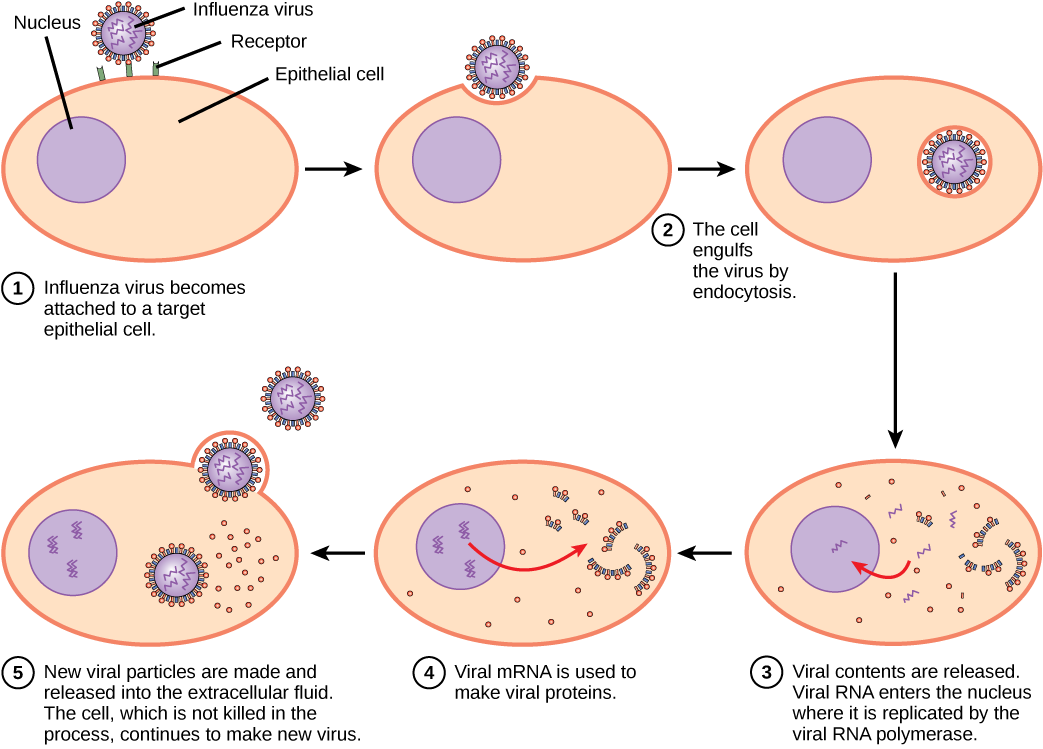 Influenza virus is packaged in a viral envelope, which fuses with the plasma membrane. This way, the virus can exit the host cell without killing it. What advantage does the virus gain by keeping the host cell alive?
Concept in action
Click through this tutorial on viruses to identify structures, modes of transmission, replication, and more.
Viruses and disease
Viruses cause a variety of diseases in animals, including humans, ranging from the common cold to potentially fatal illnesses like meningitis ( [link] ). These diseases can be treated by antiviral drugs or by vaccines, but some viruses, such as HIV, are capable of avoiding the immune response and mutating so as to become resistant to antiviral drugs.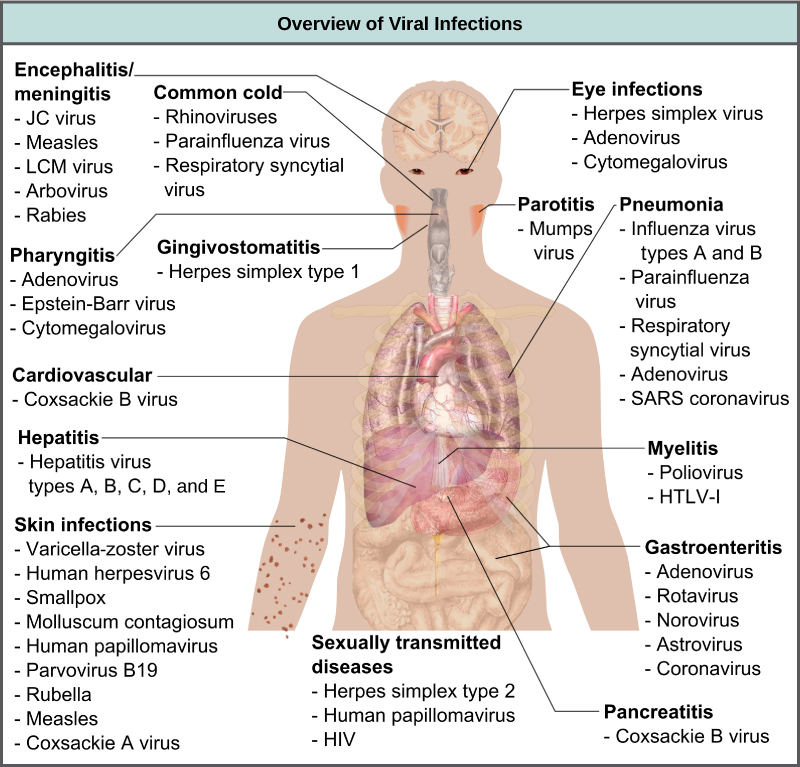 Vaccines for prevention
While we do have limited numbers of effective antiviral drugs, such as those used to treat HIV and influenza, the primary method of controlling viral disease is by vaccination, which is intended to prevent outbreaks by building immunity to a virus or virus family. A vaccine may be prepared using weakened live viruses, killed viruses, or molecular subunits of the virus. In general, live viruses lead to better immunity, but have the possibility of causing disease at some low frequency. Killed viral vaccine and the subunit viruses are both incapable of causing disease, but in general lead to less effective or long-lasting immunity.