Sponges reproduce both sexually and asexually. Asexual reproduction is either by fragmentation (in which a piece of the sponge breaks off and develops into a new individual), or budding (an outgrowth from the parent that eventually detaches). A type of asexual reproduction found only in freshwater sponges occurs through the formation of gemmules , clusters of cells surrounded by a tough outer layer. Gemmules survive hostile environments and can attach to a substrate and grow into a new sponge.
Sponges are monoecious (or hermaphroditic), meaning one individual can produce both eggs and sperm. Sponges may be sequentially hermaphroditic, producing eggs first and sperm later. Eggs arise from amoebocytes and are retained within the spongocoel, whereas sperm arise from choanocytes and are ejected through the osculum. Sperm carried by water currents fertilize the eggs of other sponges. Early larval development occurs within the sponge, and free-swimming larvae are then released through the osculum. This is the only time that sponges exhibit mobility. Sponges are sessile as adults and spend their lives attached to a fixed substrate.
Concept in action
Watch this video that demonstrates the feeding of sponges.
Cnidarians
The phylum Cnidaria includes animals that show radial or biradial symmetry and are diploblastic. Nearly all (about 99 percent) cnidarians are marine species. Cnidarians have specialized cells known as cnidocytes ("stinging cells") containing organelles called nematocysts . These cells are concentrated around the mouth and tentacles of the animal and can immobilize prey with toxins. Nematocysts contain coiled threads that may bear barbs. The outer wall of the cell has a hairlike projection that is sensitive to touch. When touched, the cells fire the toxin-containing coiled threads that can penetrate and stun the predator or prey (see [link] ).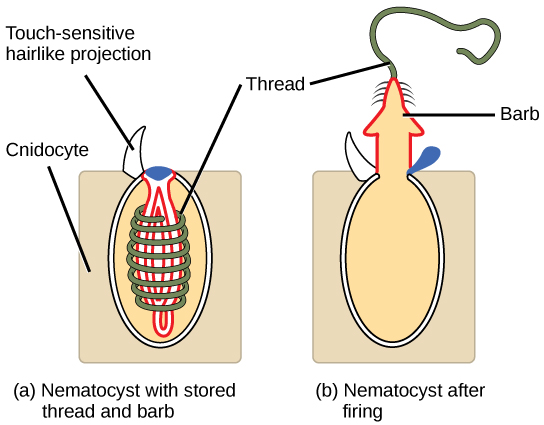 Cnidarians display two distinct body plans: polyp or "stalk" and medusa or "bell" ( [link] ). Examples of the polyp form are freshwater species of the genus Hydra ; perhaps the best-known medusoid animals are the jellies (jellyfish). Polyps are sessile as adults, with a single opening to the digestive system (the mouth) facing up with tentacles surrounding it. Medusae are motile, with the mouth and tentacles hanging from the bell-shaped body. In other cnidarians, both a polyp and medusa form exist, and the life cycle alternates between these forms.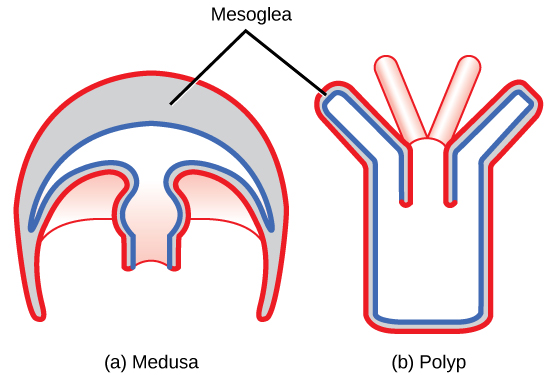 Physiological processes of cnidarians
All cnidarians have two tissue layers. The outer layer is called the epidermis , whereas the inner layer is called the gastrodermis and lines the digestive cavity. Between these two layers is a non-living, jelly-like mesoglea . There are differentiated cell types in each tissue layer, such as nerve cells, enzyme-secreting cells, and nutrient-absorbing cells, as well as intercellular connections between the cells. However, organs and organ systems are not present in this phylum.