By the end of this section, you will be able to:
Discuss the need for a comprehensive classification system
List the different levels of the taxonomic classification system
Describe how systematics and taxonomy relate to phylogeny
Discuss the components and purpose of a phylogenetic tree
Compare homologous and analogous traits
Discuss the purpose of cladistics
Describe maximum parsimony
Introduction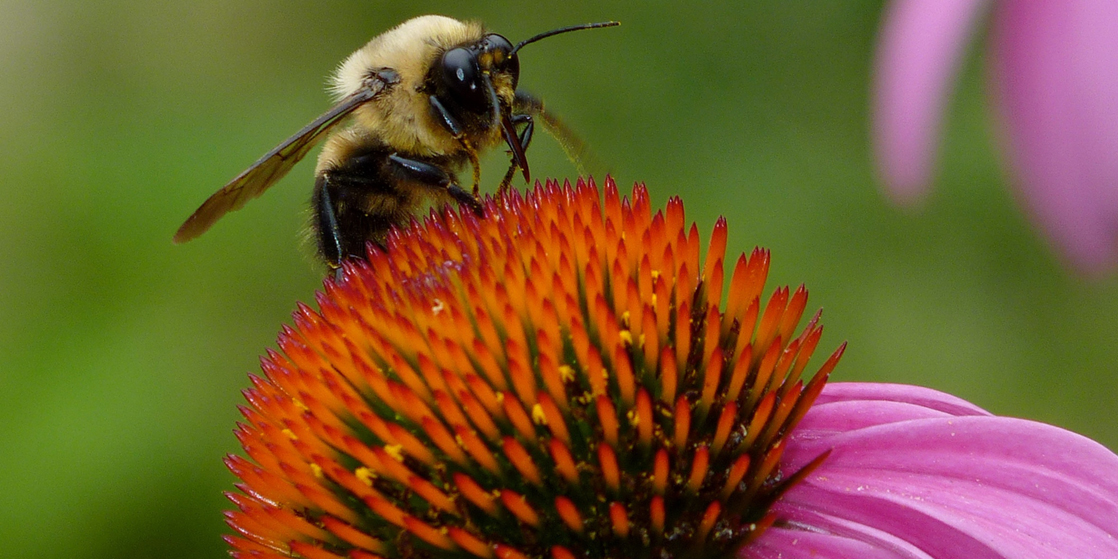 This bee and Echinacea flower ( [link] ) could not look more different, yet they are related, as are all living organisms on Earth. By following pathways of similarities and changes—both visible and genetic—scientists seek to map the evolutionary past of how life developed from single-celled organisms to the tremendous collection of creatures that have germinated, crawled, floated, swam, flown, and walked on this planet.
In scientific terms, the evolutionary history and relationship of an organism or group of organisms is called phylogeny. Phylogeny describes the relationships of an organism, such as from which organisms it is thought to have evolved, to which species it is most closely related, and so forth. Phylogenetic relationships provide information on shared ancestry but not necessarily on how organisms are similar or different.
Phylogenetic trees
Scientists use a tool called a phylogenetic tree to show the evolutionary pathways and connections among organisms. A phylogenetic tree is a diagram used to reflect evolutionary relationships among organisms or groups of organisms. Scientists consider phylogenetic trees to be a hypothesis of the evolutionary past since one cannot go back to confirm the proposed relationships. In other words, a "tree of life" can be constructed to illustrate when different organisms evolved and to show the relationships among different organisms ( [link] ).
Unlike a taxonomic classification diagram, a phylogenetic tree can be read like a map of evolutionary history. Many phylogenetic trees have a single lineage at the base representing a common ancestor. Scientists call such trees rooted , which means there is a single ancestral lineage (typically drawn from the bottom or left) to which all organisms represented in the diagram relate. Notice in the rooted phylogenetic tree that the three domains— Bacteria, Archaea, and Eukarya—diverge from a single point and branch off. The small branch that plants and animals (including humans) occupy in this diagram shows how recent and miniscule these groups are compared with other organisms. Unrooted trees don't show a common ancestor but do show relationships among species.