Honeybees prefer UV-blue and blue light, which they associate with high nectar. Green receptors are primarily used for the detection of motion, which is particularly helpful when bees are around or upon leaves. Briscoe and Chittka, 2001.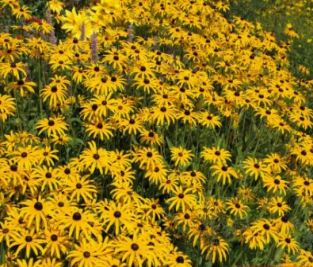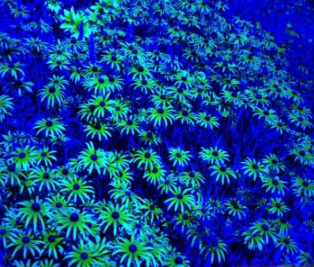 So it has been established that flowers look even more delectable to honeybees with an Australian crab spider sitting on top. But as aforementioned, Australian crab spiders cannot simply guess which flower is most attractive to a bee if they wish to have the most hunting success. They need to anticipate honeybee desires. This adds a twist to this predator/prey dynamic. Non-random selection of flowers is an evolved trait; however, just as Australian crab spiders are evolving to become better predators by anticipating honeybee preferences, honeybees are becoming smarter prey, learning to avoid crab spiders (Heiling and Herberstein, 2004) as described in the "Predator and Prey Coevolution" insert on the next page.
Predator and Prey Coevolution
Australian crab spiders ambush the hymenopteran prey available to them on their continent, including native honeybees to Australia and an introduced "naive" European honeybee species. In a study performed by A. M. Heiling and M. E. Herberstein, native and naive honeybees were watched as they approached flowers with or without spiders. While both species were attracted to the flower with spiders occupying a petal, only the naive bees frequently landed on these flowers. The native species has coevolved with the Australian crab spiders and therefore has learned to avoid landing on spider-occupied plants.
The results of this study indicate that native pollinators, the Australian bees, currently have the upper hand in the coevolutionary arms race. The authors of the paper expect that the crab spiders will counter this advantage by either reducing conspicuousness or exploiting a different sensory modality to attract native prey. (Heiling and Herberstein, 2004)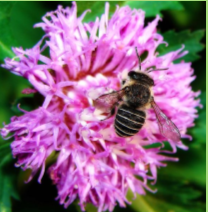 Australian native bee .
Photo credit: Louise Docker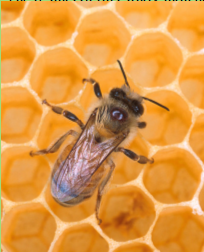 Apis mellifera. Photo credit: Scott Bauer, USDA/ARS
The aforementioned studies that confirmed that Australian crab spiders use olfactory signals, visual cues, and UV-contrast imply that spiders make a choice about where they want to sit. The ability to process these signals, especially those being sent by floral species to their pollinators, is an evolved exploitation. But beyond intercepting signals meant for their prey, Australian crab spiders can manipulate themselves in a way that makes them even more adept at trapping their meals.
Thomisus spectabilis have the ability to change their body color from white to yellow over the course of several days. Incredibly, these spiders choose what color they want their bodies to be depending on the color of the flower on which they are sitting! This implies that they have knowledge of their own body color and are able to discern the colors of their surroundings. Australian crab spiders use their body and the UV-contrast it provides in comparison to the petal on which it is sitting to send a signal to a receiver, the honeybee. Therefore, in changing their body color in relation to the flower, they are using a behavioral means to exploit the signal for their greatest hunting success.