Aggressive displays are also common in the animal kingdom. An example is when a dog bares its teeth when it wants another dog to back down. Presumably, these displays communicate not only the willingness of the animal to fight, but also its fighting ability. Although these displays do signal aggression on the part of the sender, it is thought that these displays are actually a mechanism to reduce the amount of actual fighting that occurs between members of the same species: they allow individuals to assess the fighting ability of their opponent and thus decide whether it is "worth the fight." The testing of certain hypotheses using game theory has led to the conclusion that some of these displays may overstate an animal's actual fighting ability and are used to "bluff" the opponent. This type of interaction, even if "dishonest," would be favored by natural selection if it is successful more times than not.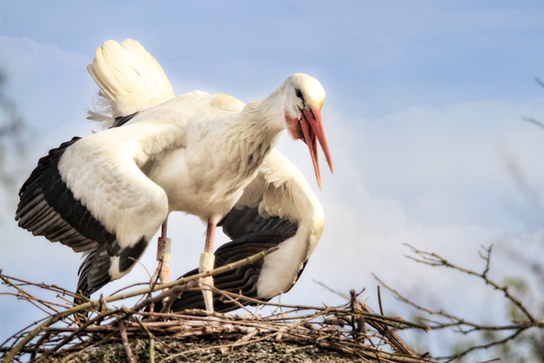 Distraction displays are seen in birds and some fish. They are designed to attract a predator away from the nest that contains their young. This is an example of an altruistic behavior: it benefits the young more than the individual performing the display, which is putting itself at risk by doing so.
Many animals, especially primates, communicate with other members in the group through touch. Activities such as grooming, touching the shoulder or root of the tail, embracing, lip contact, and greeting ceremonies have all been observed in the Indian langur, an Old World monkey. Similar behaviors are found in other primates, especially in the great apes.
Altruistic behaviors
Behaviors that lower the fitness of the individual but increase the fitness of another individual are termed altruistic. Examples of such behaviors are seen widely across the animal kingdom. Social insects such as worker bees have no ability to reproduce, yet they maintain the queen so she can populate the hive with her offspring. Meerkats keep a sentry standing guard to warn the rest of the colony about intruders, even though the sentry is putting itself at risk. Wolves and wild dogs bring meat to pack members not present during a hunt. Lemurs take care of infants unrelated to them. Although on the surface, these behaviors appear to be altruistic, it may not be so simple.
There has been much discussion over why altruistic behaviors exist. Do these behaviors lead to overall evolutionary advantages for their species? Do they help the altruistic individual pass on its own genes? And what about such activities between unrelated individuals? One explanation for altruistic-type behaviors is found in the genetics of natural selection. In the 1976 book, The Selfish Gene, scientist Richard Dawkins attempted to explain many seemingly altruistic behaviors from the viewpoint of the gene itself. Although a gene obviously cannot be selfish in the human sense, it may appear that way if the sacrifice of an individual benefits related individuals that share genes that are identical by descent (present in relatives because of common lineage). Mammal parents make this sacrifice to take care of their offspring. Emperor penguins migrate miles in harsh conditions to bring food back for their young. Selfish gene theory has been controversial over the years and is still discussed among scientists in related fields.