The development of new technology can provide a way for an economy to sidestep the diminishing marginal returns of capital deepening. [link] shows how. The horizontal axis of the figure measures the amount of capital deepening, which on this figure is an overall measure that includes deepening of both physical and human capital. The amount of human and physical capital per worker increases as you move from left to right, from C 1 to C 2 to C 3 . The vertical axis of the diagram measures per capita output. Start by considering the lowest line in this diagram, labeled Technology 1. Along this aggregate production function, the level of technology is being held constant, so the line shows only the relationship between capital deepening and output. As capital deepens from C 1 to C 2 to C 3 and the economy moves from R to U to W, per capita output does increase—but the way in which the line starts out steeper on the left but then flattens as it moves to the right shows the diminishing marginal returns, as additional marginal amounts of capital deepening increase output by ever-smaller amounts. The shape of the aggregate production line (Technology 1) shows that the ability of capital deepening, by itself, to generate sustained economic growth is limited, since diminishing returns will eventually set in.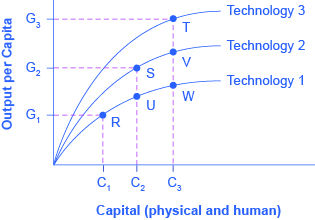 Now, bring improvements in technology into the picture. Improved technology means that with a given set of inputs, more output is possible. The production function labeled Technology 1 in the figure is based on one level of technology, but Technology 2 is based on an improved level of technology, so for every level of capital deepening on the horizontal axis, it produces a higher level of output on the vertical axis. In turn, production function Technology 3 represents a still higher level of technology, so that for every level of inputs on the horizontal axis, it produces a higher level of output on the vertical axis than either of the other two aggregate production functions.
Most healthy, growing economies are deepening their human and physical capital and increasing technology at the same time. As a result, the economy can move from a choice like point R on the Technology 1 aggregate production line to a point like S on Technology 2 and a point like T on the still higher aggregate production line (Technology 3). With the combination of technology and capital deepening, the rise in GDP per capita in high-income countries does not need to fade away because of diminishing returns. The gains from technology can offset the diminishing returns involved with capital deepening.