Art connection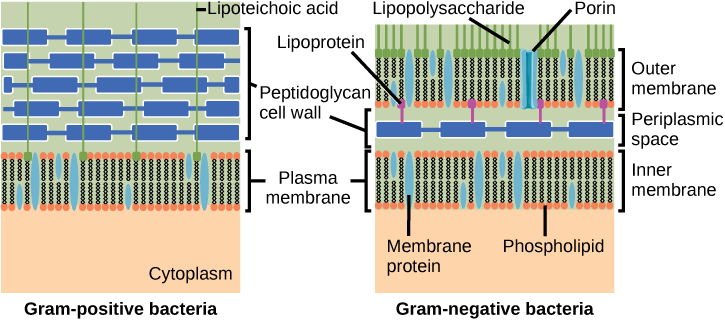 Which of the following statements is true?
Gram-positive bacteria have a single cell wall anchored to the cell membrane by lipoteichoic acid.
Porins allow entry of substances into both Gram-positive and Gram-negative bacteria.
The cell wall of Gram-negative bacteria is thick, and the cell wall of Gram-positive bacteria is thin.
Gram-negative bacteria have a cell wall made of peptidoglycan, whereas Gram-positive bacteria have a cell wall made of lipoteichoic acid.
Archaean cell walls do not have peptidoglycan. There are four different types of Archaean cell walls. One type is composed of pseudopeptidoglycan , which is similar to peptidoglycan in morphology but contains different sugars in the polysaccharide chain. The other three types of cell walls are composed of polysaccharides, glycoproteins, or pure protein.
Structural Differences and Similarities between Bacteria and Archaea
Structural Characteristic
Bacteria
Archaea
Cell type
Prokaryotic
Prokaryotic
Cell morphology
Variable
Variable
Cell wall
Contains peptidoglycan
Does not contain peptidoglycan
Cell membrane type
Lipid bilayer
Lipid bilayer or lipid monolayer
Plasma membrane lipids
Fatty acids
Phytanyl groups
Reproduction
Reproduction in prokaryotes is asexual and usually takes place by binary fission. Recall that the DNA of a prokaryote exists as a single, circular chromosome. Prokaryotes do not undergo mitosis. Rather the chromosome is replicated and the two resulting copies separate from one another, due to the growth of the cell. The prokaryote, now enlarged, is pinched inward at its equator and the two resulting cells, which are clones, separate. Binary fission does not provide an opportunity for genetic recombination or genetic diversity, but prokaryotes can share genes by three other mechanisms.
In transformation , the prokaryote takes in DNA found in its environment that is shed by other prokaryotes. If a nonpathogenic bacterium takes up DNA for a toxin gene from a pathogen and incorporates the new DNA into its own chromosome, it too may become pathogenic. In transduction , bacteriophages, the viruses that infect bacteria, sometimes also move short pieces of chromosomal DNA from one bacterium to another. Transduction results in a recombinant organism. Archaea are not affected by bacteriophages but instead have their own viruses that translocate genetic material from one individual to another. In conjugation , DNA is transferred from one prokaryote to another by means of a pilus, which brings the organisms into contact with one another. The DNA transferred can be in the form of a plasmid or as a hybrid, containing both plasmid and chromosomal DNA. These three processes of DNA exchange are shown in [link] .