In skeletal muscles that work with tendons to pull on bones, the collagen in the three tissue layers (the mysia) intertwines with the collagen of a tendon. At the other end of the tendon, it fuses with the periosteum coating the bone. The tension created by contraction of the muscle fibers is then transferred though the mysia, to the tendon, and then to the periosteum to pull on the bone for movement of the skeleton. In other places, the mysia may fuse with a broad, tendon-like sheet called an aponeurosis , or to fascia, the connective tissue between skin and bones. The broad sheet of connective tissue in the lower back that the latissimus dorsi muscles (the "lats") fuse into is an example of an aponeurosis.
Every skeletal muscle is also richly supplied by blood vessels for nourishment, oxygen delivery, and waste removal. In addition, every muscle fiber in a skeletal muscle is supplied by the axon branch of a somatic motor neuron, which signals the fiber to contract. Unlike cardiac and smooth muscle, the only way to functionally contract a skeletal muscle is through signaling from the nervous system.
Skeletal muscle fibers
Because skeletal muscle cells are long and cylindrical, they are commonly referred to as muscle fibers. Skeletal muscle fibers can be quite large for human cells, with diameters up to 100 μ m and lengths up to 30 cm (11.8 in) in the Sartorius of the upper leg. During early development, embryonic myoblasts, each with its own nucleus, fuse with up to hundreds of other myoblasts to form the multinucleated skeletal muscle fibers. Multiple nuclei mean multiple copies of genes, permitting the production of the large amounts of proteins and enzymes needed for muscle contraction.
Some other terminology associated with muscle fibers is rooted in the Greek sarco , which means "flesh." The plasma membrane of muscle fibers is called the sarcolemma , the cytoplasm is referred to as sarcoplasm , and the specialized smooth endoplasmic reticulum, which stores, releases, and retrieves calcium ions (Ca ++ ) is called the sarcoplasmic reticulum (SR) ( [link] ). As will soon be described, the functional unit of a skeletal muscle fiber is the sarcomere, a highly organized arrangement of the contractile myofilaments actin (thin filament) and myosin (thick filament), along with other support proteins.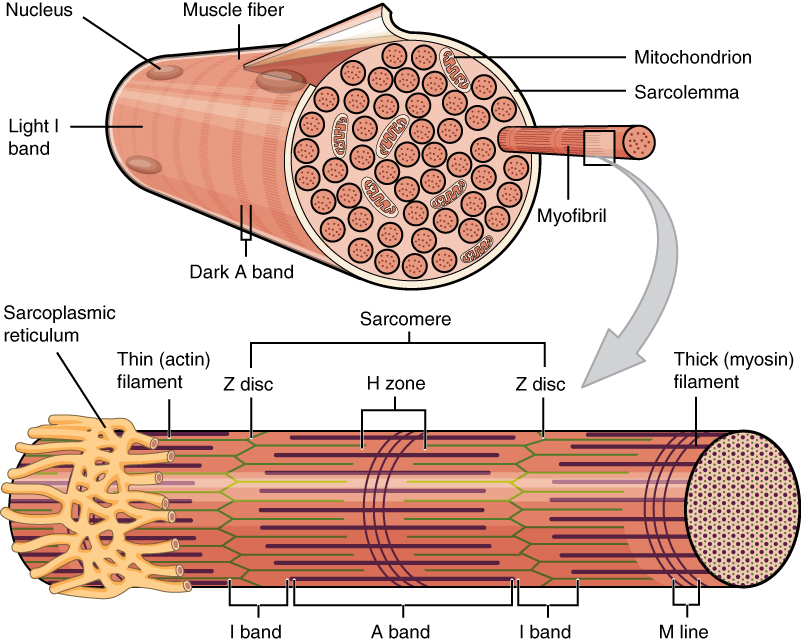 The sarcomere
The striated appearance of skeletal muscle fibers is due to the arrangement of the myofilaments of actin and myosin in sequential order from one end of the muscle fiber to the other. Each packet of these microfilaments and their regulatory proteins, troponin and tropomyosin (along with other proteins) is called a sarcomere .
Watch this video to learn more about macro- and microstructures of skeletal muscles. (a) What are the names of the "junction points" between sarcomeres? (b) What are the names of the "subunits" within the myofibrils that run the length of skeletal muscle fibers? (c) What is the "double strand of pearls" described in the video? (d) What gives a skeletal muscle fiber its striated appearance?