Human Skeleton
Humans have an internal skeleton made of bone, cartilage and connective tissue.

Human skeleton from the back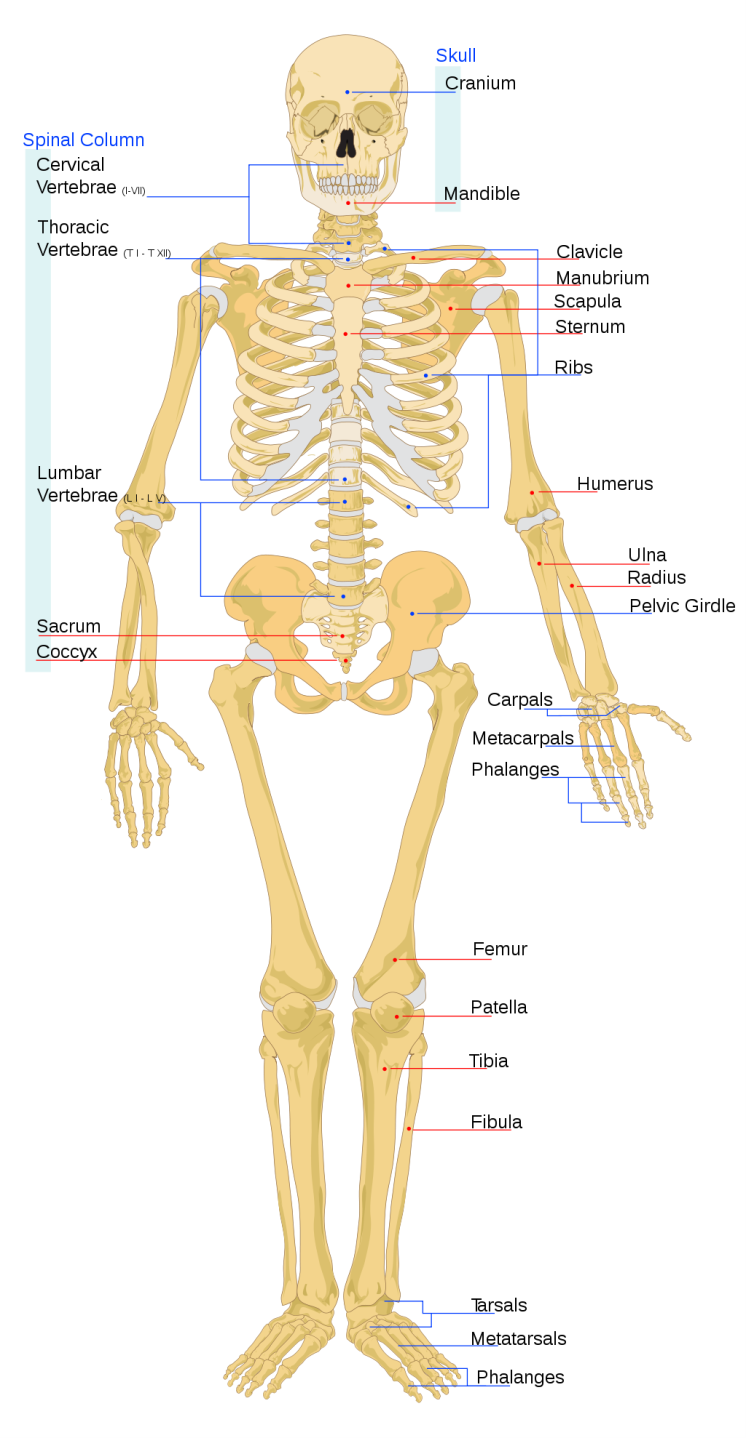 Axial skeleton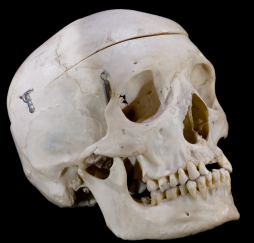 This part of the skeleton consists of the skull comprising the cranium, facial bones, foramen magnum, palate and jaws, vertebral column, rib cage andbreastbone(sternum)
Axial skeleton animation
http://www.wisc-online.com/objects/ViewObject.aspx?ID=AP12904
The skull: consists of the cranium and facial bones
The cranium consists of eight flat bones joined together by immovable joints called sutures. The cranium surrounds and protects the brain.
There is a large opening at the base of the skull called the foramen magnum through which the spinal cord passes
On either side of the foramen magnum is a projection or condyle which articulate with the first vertebra (called the atlas) to give the nodding movement of the head
There are 15 facial bones. These are irregular bones that include cheek nasal , temple and upper and lower jaw bones. The only movable bone is the lower jaw.
The upper and lower jaws bear the sockets for the 32 permanent teeth.
The number, type and arrangement of the teeth in an animal is indicated by a dental formula The human dental formula is: 2.1.2.3
2.1.2.3
This formula represents the numbers of each type of tooth in half of the upper jaw and half of the lower jaw. This formula tells us that in both the upper andlower halves there are 2 incisors, 1 canine, 2 premolars and 3 molars. Therefore in the whole jaw there are 8 incisors, 4 canines 8 premolars and 12molars, a total of 32 teeth in all.
The vertebral column : Consists of 33 vertebrae
The vertebral columns is divided into five regions
A cervical (neck) region consisting of 7 vertebrae. The first of these called the atlas supports the skull and the joint with the skull allows for the nodding movement of the head.
The 2 nd vertebra called the axis has a projection oo which the atlas pivots to give the side to side movement of the head.
A thoracic region (chest) of 12 vertebrae each of which bears a pair of ribs
A lumbar region (lower back) the largest vertebrae as they carry the weight of the body
A sacral region consisting of 5 fused vertebrae forming a bone called the sacrum that forms part of the pelvic girdle which provides for the attachment of muscles and the legs.
A coccyx made up of 4 fused bones. These bones form the tail in those mammals that have tails.
The vertebrae join up to each other in such a way that there is a continuous spinal canal which runs from the base of the skull to the pelvic girdle. This canal contains the spinal cord.
Between the vertebrae are discs of fibrocartilage which prevent friction between vertebrae and act as shock absorbers duringwalking, running and jumping.
Spinal nerves are able to enter and leave the spinal cord through gaps between adjacent vertebrae.
Strong ligaments and muscles around the spine stabilise the vertebrae and help to control movement.
CURVES OF THE SPINE
When viewed from the side the vertebral column can be seen to have four curves, with the cervical and lumbar regions curving forwards while the thoracic and sacral regions curve backwards.