Reabsorption and secretion in the pct
The renal corpuscle filters the blood to create a filtrate that differs from blood mainly in the absence of cells and large proteins. From this point to the ends of the collecting ducts, the filtrate or forming urine is undergoing modification through secretion and reabsorption before true urine is produced. The first point at which the forming urine is modified is in the PCT. Here, some substances are reabsorbed, whereas others are secreted. Note the use of the term "reabsorbed." All of these substances were "absorbed" in the digestive tract—99 percent of the water and most of the solutes filtered by the nephron must be reabsorbed. Water and substances that are reabsorbed are returned to the circulation by the peritubular and vasa recta capillaries. It is important to understand the difference between the glomerulus and the peritubular and vasa recta capillaries. The glomerulus has a relatively high pressure inside its capillaries and can sustain this by dilating the afferent arteriole while constricting the efferent arteriole. This assures adequate filtration pressure even as the systemic blood pressure varies. Movement of water into the peritubular capillaries and vasa recta will be influenced primarily by osmolarity and concentration gradients. Sodium is actively pumped out of the PCT into the interstitial spaces between cells and diffuses down its concentration gradient into the peritubular capillary. As it does so, water will follow passively to maintain an isotonic fluid environment inside the capillary. This is called obligatory water reabsorption, because water is "obliged" to follow the Na + ( [link] ).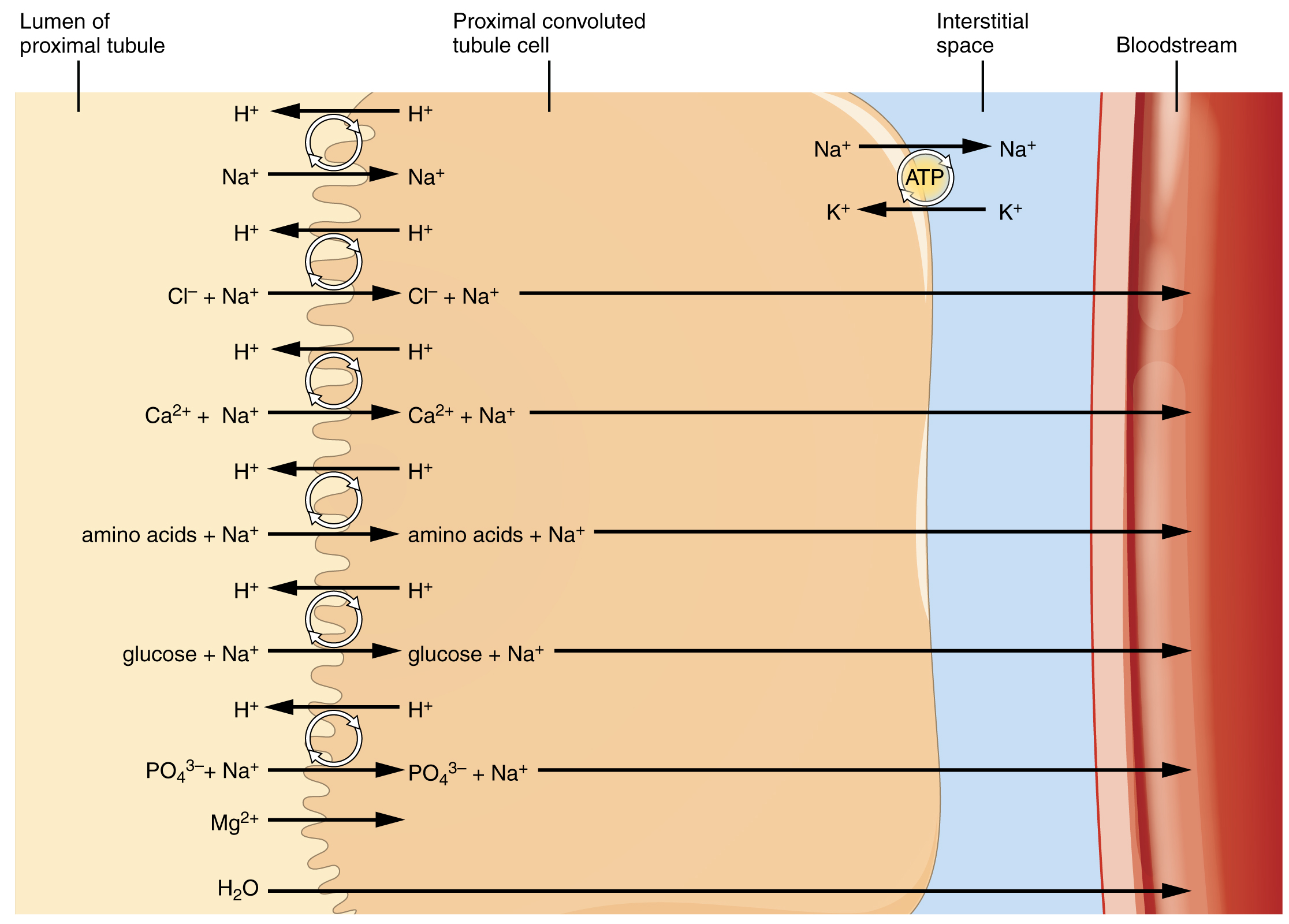 More substances move across the membranes of the PCT than any other portion of the nephron. Many of these substances (amino acids and glucose) use symport mechanisms for transport along with Na + . Antiport, active transport, diffusion, and facilitated diffusion are additional mechanisms by which substances are moved from one side of a membrane to the other. Recall that cells have two surfaces: apical and basal. The apical surface is the one facing the lumen or open space of a cavity or tube, in this case, the inside of the PCT. The basal surface of the cell faces the connective tissue base to which the cell attaches (basement membrane) or the cell membrane closer to the basement membrane if there is a stratified layer of cells. In the PCT, there is a single layer of simple cuboidal endothelial cells against the basement membrane. The numbers and particular types of pumps and channels vary between the apical and basilar surfaces ( [link] ). A few of the substances that are transported with Na + (symport mechanism) on the apical membrane include Cl – , Ca ++ , amino acids, glucose, and . Sodium is actively exchanged for K + using ATP on the basal membrane. Most of the substances transported by a symport mechanism on the apical membrane are transported by facilitated diffusion on the basal membrane. At least three ions, K + , Ca ++ , and Mg ++ , diffuse laterally between adjacent cell membranes (transcellular).