The mycorrhizal relationship between fungi and plant roots is essential for the productivity of farmland. Without the fungal partner in the root systems, 80–90% of trees and grasses would not survive. Mycorrhizal fungal inoculants are available as soil amendments from gardening supply stores and promoted by supporters of organic agriculture.
We also eat some types of fungi. Mushrooms figure prominently in the human diet. Morels, shiitake mushrooms, chanterelles, and truffles are considered delicacies ( [link] ). The humble meadow mushroom, Agaricus campestris , appears in many dishes. Molds of the genus Penicillium ripen many cheeses. They originate in the natural environment such as the caves of Roquefort, France, where wheels of sheep milk cheese are stacked to capture the molds responsible for the blue veins and pungent taste of the cheese.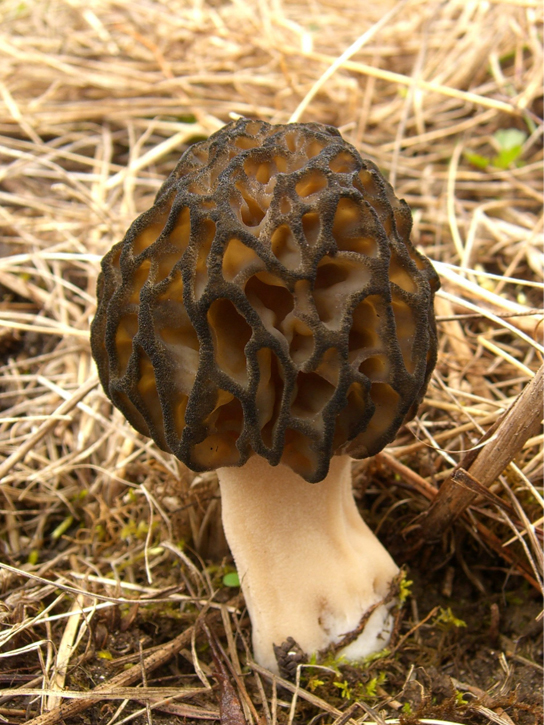 Fermentation—of grains to produce beer, and of fruits to produce wine—is an ancient art that humans in most cultures have practiced for millennia. Wild yeasts are acquired from the environment and used to ferment sugars into CO 2 and ethyl alcohol under anaerobic conditions. It is now possible to purchase isolated strains of wild yeasts from different wine-making regions. Pasteur was instrumental in developing a reliable strain of brewer's yeast, Saccharomyces cerevisiae , for the French brewing industry in the late 1850s. It was one of the first examples of biotechnology patenting. Yeast is also used to make breads that rise. The carbon dioxide they produce is responsible for the bubbles produced in the dough that become the air pockets of the baked bread.
Many secondary metabolites of fungi are of great commercial importance. Antibiotics are naturally produced by fungi to kill or inhibit the growth of bacteria, and limit competition in the natural environment. Valuable drugs isolated from fungi include the immunosuppressant drug cyclosporine (which reduces the risk of rejection after organ transplant), the precursors of steroid hormones, and ergot alkaloids used to stop bleeding. In addition, as easily cultured eukaryotic organisms, some fungi are important model research organisms including the red bread mold Neurospora crassa and the yeast, S . cerevisiae.
Section summary
Fungi are eukaryotic organisms that appeared on land over 450 million years ago. They are heterotrophs and contain neither photosynthetic pigments such as chlorophylls nor organelles such as chloroplasts. Because they feed on decaying and dead matter, they are saprobes. Fungi are important decomposers and release essential elements into the environment. External enzymes digest nutrients that are absorbed by the body of the fungus called a thallus. A thick cell wall made of chitin surrounds the cell. Fungi can be unicellular as yeasts or develop a network of filaments called a mycelium, often described as mold. Most species multiply by asexual and sexual reproductive cycles, and display an alternation of generations.
The divisions of fungi are the Chytridiomycota, Zygomycota, Ascomycota, Basidiomycota, Glomeromycota, and the Deuteromycota, a polyphyletic group.
Fungi establish parasitic relationships with plants and animals. Fungal diseases can decimate crops and spoil food during storage. Compounds produced by fungi can be toxic to humans and other animals. Mycoses are infections caused by fungi. Superficial mycoses affect the skin, whereas systemic mycoses spread through the body. Fungal infections are difficult to cure.
Fungi have colonized all environments on Earth but are most often found in cool, dark, moist places with a supply of decaying material. Fungi are important decomposers because they are saprobes. Many successful mutualistic relationships involve a fungus and another organism. They establish complex mycorrhizal associations with the roots of plants. Lichens are a symbiotic relationship between a fungus and a photosynthetic organism, usually an alga or cyanobacterium.
Fungi are important to everyday human life. Fungi are important decomposers in most ecosystems. Mycorrhizal fungi are essential for the growth of most plants. Fungi, as food, play a role in human nutrition in the form of mushrooms and as agents of fermentation in the production of bread, cheeses, alcoholic beverages, and numerous other food preparations. Secondary metabolites of fungi are used in medicine as antibiotics and anticoagulants. Fungi are used in research as model organisms for the study of eukaryotic genetics and metabolism.