This develops the low frequency incremental model of diode and illustrates the harmonic distortion when small signal condition is violated.
LECTURE NO. 3
INCREMENTAL MODEL OF A PN JUNCTION DIODE
Fig.1. A dc diode circuit.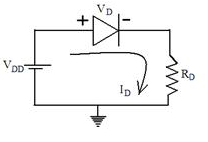 V DD = V D + I D .R D _____(1) This describes DC load line.
I D = I D0 exp(V D /V T )_____(2) This is the device characteristics.
Q-point or the quiescent point is the DC operating point and is obtained as the intersection of DC load line and the device characteristics.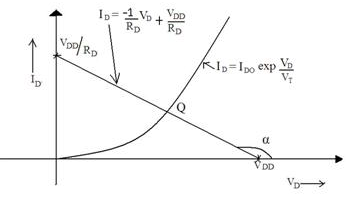 Figure 2. The dc load line , the device characteristics and the Q point.
Tan(α)= slope of the load line= (-1/R D )
Under signal conditions: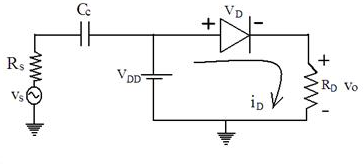 Figure 3. Signal is being coupled with the diode circuit.
i D = I D + i d where i D is the instantaneous diode current.
I D is the DC diode current.
i d is the incremental diode current.
And v D (instantaneous diode voltage) = V D (DC Diode Voltage) + v d _(incremental diode voltage)
Now the loop or the mesh equation is:-
(V DD +v s )=v D +i D R D _______(3)
Rewriting the above equation we get:-
(V DD +v s )= (V D + v d )+( I D + i d ) R D _____(4)
Now we have (Instantaneous – DC) = Incremental part,
that is Eq.(4)-Eq.(1) :
v s = v d + i d R D = v d + v o ;
Incremental circuit will be:-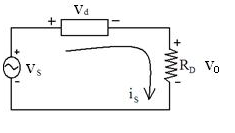 Figure 4. The incremental circuit of the Diode Circuit with signal.
A diode under instantaneous conditions has two parts :-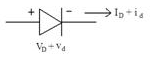 The above is a relation between the diode current and the diode voltage.
We know that
e Ɵ = 1+Ɵ+(Ɵ 2 /2!)+ (Ɵ 3 /3!)+………….
If Ɵ<<1; e Ɵ = 1+Ɵ This now becomes a linear equation.
If incremental voltage across the diode is less than 5 mV then Ɵ<<1.
To maintain linearity, we maintain all the signals small.
So under small signal approximations,
e Ɵ = 1+Ɵ will hold good.

Now we note that V T =26mV and the room temperature=300K and if V d <5 mV then we satisfy the small signal condition and we obtain:

Then we have;

Thus;

Let:

Putting V T =26mV and I D =1mA we get r d =26Ω.
Thus the incremental part of the diode circuit was determined as follows:
We short circuit the DC voltage source(DC current source would have been open circuited).
Any forward biased junction would be replaced by incremental resistance.
Incremental resistance r d = (Thermal Resistance V T / Quiescent Current through the diode)


All backward bias junction will act as open circuit.
Ohmic resistance will offer resistance in both DC and incremental part.
This is small signal approximation. Thus Diode equivalent circuit is composed of linear elements only under small signal condition. Hence the circuit in Figure 4 is incremental circuit or small signal equivalent circuit. The incremental resistance r d offered by the diode under small signal condition is a linear resistance and is included in the circuit only under incremental condition.
Table 1. Values of incremental resistance at 300K offered by a diode under various DC diode currents.
| | |
| --- | --- |
| I D (mA) | r d (ohms)=V T /I D at Room Temerature(300K |
| 1µA | 26 kohms |
| 10µA | 2.6 kohms |
| 100µA | 260 ohms |
| 1 mA | 26 ohms |
| 10mA | 2.6ohms |
| 100mA | 0.26 ohms. |
Amplitude or Harmonic Distortion.
As can be seen from Figure 3, input sinusoidal voltage v S appears as addition and subtraction to V DD . Hence under signal condition, the load line is being shifted as shown in Figure 5. In doing so Q pint also shifts generating sinusoidal current swing. As can be seen in the figure, a small segment of I-V curve of the diode(which is the case under small signal condition) is essentially a straight line. Hence Q moves along a straight segment and in the process generates a sinusoidal swing in the current.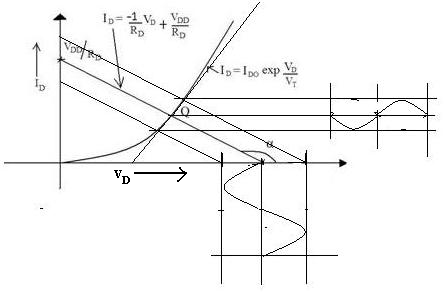 Figure 5. Diode Current Sinusoidal Swing under Sinusoidal Input Voltage under small signal condition.
But as seen in Figure 6, if input voltage is a large signal then Q traces a non-linear segment of I-V curve. This results in non-sinusoidal current swing in the diode. This means a sinusoidal voltage is not giving rise to a sinusoidal current in the output load resistance R L . Hence the output voltage will be non-sinusoidal and its Fourier Series Expansion will contain Fundamental and Harmonics. This is known as Amplitude or Harmonic Distortion.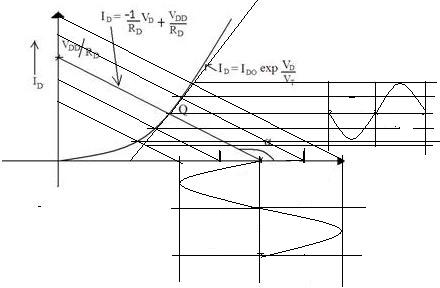 Figure 6. Non-sinusoidal diode current swing when input voltage is a large voltage.