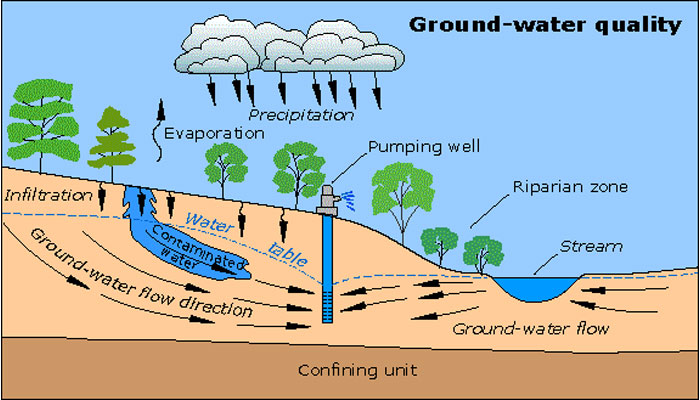 Sustainable solutions to the water pollution crisis?
Resolution of the global water pollution crisis described at the beginning of this section requires multiple approaches to improve the quality of our fresh water and move towards sustainability. The most deadly form of water pollution, pathogenic microorganisms that cause waterborne diseases, kills almost 2 million people in underdeveloped countries every year. The best strategy for addressing this problem is proper sewage (wastewater) treatment. Untreated sewage is not only a major cause of pathogenic diseases, but also a major source of other pollutants, including oxygen-demanding waste, plant nutrients (N and P), and toxic heavy metals. Wastewater treatment is done at a sewage treatment plant in urban areas and through a septic tank system in rural areas.
The main purpose of a sewage treatment plant is to remove organic matter (oxygen-demanding waste) and kill bacteria; special methods also can be used to remove plant nutrients and other pollutants. The numerous processing steps at a conventional sewage treatment plant (see Figure Steps at a Sewage Treatment Plant ) include pretreatment (screening and removal of sand and gravel), primary treatment (settling or floatation to remove organic solids, fat, and grease), secondary treatment (aerobic bacterial decomposition of organic solids), tertiary treatment (bacterial decomposition of nutrients and filtration), disinfection (treatment with chlorine, ozone, ultraviolet light, or bleach), and either discharge to surface waters (usually a local river) or reuse for some other purpose, such as irrigation, habitat preservation, and artificial groundwater recharge. The concentrated organic solid produced during primary and secondary treatment is called sludge , which is treated in a variety of ways including landfill disposal, incineration, use as fertilizer, and anaerobic bacterial decomposition, which is done in the absence of oxygen. Anaerobic decomposition of sludge produces methane gas, which can be used as an energy source. To reduce water pollution problems, separate sewer systems (where street runoff goes to rivers and only wastewater goes to a wastewater treatment plant) are much better than combined sewer systems, which can overflow and release untreated sewage into surface waters during heavy rain. Some cities such as Chicago, Illinois have constructed large underground caverns and also use abandoned rock quarries to hold storm sewer overflow. After the rain stops, the stored water goes to the sewage treatment plant for processing.