Originally mole-rats were likely the offspring of unrelated, monogamous parents (Hughes et al. 2008) and stayed in their natal nests because of ecological pressures. The benefit was a greater overall fitness because they did not have to face the dangers outside the nest, and the original cost was marginal, as reproductive rights had not yet been lost ( [link] ). Staying in the natal colony, however, reduced access to unrelated mates, which led to inbreeding. Reeve et al. (1990) found that today in naked mole-rat colonies more than 80% of matings that occur are either between siblings or between parents and offspring. Overall, these mole-rats have an average relatedness of 81% to their other colony members (Reeve et al. 1990) while average relatedness between full siblings is 50%.
As relatedness increased due to inbreeding and more individuals remained in the nest, a dominance hierarchy likely formed. The more dominant individuals held more reproductive rights. Gradually, the costs and benefits of staying changed slightly for non-breeders because of the inbreeding. The non-breeders gave up reproductive rights (the cost), thereby diminishing their direct fitness . However, they still had the benefit of avoiding outside dangers. More importantly, they gained greater indirect fitness because they were raising young highly related to them. In this manner they helped pass on their genes indirectly through the offspring of their relative, an act that added to their inclusive fitness. This inclusive fitness was greater on average than if they left to have their own young after the costs for leaving, such as predation and food risks, were taken into account.
Fortress defense and the aridity food distribution hypothesis
Fortress defense and the Aridity Food Distribution Hypothesis are two different hypotheses that use extrinsic factors to explain part of the cause of the rise of eusociality. The fortress defense theory holds that eusociality evolved in order to avoid predation (Queller and Strassmann 1998). Fortress defenders are unique from other social organisms in that they nest and feed within an area protected from predators. In addition, the food they eat is not well distributed. These combined factors favor staying in a safe location with access to food over the risks of leaving and reproducing (Alexander et al. 1991, Queller and Strassmann 1998).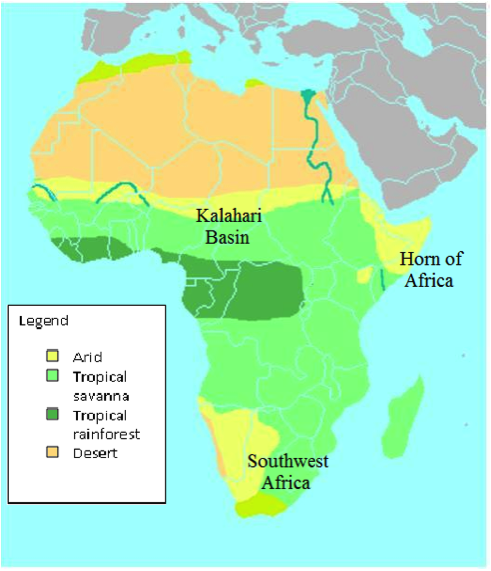 The Aridity Food Distribution Hypothesis, the second theory based on extrinsic factors, states that eusociality in H. glaber and C. damarensis evolved due to selective pressure from the arid environment that they both inhabit (Faulkes et al. 1997b, [link] ). According to Jarvis et al. (1998), mole-rats find the dry soil of their habitats hard to dig, a constraint that increases their energetic expenses in efforts to obtain resources. These habitats have sporadic rainfall and high evaporation rates ( [link] ), so there is a limited time period in which to work after the rain has stopped before the ground is too hard again (Jarvis et al. 1998). Mole-rat colonies maximize the number of members for cooperative foraging and group living so that after a rainfall they can better exploit the short time they have and reduce the risks of failure in foraging ( [link] ). The two hypotheses examine the ecological factors involved in the evolution of eusociality. Intrinsic factors, such as hormone regulation, however, are also involved.