As a result of the limited gene flow and environmentally-necessitated inbreeding , colony members are often highly related, allowing the emergence of castes and reproductive skew where only a few members have all of the breeding rights. This evolution of eusociality falls in line with the inclusive fitness (or kin selection) theory, which states that by forming large colonies and giving up reproductive rights, workers gain more inclusive fitness when the colony is led by a related female queen than if they dispersed and tried to navigate the risks of founding a new colony (Hughes et al. 2008).
Parallel evolutions of eusociality
The family Bathyergidae has five genera of mole-rats. The members of three of those genera always live solitarily in wet regions and are larger than the other genera ( [link] ). Members of the other two genera, Cryptomys and Heterocephalus , are social and have varying degrees of cooperative breeding, including two cases of eusociality (Faulkes et al. 2004). H. glaber , the naked mole-rat, and C. damarensis , the Damaraland mole-rat, the two eusocial species, occur in two different genera and are therefore not as closely related as two species from the same genus ( [link] ).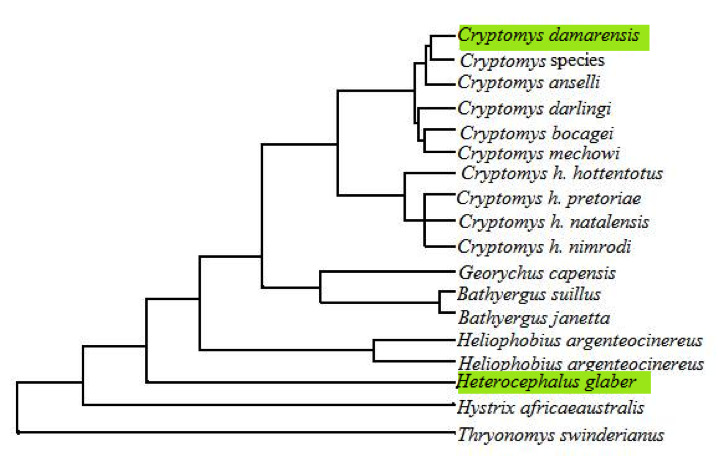 Multiple phylogenies constructed from analysis of mitochondrial DNA and nuclear DNA from different species of mole-rats agree that eusociality in mole-rats either evolved multiple times or evolved once earlier and was lost multiple times (Allard and Honeycutt 1992, Walton et al. 2000, Faulkes et al. 2004). These phylogenies also agree that H. glaber is the most basal , or the first to diverge from the rest of the species, and it is separated from Cryptomys , and therefore C. damarensis , by the three solitary genera (Walton et al. 2000, Faulkes et al. 2004). It is more likely, then, that social behavior evolved twice in mole-rats rather than evolving once and being lost multiple times. Allard and Honeycutt (1992) see this parallel evolution in two species that both live in a harsh, arid environment as support of the theory that sociality is influenced by environmental factors.
| | | |
| --- | --- | --- |
| Genera | Social? | Habitat |
| Heterocephalus | Yes | Dry |
| Heliophobius | No | Wet |
| Bathyergus | No | Wet |
| Georychus | No | Wet |
| Cryptomys | Yes | Dry and Wet |
Extrinsic and intrinsic factors
| | |
| --- | --- |
| Evolution of eusociality | |
| Costs: | Some reproductive rights, inbreeding |
| Benefits: | Steady food source, protection from predation, some reproduction |
| Maintenance of eusociality | |
| Costs: | All direct reproduction |
| Benefits: | Indirect fitness through kin selection, steady food source, protection from predation |
Reeve et al. (1990) point out that a combination of both extrinsic , meaning ecological, and intrinsic , or genetic, factors contributed to the rise of cooperative breeding and eusociality. Specifically, the extrinsic factors in naked mole-rats and Damaraland mole-rats include predation pressures, a patchy food source, and hard soils which make forming a new colony difficult. The intrinsic factor is a high relatedness between colony members. Combined, these factors maintain eusociality in mole-rats since the organisms remain in their natal colonies despite the cost of not being able to reproduce. They do, however, gain greater fitness on average than if they disperse.