Surface tension is defined as the energy required to increase the surface area of a liquid, or the force required to increase the length of a liquid surface by a given amount. This property results from the cohesive forces between molecules at the surface of a liquid, and it causes the surface of a liquid to behave like a stretched rubber membrane. Surface tensions of several liquids are presented in [link] . Among common liquids, water exhibits a distinctly high surface tension due to strong hydrogen bonding between its molecules. As a result of this high surface tension, the surface of water represents a relatively "tough skin" that can withstand considerable force without breaking. A steel needle carefully placed on water will float. Some insects, like the one shown in [link] , even though they are denser than water, move on its surface because they are supported by the surface tension.
Surface Tensions of Common Substances at 25 °C
Substance
Formula
Surface Tension (mN/m)
water
H 2 O
71.99
mercury
Hg
458.48
ethanol
C 2 H 5 OH
21.97
octane
C 8 H 18
21.14
ethylene glycol
CH 2 (OH)CH 2 (OH)
47.99

The IMFs of attraction between two different molecules are called adhesive forces . Consider what happens when water comes into contact with some surface. If the adhesive forces between water molecules and the molecules of the surface are weak compared to the cohesive forces between the water molecules, the water does not "wet" the surface. For example, water does not wet waxed surfaces or many plastics such as polyethylene. Water forms drops on these surfaces because the cohesive forces within the drops are greater than the adhesive forces between the water and the plastic. Water spreads out on glass because the adhesive force between water and glass is greater than the cohesive forces within the water. When water is confined in a glass tube, its meniscus (surface) has a concave shape because the water wets the glass and creeps up the side of the tube. On the other hand, the cohesive forces between mercury atoms are much greater than the adhesive forces between mercury and glass. Mercury therefore does not wet glass, and it forms a convex meniscus when confined in a tube because the cohesive forces within the mercury tend to draw it into a drop ( [link] ).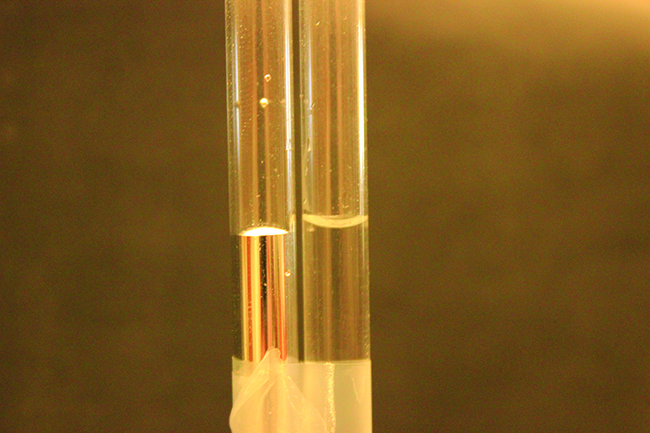 If you place one end of a paper towel in spilled wine, as shown in [link] , the liquid wicks up the paper towel. A similar process occurs in a cloth towel when you use it to dry off after a shower. These are examples of capillary action —when a liquid flows within a porous material due to the attraction of the liquid molecules to the surface of the material and to other liquid molecules. The adhesive forces between the liquid and the porous material, combined with the cohesive forces within the liquid, may be strong enough to move the liquid upward against gravity.