Water only moves in response to ΔΨ, not in response to the individual components. However, because the individual components influence the total Ψ system , by manipulating the individual components (especially Ψ s ), a plant can control water movement.
Solute potential
Solute potential (Ψ s ), also called osmotic potential, is negative in a plant cell and zero in distilled water. Typical values for cell cytoplasm are –0.5 to –1.0 MPa. Solutes reduce water potential (resulting in a negative Ψ w ) by consuming some of the potential energy available in the water. Solute molecules can dissolve in water because water molecules can bind to them via hydrogen bonds; a hydrophobic molecule like oil, which cannot bind to water, cannot go into solution. The energy in the hydrogen bonds between solute molecules and water is no longer available to do work in the system because it is tied up in the bond. In other words, the amount of available potential energy is reduced when solutes are added to an aqueous system. Thus, Ψ s decreases with increasing solute concentration. Because Ψ s is one of the four components of Ψ system or Ψ total , a decrease in Ψ s will cause a decrease in Ψ total . The internal water potential of a plant cell is more negative than pure water because of the cytoplasm's high solute content ( [link] ). Because of this difference in water potential water will move from the soil into a plant's root cells via the process of osmosis. This is why solute potential is sometimes called osmotic potential.
Plant cells can metabolically manipulate Ψ s (and by extension, Ψ total ) by adding or removing solute molecules. Therefore, plants have control over Ψ total via their ability to exert metabolic control over Ψ s .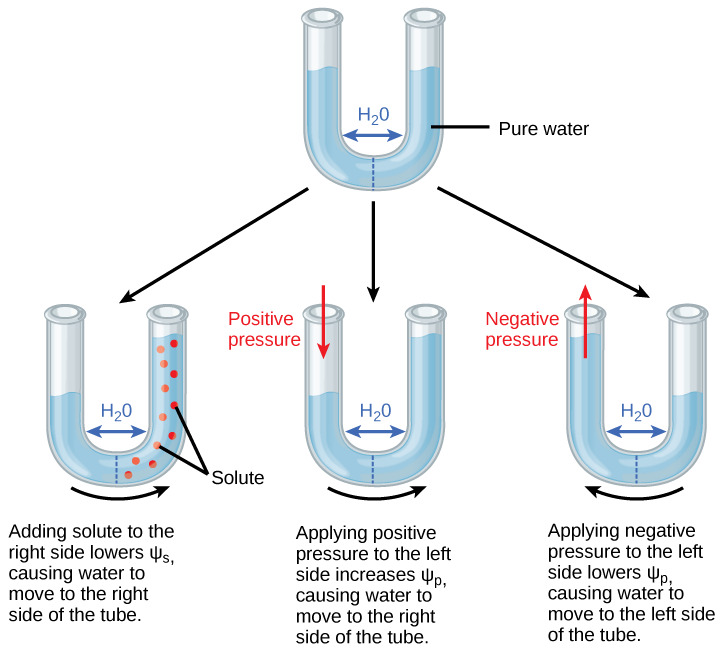 Positive water potential is placed on the left side of the tube by increasing Ψ p such that the water level rises on the right side. Could you equalize the water level on each side of the tube by adding solute, and if so, how?
Pressure potential
Pressure potential (Ψ p ), also called turgor potential, may be positive or negative ( [link] ). Because pressure is an expression of energy, the higher the pressure, the more potential energy in a system, and vice versa. Therefore, a positive Ψp (compression) increases Ψ total , and a negative Ψ p (tension) decreases Ψ total . Positive pressure inside cells is contained by the cell wall, producing turgor pressure. Pressure potentials are typically around 0.6–0.8 MPa, but can reach as high as 1.5 MPa in a well-watered plant. A Ψ p of 1.5 MPa equates to 210 pounds per square inch (1.5 MPa x 140 lb in -2 MPa -1 = 210 lb/in -2 ). As a comparison, most automobile tires are kept at a pressure of 30–34 psi. An example of the effect of turgor pressure is the wilting of leaves and their restoration after the plant has been watered ( [link] ). Water is lost from the leaves via transpiration (approaching Ψ p = 0 MPa at the wilting point) and restored by uptake via the roots.