Leerders afdeling
Inhoud
Aktiwiteit: afstand [lu 1.8, lu 3.2, lu 3.6, lu 5.5]
Bonnie en Tommie is baie opgewonde, want hulle gaan elke Desembervakansie see toe.
Teken jou eie strandtoneel. Ek wil sien hoe dit daar lyk en wat jy alles daar doen.
Verlede jaar was Bonnie en Tommie saam met Pappa en Mamma Durban toe. Hierdie jaar gaan hulle Kaapstad toe. Hulle woon in Kimberley.
Kyk of jy hierdie stede op die kaart kan kry en merk dit.
Merk ook die omgewing waar jy woon en skryf die dorp of stad se naam in op die kaart.
Is dit naby of ver van Kimberley af?
Dit is __________________________.
Trek die roete wat Bonnie-hulle van Kimberley tot by Kaapstad gaan ry duidelik met jou potlood op die kaart in.
Skryf neer al die name van die dorpe langs die roete wat jy gekies het.
Kimberley ____________________________________________________
____________________________________________________ Kaapstad
Hoe ver skat jy is Kimberley van Kaapstad af?
Ek skat dit is _____ km.
Gebruik die afstandstabel op bladsy 4 en lees af wat die afstand is.
Dit is _____ km.
Het jy te veel, te min of net reg geskat. Ek het__________________.
Kyk weer na die kaart en skat:
Is Durban nader of verder as Kaapstad van Kimberley af?
Ek skat _______________.
Lees die afstand van die tabel af. Dit is _______________ km.
Bepaal nou die verskil tussen die twee afstande.
Die republiek van suid-afrika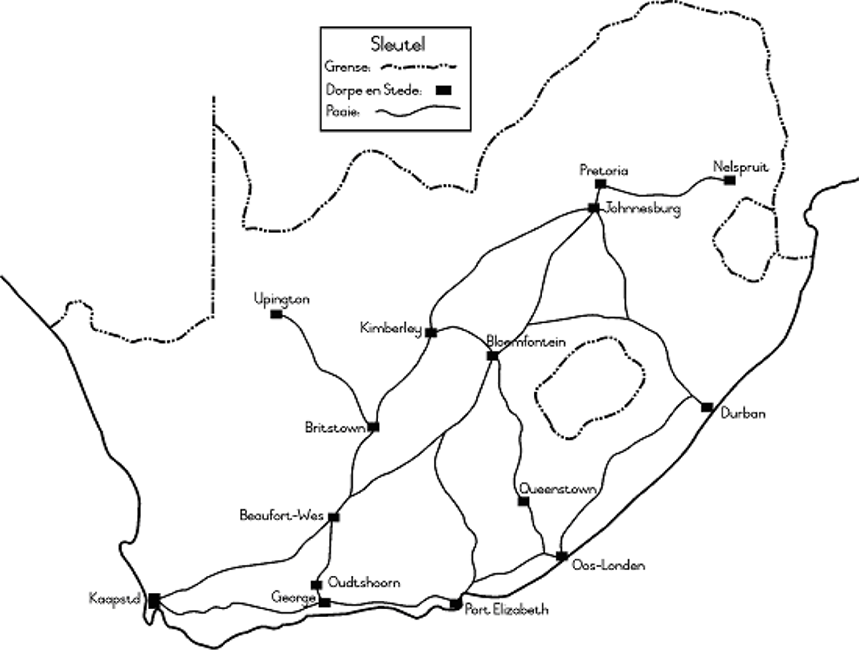 Hierdie is 'n kilometerafstandstabel of -rooster wat die benaderde afstande tussen 2 dorpe of stede aandui.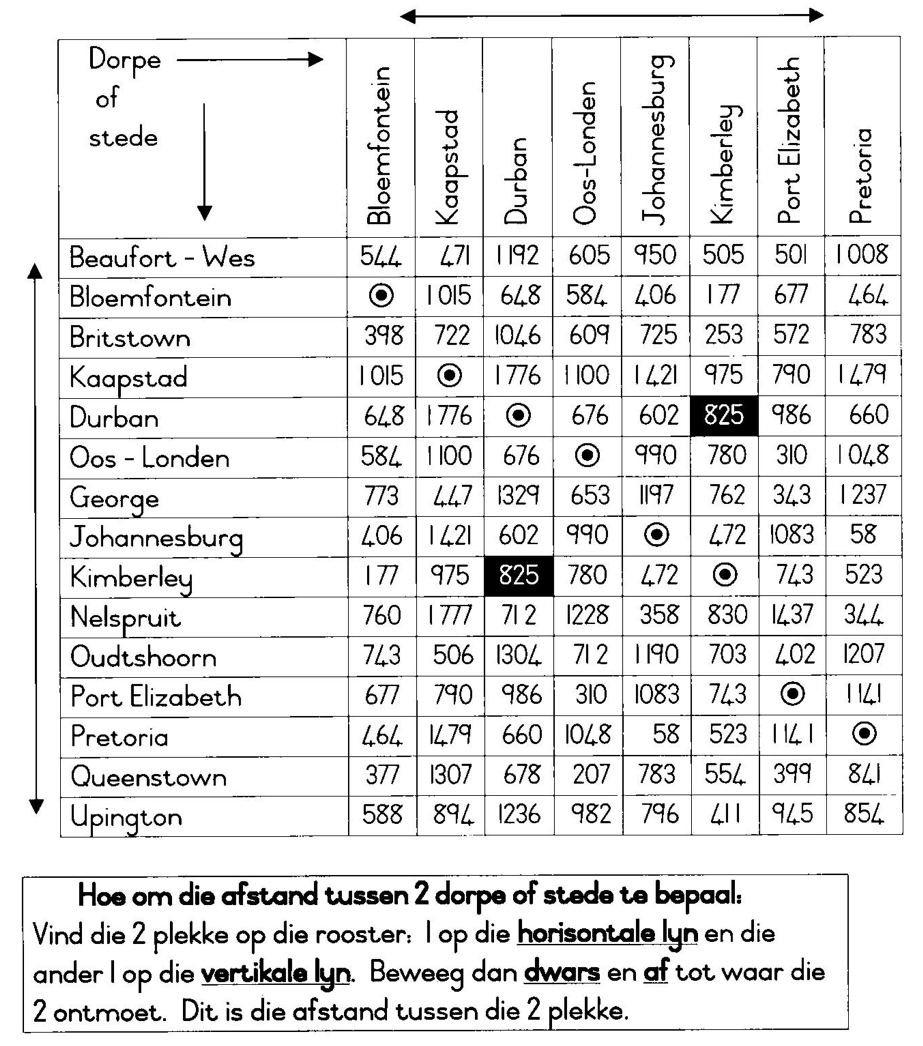 Die afstand tussen Kimberley en Durban is op die rooster ingekleur as voorbeeld. Die 2 stede is 825 km van mekaar.
Kies 'n maat en oefen 'n paar aflesings.
Die afstand tussen Kaapstad en Johannesburg is 1 421 km.
Gebruik weer die kaart om eers die afstande te skat en dan op die rooster op bladsy 4 af te lees. Doen dit saam met 'n maat.
Dorpe of stede
Horisontale lyn
Vertikale lyn
Skatting
Lesing
Net reg / Te veel / Te min
Johannesburg
Pretoria
Bloemfontein
Beaufort-Wes
Oos-Londen
Queenstown
Port Elizabeth
George
Pretoria
Nelspruit
Kimberley
Beaufort-Wes
Durban
Oos-Londen
Bepaal die som van die afstand tussen Bloemfontein en Beaufort-Wes en die afstand tussen Port Elizabeth en George.
Ons woon in Pretoria en Pappa werk in Johannesburg. Hoeveel km ry Pappa op 'n dag?
Hoeveel km ry hy in 5 dae?
Dit het 5 uur geneem om die afstand tussen Kimberley en Beaufort-Wes af te lê. Hoeveel km het ons in 1 uur afgelê?
Assessering
Leeruitkomste 1: Die leerder is in staat om getalle en die verwantskappe daarvan te herken, te beskryf en voor te stel, en om tydens probleemoplossing bevoeg en met selfvertroue te tel, te skat, te bereken en te kontroleer.
Assesseringstandaard 1.8: Dit is duidelik wanneer die leerder gepaste simbole in berekeninge gebruik om probleme op te los;
Leeruitkomste 3: Die leerder is in staat om eienskappe van en verwantskappe tussen tweedimensionele vorms en driedimensionele voorwerpe in 'n verskeidenheid oriëntasies en posisies te beskryf en voor te stel.
Assesseringstandaard 3.2: Dit is duidelik wanneer die leerder tweedimensionele vorms en driedimensionele voorwerpe in prente en in die omgewing beskryf, sorteer en vergelyk;
Assesseringstandaard 3.6: Dit is duidelik wanneer die leerder informele kaarte van die skoolomgewing of van 'n groep driedimensionele voorwerpe lees, interpreteer en teken en dui die voorwerpe op die kaart aan;
Leeruitkomste 5: Die leerder is in staat om data te versamel, op te som, voor te stel en krities te ontleed om gevolgtrekkings en voorspellings te maak en om toevallige variasie te interpreteer en te bepaal.
Assesseringstandaard 5.5: Dit is duidelik wanneer die leerder data lees en interpreteer wat in eenvoudige tabelle en lyste voorgestel word.