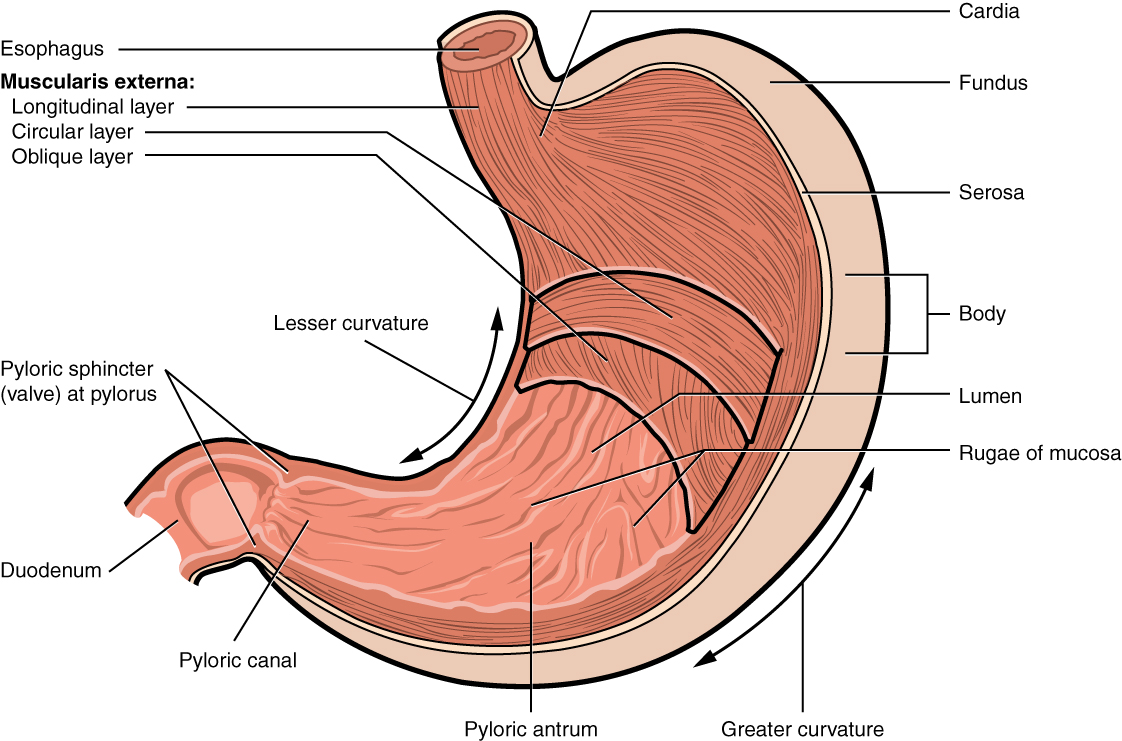 The convex lateral surface of the stomach is called the greater curvature; the concave medial border is the lesser curvature. The stomach is held in place by the lesser omentum, which extends from the liver to the lesser curvature, and the greater omentum, which runs from the greater curvature to the posterior abdominal wall.
Histology
The wall of the stomach is made of the same four layers as most of the rest of the alimentary canal, but with adaptations to the mucosa and muscularis for the unique functions of this organ. In addition to the typical circular and longitudinal smooth muscle layers, the muscularis has an inner oblique smooth muscle layer ( [link] ). As a result, in addition to moving food through the canal, the stomach can vigorously churn food, mechanically breaking it down into smaller particles.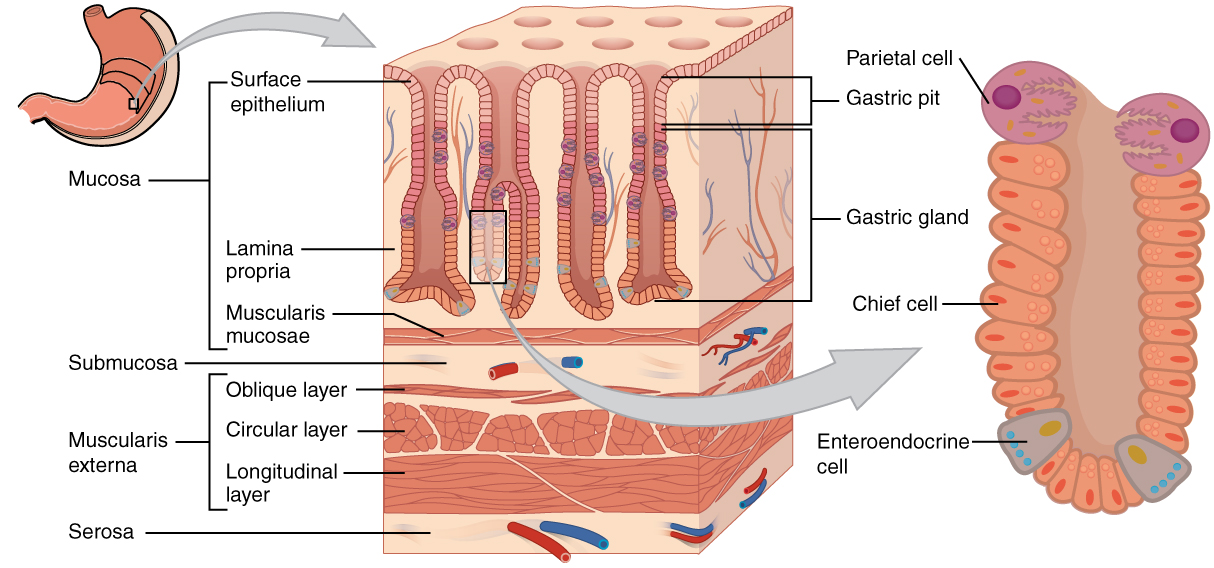 The stomach mucosa's epithelial lining consists only of surface mucus cells, which secrete a protective coat of alkaline mucus. A vast number of gastric pits dot the surface of the epithelium, giving it the appearance of a well-used pincushion, and mark the entry to each gastric gland , which secretes a complex digestive fluid referred to as gastric juice.
Although the walls of the gastric pits are made up primarily of mucus cells, the gastric glands are made up of different types of cells. The glands of the cardia and pylorus are composed primarily of mucus-secreting cells. Cells that make up the pyloric antrum secrete mucus and a number of hormones, including the majority of the stimulatory hormone, gastrin . The much larger glands of the fundus and body of the stomach, the site of most chemical digestion, produce most of the gastric secretions. These glands are made up of a variety of secretory cells. These include parietal cells, chief cells, mucous neck cells, and enteroendocrine cells.
Parietal cells —Located primarily in the middle region of the gastric glands are parietal cells , which are among the most highly differentiated of the body's epithelial cells. These relatively large cells produce both hydrochloric acid (HCl) and intrinsic factor . HCl is responsible for the high acidity (pH 1.5 to 3.5) of the stomach contents and is needed to activate the protein-digesting enzyme, pepsin. The acidity also kills much of the bacteria you ingest with food and helps to denature proteins, making them more available for enzymatic digestion. Intrinsic factor is a glycoprotein necessary for the absorption of vitamin B 12 in the small intestine.