Afrikaans eerste addisionele taal
Graad 7
Module 18
Kleredrag
1. WATTER?
Jy is na 'n partytjie toe genooi. Die partytjie vind oor 'n week plaas en jy sien reeds uit daarna. Jy begin ook reeds dink oor watter klere jy gaan aantrek.
Kyk nou na hierdie prente.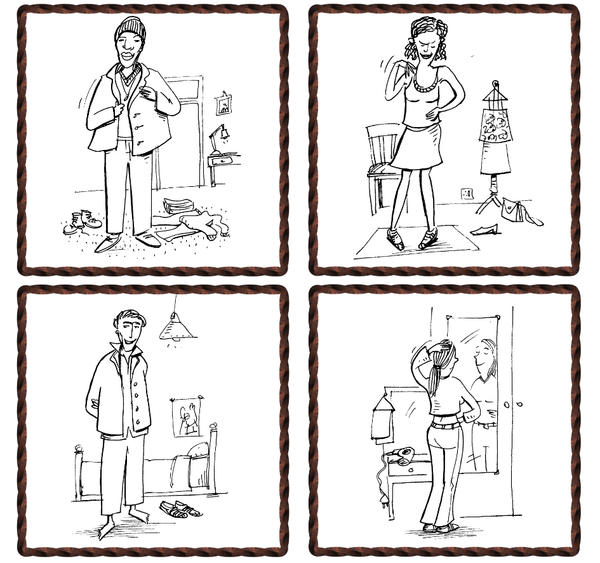 Kies een van die twee uitrustings waarin jy die beste sal voel. Kleur die uitrusting met jou gunsteling-kleur(e) in.
Werk nou saam in pare. Gesels met jou maat oor die uitrusting wat jy gekies het en ook oor die kleur(e) wat jy verkies. Verduidelik waarom jy van die klere hou en hoe jou gunstelingkleur(e) jou laat voel.
Jy en jou maat kan nou die volgende vrae vir mekaar vra:
Hoekom is ____ jou gunsteling-kleur?
Watter kleur sou jy graag jou kamermure wou verf?
Van watter kleur(e) hou jy regtig niks nie?
Die woorde in die raampie hieronder beskryf almal emosies en karaktereienskappe. Besluit watter woorde by watter kleure pas en skryf die woorde binne-in die reghoeke. Jy mag die woorde meer as een maal gebruik. 'n Swart pen moet gebruik word. (Skryf die woorde vir die swart reghoek maar langsaan, bo of onder).

Maak seker dat jy die betekenisse van hierdie woorde ken.
Verdeel in julle groepe en bespreek hoekom sekere woorde beter by sekere kleure pas. Verskil julle baie of is daar baie ooreenkomste?
Gebruik nou kleurpotlode en druk die volgende gevoelens of emosies uit in kleur. Hierdie emosies sal ook 'n definitiewe vorm en tekstuur hê: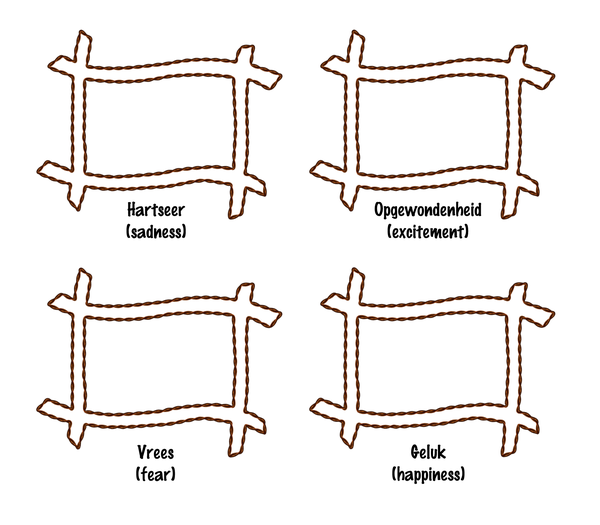 2. MONDELING
Jy en jou ma gaan winkel toe om vir jou klere vir die partytjie te gaan koop. Jy en jou ma stem nie altyd saam oor watter klere mooi is nie. Julle begin alreeds op pad na die winkelsentrum stry oor wat julle gaan koop.
Hieronder is 'n tipiese reaksie van 'n dertienjarige kind wat sy/haar sê vir sy/haar ouers sê. Kies die regte woorde tussen hakies en onderstreep hulle.
Wanneer gaan Pa en Ma ophou om altyd so aan my te (pla, lol, karring)! Ek dink ek is nou oud genoeg om my (uie, eier, eie) besluite te neem. Ek (ken, weet) hoe ek wil aantrek en ek weet waarvan ek (hoe, hou). Ek is die (enige, enigste) wat altyd so outyds aantrek en ek voel altyd so (yt, uit, eit). Julle sal moet begin om my te (betrou, vertrou, hertrou) om self te (kies, koes, koos).
Selfasssessering onder leiding van die opvoeder.
3. STILLEES
Lees die volgende strokie en beantwoord dan die vrae met 'n W(waar), O(onwaar) of OB(onvoldoende besonderhede).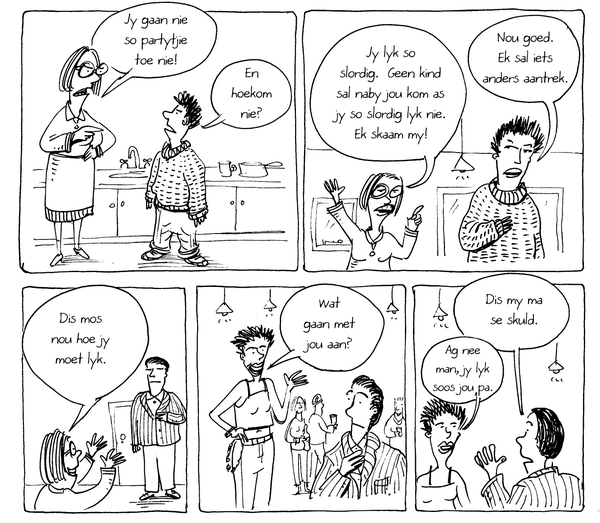 | | |
| --- | --- |
| 1. Die seun hou van moderne klere. | |
| 2. Sy ma is baie streng. | |
| 3. Sy ma dink net aan haarself en nie hoe hy voel nie | |
| 4. Die seun is baie ongehoorsaam. | |
| 5. Die ma kry haar sin. | |
| 6. Die seun voel baie gelukkig | |
| 7. Die meisie wil nie saam met die seun gesien word nie. | |
| 8. Die seun blameer sy ma vir sy voorkoms. | |
| 9. Die meisie dink hy lyk soos sy pa. | |
| 10. Die seun gaan partytjie toe, al lyk hy outyds. | |
4. WOORDESKAT EN SPELLING
WAT NOEM JY IEMAND WAT .....?
Luister hoe 'n paar tieners reageer op die vraag hoe hulle sommige van hulle karaktereienskappe beskryf.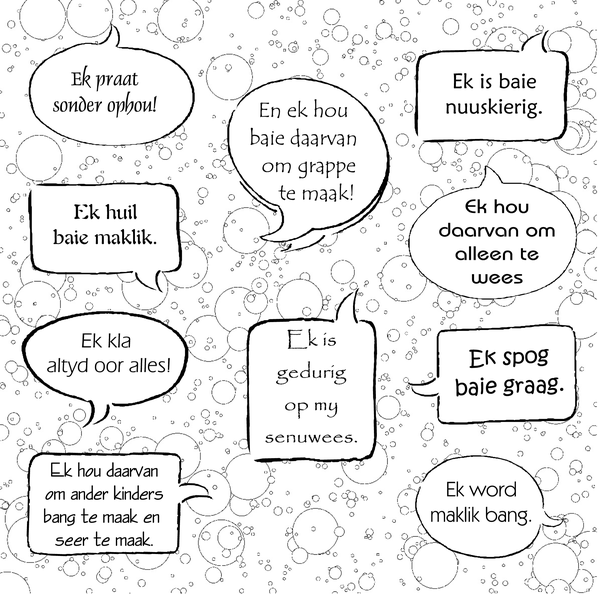 Hierdie karaktereienskappe kan met een woord beskryf word. Hierdie woorde kan almal in hierdie woordraaisel gekry word. Omkring die woorde en skryf hulle neer as die spreker.