Life skills
Grade 3
One day when i'm grown up
Module 6
Entrepreneur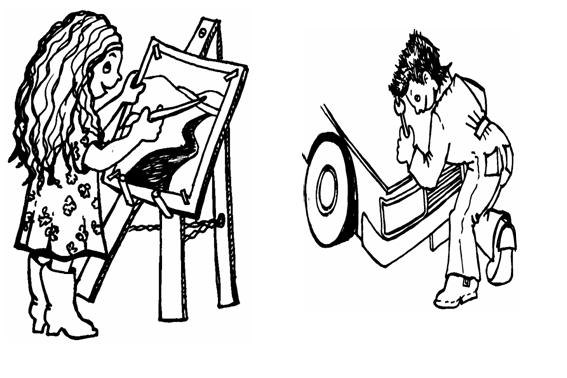 Entrepreneur
One day when you start your own business you will have to make sure that people will buy your product.
Write down three products you would like to sell.
Why would they like to buy your product? Give two reasons.
Draw your products. Design an advertisement to advertise one of your products.
Make a list of the things you will need to make your product.
Draw pictures of what you need.
Calculate the cost.
Write the price next to each item.
Are you still excited about your product?
Make sure that you make a profit on your product!
Speak to the owner of a shop. Ask him how he organises his purchases and whether his business is profitable.
Mark with x or to show how you feel about your products.
| | | |
| --- | --- | --- |
| 1. I have learnt more about a business. | | |
| 2. I enjoyed doing the research. | | |
| 3. I found it interesting to speak to the owner of a shop. | | |
| 4. There were many new products in the market. | | |
| 5. I would like to manage my own business one day. | | |
Assessment
Learning Outcomes(LO's)
NATURAL SCIENCE LO 1
SCIENTIFIC INVESTIGATIONS The learner will be able to act confidently on curiosity about natural phenomena and to investigate relationships and solve problems in scientific, technological and environmental contexts.
Assessment Standards(ASs)
We know this when the learner:
1.1 Plans – uses materials selected by the group in order to communicate the group's plan;1.2 Does – participates constructively in the activity with understanding of its purpose.
TECHNOLOGY LO 1
TECHNOLOGICAL PROCESSES AND SKILLSThe learner will be able to apply technological processes and skills ethically and responsiblyusing appropriate information and communication technologies.
Assessment Standards(ASs)
We know this when the learner:
1.1: Investigates – finds out about the historical context when given a problem, need or opportunity related to structures, processing, or systems and control;1.2: Investigates – finds out why given existing products related to a problem, need or opportunity are suitable for their purpose;1.3: Designs – suggests different possible solutions, chooses one, and uses freehand sketches to represent it;1.4 Makes – expresses how products are going to be made and what will be used to make them;1.5 Makes – makes products safely by joining or combining a range of different materials1.6 Evaluate – identifies strengths and weaknesses about own products and the products of others.
Memorandum
Let the learner choose an occupation (e.g. by drawing a card from a container). He/she must then do some research on that occupation or speak to someone so that he/she can do oral about it in class.
Tell the class why you would like to become a Entrepreneur.
Questions & Answers
Receive real-time job alerts and never miss the right job again
Source:  OpenStax, Life skills grade 3. OpenStax CNX. Sep 21, 2009 Download for free at http://cnx.org/content/col11107/1.1
Google Play and the Google Play logo are trademarks of Google Inc.
Notification Switch
Would you like to follow the 'Life skills grade 3' conversation and receive update notifications?