During the MBE process, growth can be monitored in situ by a number of methods:
Reflection high energy electron diffraction (RHEED), using forward scattering at grazing angle, which shows a maximum when there is a completed monolayer and a minimum when there is a partial layer as this produces more scattering;
Low energy electron diffraction (LEED), takes place in backscattering geometry and can be used to study surface morphology, but not during growth;
Auger electron spectroscopy (AES), records the type of atoms present;
Modulated beam mass spectrometry (MBMS), allows the chemical species and reaction kienetics to be studied.
Computer controlled shutters of each furnace allows precise control of the thickness of each layer, down to a single layer of atoms.
Intricate structures of layers of different materials can be fabricated this way e.g., semiconductor lasers, LEDs.
Before starting the epitaxial growth, in-situ cleaning of substrate is required. This is achieved by High Temperature Baking of the substrate. This decomposes and vaporizes the oxide layer over the substrate. The second method of in-situ cleaning is low energy ion beam of inert gas is used to sputter clean the surface. After the sputtering , low temperature anneal;ing is required to reorder the surface lattice system.
If there is a lattice mismatch between the substrate and the growing film, elastic energy is accumulated in the growing film. At some critical film thickness, the film may break/crack to lower the free energy of the film. The critical film thickness depends on the Young's moduli, mismatch size, and surface tensions. Hence under heteroepitaxy, we must keep the thickness lower than critical film thickness.
Figure 14 shows the physics of epitaxial growth in MBE system. . The aim of this process is to enable sharp interfaces to be formed between one type of alloy and the next e.g. GaAs and AlAs, and thus create structures which may confine electrons and exibit 2-dimensiona l behaviour. Molecular Beam Epitaxy ( MBE ) is basically a sophisticated form of vacuum evaporation.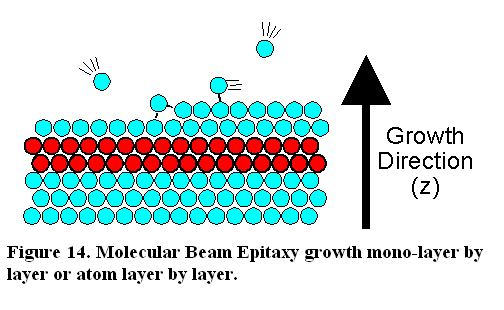 METAL ORGANIC CHEMICAL VAPOUR PHASE DEPOSITION>
The growth process in MOCVD (metal-organic CVD, also known as MOVPE metal-organic vapour phase epitaxy) is similar to MBE, but the atoms are carried in gaseous form to the substrate. GaAlAs growth is achieved by using a mixture of hydrogen as a carrier gas and organometallic precursors such as trimethyl galium and/or trimethyl aluminium together with arsine. The growth rate can be 10 times greater than in MBE, the process does not require ultra high vacuum and it can be scaled up from research to production of commercial devices relatively easily. However, the preparation of the gaseous mixtures has to be very carefully controlled so that as yet it is unclear which technique will eventully dominate. One advantage MOVPE has over MBE is in the ability to grow phosphorous containing alloys, once phosphorous has been introduced into an MBE chamber it is almost impossible to grom anything else! One disadvantage is that in situ monitoring is more difficult.