The internship or practicum is a purposeful effort to connect theory and practice. The Southern Regional Education Board (2006) five-year study of school leadership preparation noted four core conditions for principal preparation: (1) university/district partnerships; (2) standards and research based practices with practical learning experiences; (3) authentic field experiences integrated throughout the program with student, university faculty, and site mentor support; and(4) an assessment plan designed to provide reliable evidence about the effectiveness of the program. The third core condition targets the internship.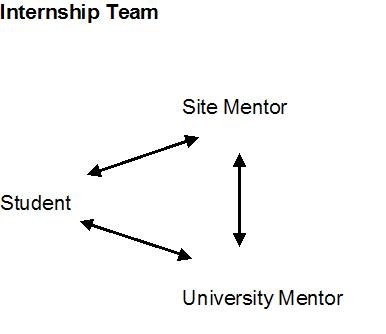 The SREB's call for integrated internship experiences must not stop at integration. The experiences must also involve conceptual thinking. Bransford, Brown,&Cocking (2000) noted that beginners in a field, tend to think more factually. On the other hand, experts in the field problem solve utilizing overarching ideas. Bransford, Brown, and Cocking's (2000) observations support the need to pair aspiring leaders with proven leaders. This is best accomplished through a team approach. The team being comprised of the aspiring leader (student), a site mentor, and the university mentor (SREB, 2007).
The site administrator selection greatly influences the quality of the internship experience. The amount of time the site administrator spends with the aspiring leader strongly influences the quality of the internship. Ideally the site mentor will make arrangements for the student to have additional release time from teaching duties to participate in internship activities (McCreight&Kaiser, 2004).
Erickson (2007) noted that,
"Conceptual thinking requires the ability to critically examine factual information; relate to prior knowledge; see patterns and connections: draw out significant understandings at the conceptual level; evaluate the truth of the understandings based on the supporting evidence; transfer the understanding across time or situation; and often, use the conceptual understanding to creatively solve a problem or create a new product, process, or idea" (p. 19).
Conceptual thinking is at the heart of the internship experience. Interns must have experiences that require them to relate their prior knowledge to situations so they can evaluate the truth of their understandings. It is only then that deep learning occurs.
Level of complexity
The Texas Depth and Complexity Model (Fig. 1) lends itself well in defining the experiences that need to be incorporated in the internship. This model combines Bloom's taxonomy on the y-axis with Erickson's Structure of Knowledge on the x-axis. By combining Bloom's taxonomy and its level of depth with Erickson's Structure of Knowledge complexity dimension, quality internship experiences can be identified. These experiences fall within the box in the upper right-hand quadrant of Figure 1. Students must develop the deeper understanding that occurs with experiences that fall within this box. Experiences outside of the box, while educational, will soon be forgotten.