Other terrestrial factors
Wind can be an important abiotic factor because it influences the rate of evaporation and transpiration. The physical force of wind is also important because it can move soil, water, or other abiotic factors, as well as an ecosystem's organisms.
Fire is another terrestrial factor that can be an important agent of disturbance in terrestrial ecosystems. Some organisms are adapted to fire and, thus, require the high heat associated with fire to complete a part of their life cycle. For example, the jack pine—a coniferous tree—requires heat from fire for its seed cones to open ( [link] ). Through the burning of pine needles, fire adds nitrogen to the soil and limits competition by destroying undergrowth.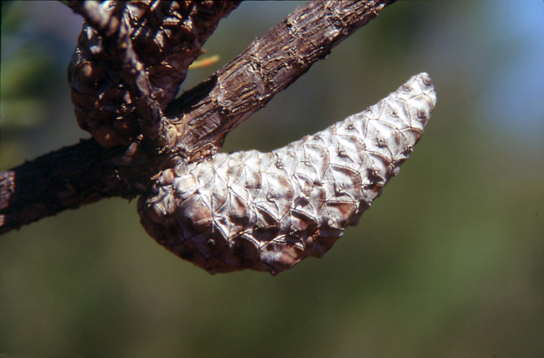 Abiotic factors influencing plant growth
Temperature and moisture are important influences on plant production (primary productivity) and the amount of organic matter available as food (net primary productivity). Net primary productivity is an estimation of all of the organic matter available as food; it is calculated as the total amount of carbon fixed per year minus the amount that is oxidized during cellular respiration. In terrestrial environments, net primary productivity is estimated by measuring the aboveground biomass per unit area, which is the total mass of living plants, excluding roots. This means that a large percentage of plant biomass which exists underground is not included in this measurement. Net primary productivity is an important variable when considering differences in biomes. Very productive biomes have a high level of aboveground biomass.
Annual biomass production is directly related to the abiotic components of the environment. Environments with the greatest amount of biomass have conditions in which photosynthesis, plant growth, and the resulting net primary productivity are optimized. The climate of these areas is warm and wet. Photosynthesis can proceed at a high rate, enzymes can work most efficiently, and stomata can remain open without the risk of excessive transpiration; together, these factors lead to the maximal amount of carbon dioxide (CO 2 ) moving into the plant, resulting in high biomass production. The aboveground biomass produces several important resources for other living things, including habitat and food. Conversely, dry and cold environments have lower photosynthetic rates and therefore less biomass. The animal communities living there will also be affected by the decrease in available food.
Section summary
Biogeography is the study of the geographic distribution of living things and the abiotic factors that affect their distribution. Endemic species are species that are naturally found only in a specific geographic area. The distribution of living things is influenced by several environmental factors that are, in part, controlled by the latitude or elevation at which an organism is found. Ocean upwelling and spring and fall turnovers are important processes regulating the distribution of nutrients and other abiotic factors important in aquatic ecosystems. Energy sources, temperature, water, inorganic nutrients, and soil are factors limiting the distribution of living things in terrestrial systems. Net primary productivity is a measure of the amount of biomass produced by a biome.
Art connections