Wiskunde
Meetkunde, datahantering en waarskynlikheid
Datahantering
Opvoeders afdeling
Memorandum
Leerders afdeling
Inhoud
Aktiwiteit: om 'n verskeidenheid van grafieke te teken [lu 5.6]
Ons kan inligting wat ons insamel, op 'n wye verskeidenheid maniere voorstel. Daar is bv. 'n blokgrafiek, staafgrafiek, lyngrafiek, prentgrafiek en sirkeldiagram.
Kom ons kyk na 'n paar voorbeelde: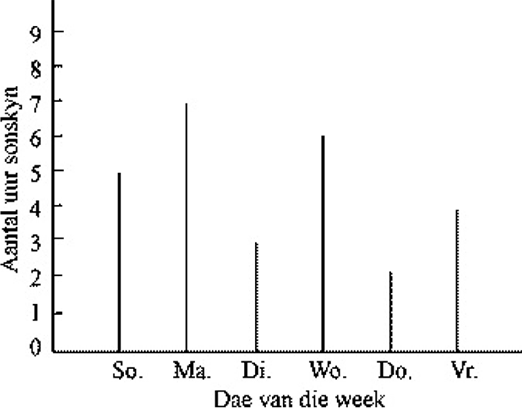 Staaf-lyngrafiek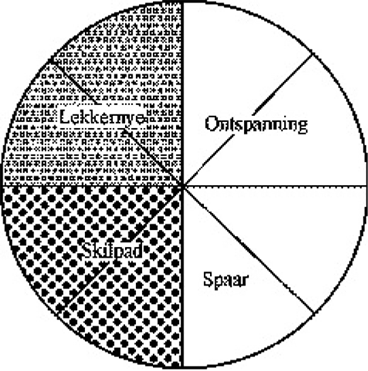 Sirkeldiagram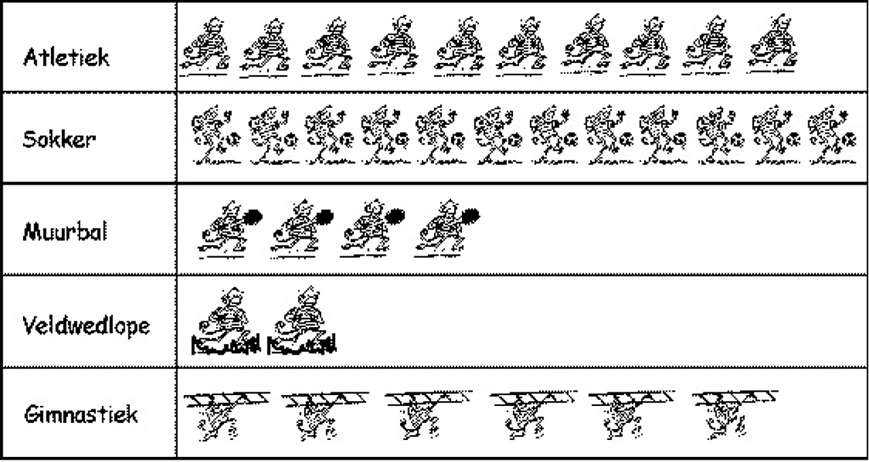 Prentgrafiek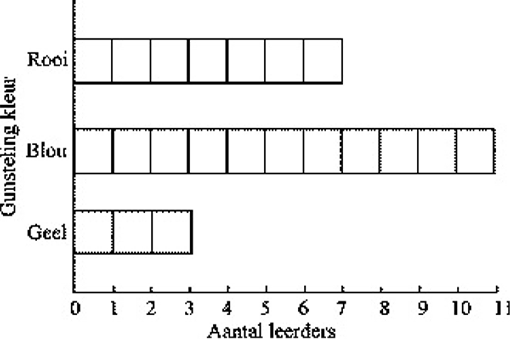 'n Horisontale blokdiagram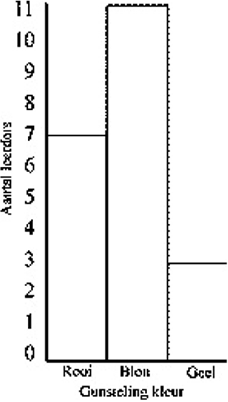 'n Vertikale staafdiagram
1. Kies nou vir jou een van hierdie grafieke en stel die inligting wat jy by aktiwiteit 2.3 versamel het, netjies voor.

Assessering: Grafiek
| | | | | |
| --- | --- | --- | --- | --- |
| Kriteria | 1 | 2 | 3 | 4 |
| Asse | Geen as het 'n byskrif nie. | Net een van die asse het 'n byskrif. | Beide asse het 'n byskrif, maar alles is nie korrek nie. | Beide se byskrifte is netjies en korrek. |
| Grafiek | Interpretasie feitlik onmoontlik. | Data is onge-organiseerd en interpretasie moeilik. | Kan grafiek interpreteer, hoewel nie 100% korrek. | Die grafiek is georden en data is sinvol aangebied. Dit is maklik om te interpreteer. |
| Netheid | Werk is slordig en onge-organiseerd. | Dit is georganiseerd, maar moeilik leesbaar. | Dit is netjies en georganiseerd, maklik leesbaar. | Dit is netjiese, duidelik uiteengesette werk; duidelik leesbaar. |
Assessering
Leeruitkomste 5: Die leerder is in staat om data te versamel, op te som, voor te stel en krities te ontleed om gevolgtrekkings en voorspellings te maak, en om toevallige variasies te interpreteer en te bepaal.
Assesseringstandaard 5.6: Dit is duidelik wanneer die leerder 'n verskeidenheid van grafieke met die hand of tegnologies teken om data voor te stel en te interpreteer (gegroepeer of ongegroepeer).