The key to evaluating a convolution integral such as
is to realize that as far as the integral is concerned, the variable is a constant and the integral is over the variable . Therefore, for each , we are finding the area of the product . Let's look at an example that illustrates how this works.
Example 3.1 Find the convolution of and . The convolution integral is given by
[link] shows the graph of , , and their product. From the graph of the product, it is easy to see the the convolution integral becomes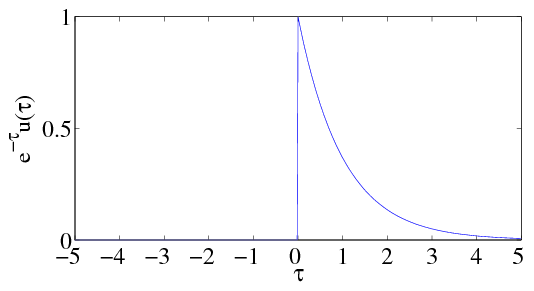 Signals which can be expressed in functional form should be convolved as in the above example. Other signals may not have an easy functional representation but rather may be piece-wise linear. In order to convolve such signals, one must evaluate the convolution integral over different intervals on the -axis so that each distinct interval corresponds to a different expression for . The following example illustrates this:
Example 3.2 Suppose we attempt to convolve the unit step function with the trapezoidal function
From [link] , it can be seen that on the interval , the product is an equilateral triangle with area . On the interval , the area of is . This latter area results by adding the area of an equilateral triangle having a base of 1, and the area of a rectangle having a base of and a height of 1. For all values of greater than 2, the convolution is 1.5 since and is a trapezoid having an area of 1.5. Finally, for , the convolution is zero since .