By the end of this section, you will be able to:
List the components of the endomembrane system
Recognize the relationship between the endomembrane system and its functions
The endomembrane system (endo = "within") is a group of membranes and organelles ( [link] ) in eukaryotic cells that works together to modify, package, and transport lipids and proteins. It includes the nuclear envelope, lysosomes, and vesicles, which we've already mentioned, and the endoplasmic reticulum and Golgi apparatus, which we will cover shortly. Although not technically within the cell, the plasma membrane is included in the endomembrane system because, as you will see, it interacts with the other endomembranous organelles. The endomembrane system does not include the membranes of either mitochondria or chloroplasts.
Art connection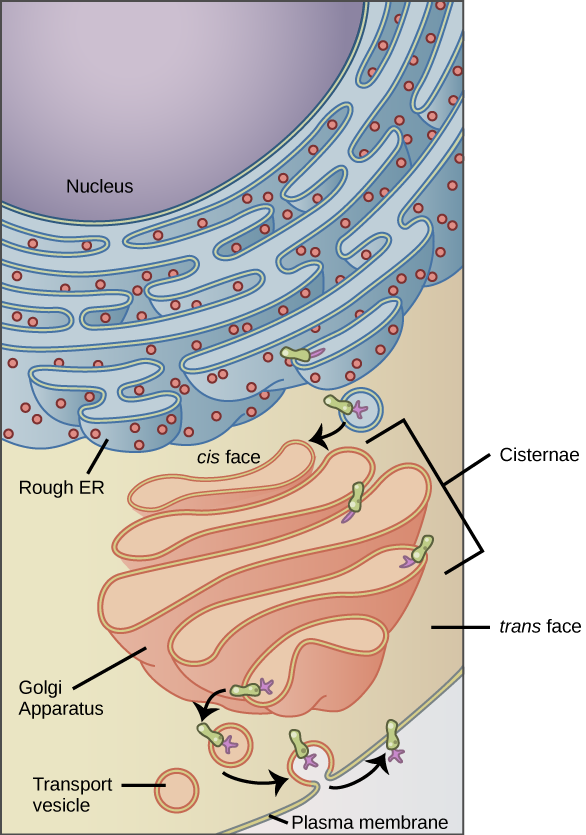 If a peripheral membrane protein were synthesized in the lumen (inside) of the ER, would it end up on the inside or outside of the plasma membrane?
The endoplasmic reticulum
The endoplasmic reticulum (ER) ( [link] ) is a series of interconnected membranous sacs and tubules that collectively modifies proteins and synthesizes lipids. However, these two functions are performed in separate areas of the ER: the rough ER and the smooth ER, respectively.
The hollow portion of the ER tubules is called the lumen or cisternal space. The membrane of the ER, which is a phospholipid bilayer embedded with proteins, is continuous with the nuclear envelope.
Rough er
The rough endoplasmic reticulum (RER) is so named because the ribosomes attached to its cytoplasmic surface give it a studded appearance when viewed through an electron microscope ( [link] ).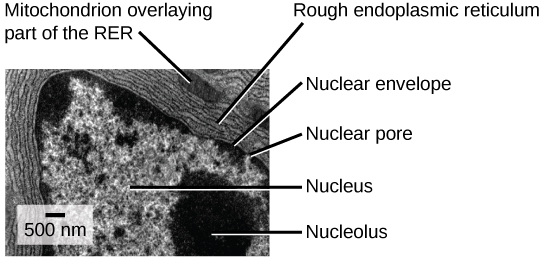 Ribosomes transfer their newly synthesized proteins into the lumen of the RER where they undergo structural modifications, such as folding or the acquisition of side chains. These modified proteins will be incorporated into cellular membranes—the membrane of the ER or those of other organelles—or secreted from the cell (such as protein hormones, enzymes). The RER also makes phospholipids for cellular membranes.
If the phospholipids or modified proteins are not destined to stay in the RER, they will reach their destinations via transport vesicles that bud from the RER's membrane ( [link] ).