A special type of notation is used to show an atom's electron configuration. The notation describes the energy levels, orbitals and the number of electrons in each. For example, the electron configuration of lithium is . The number and letter describe the energy level and orbital and the number above the orbital shows how many electrons are in that orbital.
Aufbau diagrams for the elements fluorine and argon are shown in [link] and [link] respectively. Using standard notation, the electron configuration of fluorine is and the electron configuration of argon is .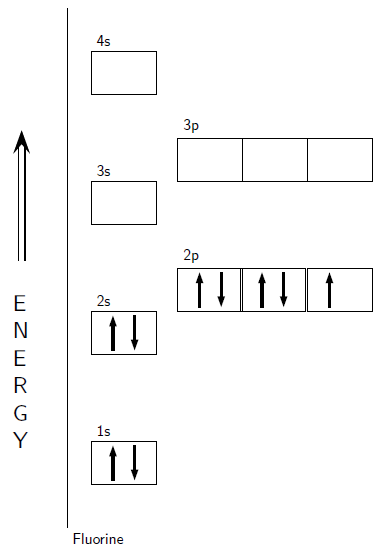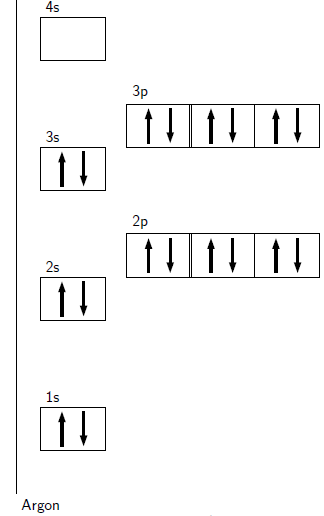 Give the electron configuration for sodium ( ) and draw an aufbau diagram.
Sodium has 11 electrons.
We start by placing two electrons in the orbital: . Now we have 9 electrons left to place in orbitals, so we put two in the orbital: . There are now 7 electrons to place in orbitals so we place 6 of them in the orbital: . The last electron goes into the orbital: .
The electron configuration is:
Using the electron configuration we get the following diagram:
There are different orbital shapes, but we will be mainly dealing with only two. These are the 's' and 'p' orbitals (there are also 'd' and 'f' orbitals). The 's' orbitals are spherical and the 'p' orbitals are dumbbell shaped.

Hund's rule and pauli's principle
Sometimes people refer to Hund's rule for electron configuration. This rule simply says that electrons would rather be in a subshell on their own than share a subshell. This is why when you are filling the subshells you put one electron in each subshell and then go back and fill the subshell, before moving onto the next energy level.
Pauli's exclusion principle simply states that electrons have a property known as spin and that two electrons in a subshell will not spin the same way. This is why we draw electrons as one arrow pointing up and one arrow pointing down.
Core and valence electrons
Electrons in the outermost energy level of an atom are called valence electrons . The electrons that are in the energy shells closer to the nucleus are called core electrons . Core electrons are all the electrons in an atom, excluding the valence electrons. An element that has its valence energy level full is more stable and less likely to react than other elements with a valence energy level that is not full.
Valence electrons

The electrons in the outer energy level of an atom
Core electrons

All the electrons in an atom, excluding the valence electrons
The importance of understanding electron configuration
By this stage, you may well be wondering why it is important for you to understand how electrons are arranged around the nucleus of an atom. Remember that during chemical reactions, when atoms come into contact with one another, it is the electrons of these atoms that will interact first. More specifically, it is the valence electrons of the atoms that will determine how they react with one another.