TECHNOLOGY
Grade 9
HYDRAULIC AND PNEUMATIC SYSTEMS
Module 13
TO BUILD A HYDRAULIC SYSTEM
Use the working drawing and build a model of a hydraulic system that is connected to a lever.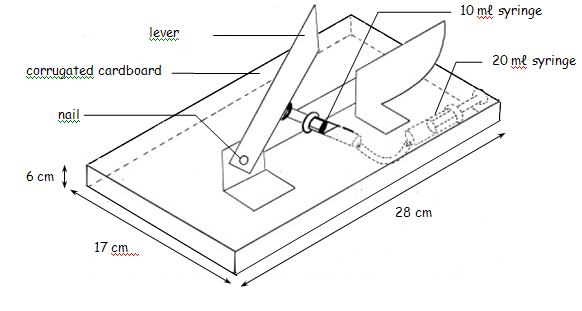 You need:
1 x 10 mℓ plastic syringe
1 x 20 mℓ plastic syringe
plastic tube (length as necessary)
a long nail
corrugated cardboard (Remember all the principles of reinforcing.)
a pair of scissors, glue, masking tape, adhesive tape
PROJECT:
THE TECHNOLOGICAL PROCESS
[LO 1.1, 3.2]
Use your knowledge of structures and / or electronics and / or mechanisms and integrate it with your knowledge and experience of hydraulic or pneumatic systems to solve ONE of the problems presented in the following situations. The problem must be solved in terms of a TECHNOLOGICAL PROCESS and be presented in a PORTFOLIO.
For the PRACTICAL WORK a prototype (as inexpensive as possible) must be built. This prototype must be able to function.
Use the assessment scales / matrixes to make sure that you comply with the requirements of the process.
Situation I
Your neighbourhood is plagued by blowflies. The residents of the neighbourhood have been asked in a number of newspaper reports to help combat the problem by keeping their dirt-bins tightly closed. However, it is not as easy as it seems. Stray cats that force their way into the bins and leave them open, are only part of the problem. The other great cause for concern is that germs are spread by these flies.
One of the residents came to the conclusion that he would have to design something that would make it possible for him to open the dirt-bin from a distance, and that would also warn him when the lid is open.
Situation II
Physically disadvantaged people often find it quite difficult to open the doors in cloak­rooms that have been specially provided for their use. Physically disadvantaged persons are usually only able to carry out a pushing motion using their hands, a walking-stick or the wheels of their wheel-chairs. This action must then enable them to open a door.
Situation III
Sticking stamps on an envelope can be very time-consuming and tiring when it is done on a large scale. A device that sticks the stamp and indicates that the task has been success­fully completed, could solve the problem.
Steps of the Technological Problem that have to be followed:
1. SURVEY
1.1 ANALYSIS OF DESIGN PROPOSAL
Core of the problem
WHAT shall I do?
WHO will use it?
WHEN will it be used?
WHERE will it be used?
WHY will it be used?
[LO 1.1]
1.2 DESIGN PROPOSAL
Design and manufacture … what, for whom, where, why and when.
1.3 LIMITATIONS AND SPECIFICATIONS
Limitations: Requirements that limit the choice of solutions.
Specifications: Include limitations that are determined by the learner him- / herself. This is a list of factors that determine what the end product will look like and how it will function.
2. DEVELOPMENT OF IDEAS
2.1 RESEARCH
Research has to do with the skill of collecting data, noting it, analysing it and making decisions on the basis of the processed data.
Make a list of all the information that you need to develop your ideas.